Tribute to John W. Schmidt 2PI, 2XBQ, W4PC, W4FCP, W8QMR, LU4A
1901 - 1946
Jack Schmidt was a radioman aboard the 1st flight from the USA to Bermuda in 1930.
Please read his interesting tribute by W8SU!
Also read an article about Zeh Bouck from K9PL!
Credit to K9YA Telegraph, http://www.k9ya.org
John W. Schimidt, a.k.a, Zeh Bouck, had his own call before 1912, when an operator or a club could pick a person's call. Unfortunately this researcher has been unable to determine the call letters that he used during the early years. The paragraphs below were written by him in the column "HamFest" in the March 1936 issue of All Wave Radio. He signed the column--not with his name--but with "By W8QMR, ex-2PI, LU4S."
"We take pen in hand--or rather the mill--to edit this department with mingled feelings. W8QMR is obviously not a call sanctified under the dust of antiquity. It's as new as a Grand Rapids dining room suite or an 807 beamer. And considering the fact that as far as one of the purposes of this column is concerned the FCC might have slipped and made it 8QRM, perhaps a word of background is in order.
While the call W8QMR is definitely in its primary childhood--its owner is rapidly approaching his second. He blossomed forth as an operator in the heyday of the E. I. Co. to the cracking tune of the one-inch spark coil and the rat-tat-tat of the decoheror. His first call was issued by Gernbeck in his wireless league of America, and his first code was Morse. (We can still copy it, and in QSOs with any old timers, or landline men, we'll be glad to swing back into the old staccato.) We dropped out of the transmitting end of the game upon moving to New York City in 1912. Landlords in those days were lightning conscious, and no janitor would permit you to erect an aerial even if you crossed his palm with a sawbuck and called him superintendent. Immediately following the war we acquired an original two-letter call, a Thordarson 1-kw transformer and a Murdock rotary gap. A little later, when the navy ops started peddling VT-2s from the fleet, we opened up the second or third fone station on Manhattan Island. We junked the microphone about 1924, and operated consistently on cw, until about 1929 when we dropped our license, hocked the rig and concentrated on the serious business of making a living in radio. But like malaria, the bug is never altogether dead--and it will out. Hence W8QMR!..."
Notes: The call 2PI appears in the 1919 Directory of Amateur Calls, which was published by the ARRL with or in the January 1920 issue of QST. The call was issued to J. W. Schmidt. The 1925 "Government Callbook" lists Zen Bouck, 2PI, and Zen Bouck as the operator of 2ARJ, the station of Daven Radio Corporation of Montclair, New Jersey.
Research by Bob Winn, W5KNE.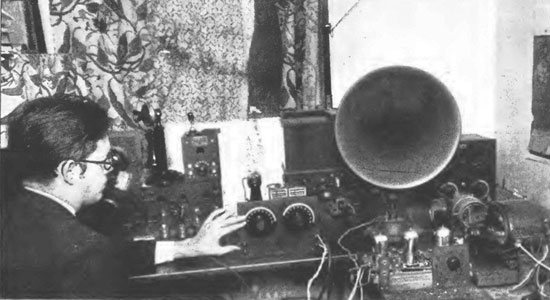 Jack later adopted his pen name Zeh Bouck legally, he expired at Albany NY in 1946 after years of failing health. His widow Charlotte expired in 1969. This is the only known foto of the 2PI radio shack circa 1924.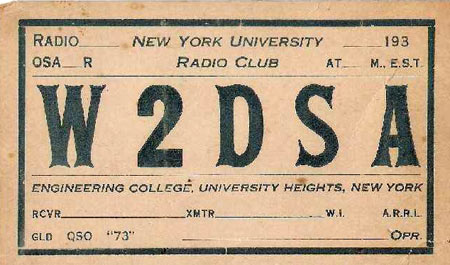 QSL from the college Jack Schmidt achieved his engineering degree!
Note: There is an NYU database of graduates and John W. Schmidt is not listed. I'm sure there are some errors in the database however. K1NY, President of NYU Amateur Radio Club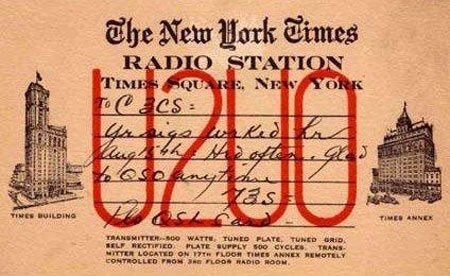 Radio station U2UO on Time Square in NYC in which Jack Schmidt kept in constant contact on their flight to Bermuda!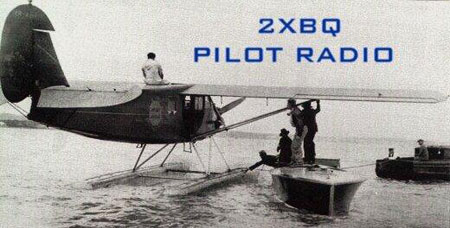 2XBQ was the callsign used from the water landing plane used on the 1st flight from the USA to Bermuda. The radio officer was late for the flight as he was attempting to put a full charge on the batteries. It paid off because of two forced landings made on the ocean on the record breaking trip. The flight crew landing on the ocean near Bermuda out of fuel, one short leg remains to break the mainland to Bermuda record in 1930. They radioed Bermuda authorities for assistance for fuel and in short order were landing on the last leg in the Bay at Hamilton.
Tribute courtesy of W8SU
W2DSA QSL courtesy of NYU Amateur Radio Club
U2UO QSL courtesy of VA3DN
2XBQ courtesy of W8SU
2nd article on Zeh Bouck courtesy of K9PL
Credit to K9YA Telegraph, http://www.k9ya.org
Research by W5KNE
---
This site is copyright © by K8CX of Paradox Design Group (PDG).
All Rights Reserved. All art, photos, and html is property of PDG.