Tribute to George Ar Dale Thompson
8CZN, NU8CZN, W8CZN, W9DGA, WA3CGY
June 25, 1907 - November 23, 1971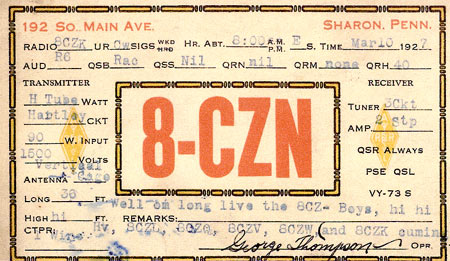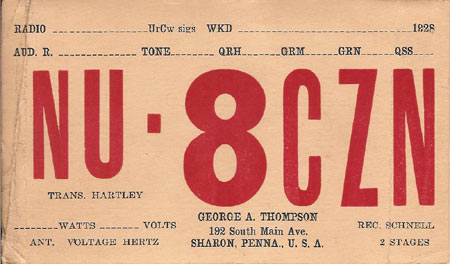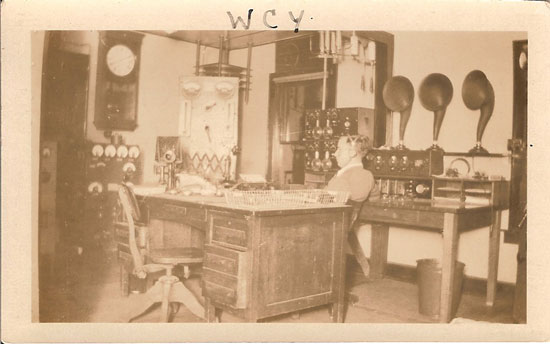 George Thompson at RCA land radio station WCY in Cleveland, Ohio.
December 27, 1929.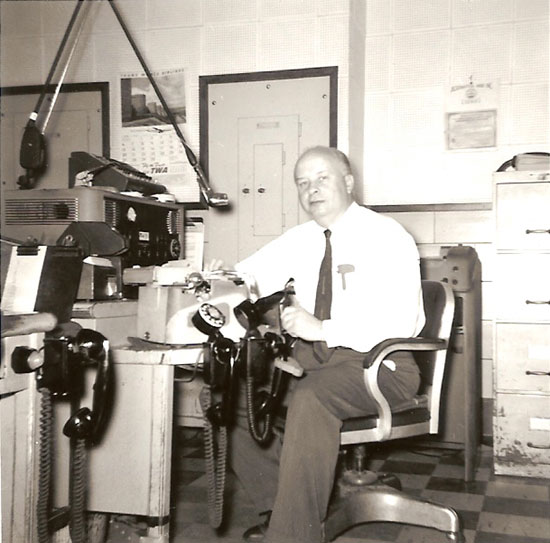 Last day at TWA as radio operator, 1960 photo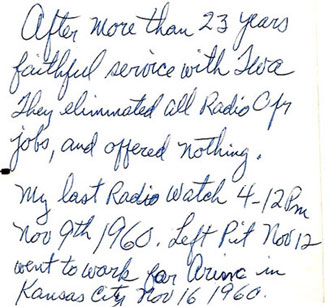 Back of photo.
George writes his concern about the elimination of radio operators and treatment of employees by TWA Airlines!
George was born June 25, 1907 in Sharon, PA. He died November 23, 1971 at Oakdale, PA and is buried with his parents and relatives in Hermitage, near Sharon, PA.
George was first licensed on March 31, 1926 as 8CZN. Amateur license requirements at this time required a description of transmitter, antenna, and who you may wish to contact. George joined the ARRL shortly after being licensed, as their publication, QST, kept the hams up to date on everything that was going on. George was an active amateur. Another one of George's hobbies was fishing. He may have been president of the SVARC (Shenango Valley Amateur Radio Club), which is still an active club today. In July 1927 QST, 8CZN was reported as having been heard on 40M by "eg-2HJ" of Amersham, Bucks, England. In October 1927 QST, 8CZN was reported as having been heard on 40M in May/June by "eg-2BQH" in Croydon, Surrey, England. George made the local newspaper for some of his "on the air" activities. On February 28, 1928, he receives an RFI notice from F. E. Handy, ARRL Communications Manager. Mr. Handy also sends a letter to the complaintant. The local newspaper, The Sharon Harold, also reports on some local RFI activity. George replies to F. E. Handy on March 7, 1928 with a 4 page letter. On March 16, 1928, F. E. Handy of the ARRL, sends George another letter, in response to his 4 page reply, stating the complaint as resolved. In 1928, the Amateur Radio regulations were changed again. George was interest in radio and communications. He found a home study course in radio from the National Radio Institute, Washington DC. On October 1, 1928, the FCC required all stations to precede their callsigns with the letter "W". George then became W8CZN. In 1929, George left Sharon to be a radio operator on the Great Lakes ore boat "Joseph H. Frantz". After that, he worked for land radio station WCY in Cleveland, WGO and KYW in Chicago, and TWA Airlines as a 1st class radio operator. In July 1932, George became W9DGA in Chicago. The ARRL was recruiting George with his new call at this time. George gets a colorful letter from an old ham friend from Sharon, W8AWW Al B. Lewis. In 1937, George moved to Oklahoma City, possibly working for American Airlines. He sends a Christmas card back home to an influential ham friend in Sharon, Al Heiges W8AG, and gets an interesting reply. George later moved back to Pennsylvania and became WA3CGY.
You can see several of George's 8CZN QSL cards by going to http://hamgallery.com/qsl/ and typing K3RU into the QSL Callsign Search engine located on that page. This search takes a couple of minutes.
The photos, scans, and tribute are from George's son, James E. Thompson, K3RU
---
This site is copyright © by K8CX of Paradox Design Group (PDG).
All Rights Reserved. All art, photos, and html is property of PDG.