Tribute to Major Dalessandro K3IGO
May 15, 1922 - September 1, 2012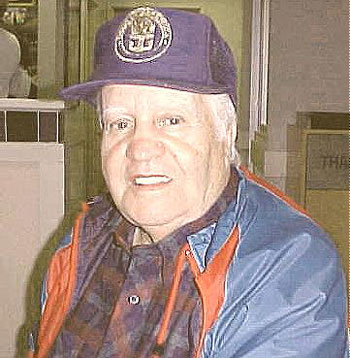 Major R. Dalessandro K3IGO:
Meteorology and ham radio were among the veteran's hobbies.

Major R. Dalessandro, Farrell, passed away at 12:30 a.m. Saturday, Sept. 1, 2012, in Whispering Oaks, Hermitage, where he lived for the last three months. He was 90.

Mr. Dalessandro was born May 15, 1922, in Farrell, a son of Pasquale and Rose Sciortino Dalessandro.

He attended Farrell High School until he withdrew his junior year, due to the unexpected death of his father, and he went to work at the former Carnegie Steel. He then was called into the military and served as a radio operator with the U.S. Army during World War II. Following his honorable discharge, he returned home and completed his GED.

Major retired from the former Sharon Transformer Division of Westinghouse Electric Corp., where he was employed for more than 35 years as an instrument and calibration repairman in the meter room department.

Major was a lifelong member of Our Lady of Fatima-St. Ann Church, Farrell, and a member of its Bethony Club and Holy Name Society. He also was a member of the Italian American War Veterans Association and Farrell American Legion.

Major had numerable talents and hobbies. He was licensed in short wave and ham radio communications and was a member of the Mercer County Ham Radio Club, call number K3IGO. He served as the Shenango Valley meteorology reporter for Stan Boney at WYTV, Youngstown.

He enjoyed metal working-blacksmithing, machine shop work, welding, leather craft, oil painting, calligraphy, cooking, jewelry-making, traveling and gardening which included a grape arbor. His entrepreneurial spirit encouraged him to start Dalessandro Trading Co., which was an import/export business that specialized in black forest cuckoo clocks imported from Germany, and Tam-Dale Photography. He was also a real estate agent and inventor.

Major had a thirst for knowledge and was an avid reader of medical journals, encyclopedias and philosophy. His most recent purchase was a calculus and trigonometry DVD. He was the recipient of many awards at Westinghouse for his suggestions in process improvement and innovative ideas. His journalistic talents led him to be the editor of The Holy Name Society's publication, The Word; The Meter Room Meteorites; and the Khaki Keynotes in the Army.

Throughout his life, Major completed several correspondence courses and received certificates for successful completion. He was multi-lingual, speaking five languages fluently. Family gatherings were important to him and he was proud to have started the Dalessandro potato roast and Fourth of July picnic, which have become family traditions.

His wife of 56 years, the former Ida R. Palladino, whom he married July 8, 1944, passed away Sept. 30, 2000.

Surviving are: a daughter, Idamarie Felix and husband John, New Wilmington; two sons, Raymond P. Dalessandro and his wife Gina, Stow, Ohio; and Ronald M. Dalessandro and his wife Michelle, Grand Rapids, Mich.; four grandchildren, Marisa Dalessandro and her boyfriend Louie Pisiani; Alysse Dalessandro, Nick Dalessandro and Alexa Dalessandro; and two brothers, Tony Dalessandro and his wife Anna Mae, founders of Luigi's Pizza, Hermitage; and Lou Dalessandro and his wife Dorothy, Sharon.

In addition to his parents and his wife, Major was preceded in death by two brothers, Joseph and Philip Dalessandro.

The family suggests memorial contributions be made to Our Lady of Fatima-St. Ann Church, 601 Roemer Blvd., Farrell, PA 16121.

Major R., 90, Farrell, PA.

Calling hours: 5 to 8 p.m. Tuesday (9-4-12) in J. BRADLEY McGONIGLE FUNERAL HOME AND CREMATORY, Inc., 1090 E. State St., Sharon.

Service: Mass of Christian burial at 11 a.m. Wednesday (9-5-12) in Our Lady of Fatima-St. Ann Church, Farrell, with the Rev. Donald E. Berdis, pastor, as celebrant.
---
I did know Major and I know his brother Tony. When I was about 13 yrs old, I was visiting my cousin Mike WN3BLD, now K3VK in Farrell. We walked down to Tony's pizza shop. There was a quad on the roof and either Tony or Major was on the air. I remember the very impressive DX100 he was using. I stood and watched for a minute and then the mic was handed to me. I didnt choke, I gave some guy on 40 meters AM (I think) my info and handed the mic to Mike. This was very exciting for me. I had my novice at this time. This was either 1963 or 1964...
Thanks to Bill W8CXO for sending me the info on Major.
Tom K8CX
---
Info courtesy of The Sharon Harold, W8CXO, K8CX