Joseph P. Vilardo K4EQC
March 15, 1909 - October 29, 2008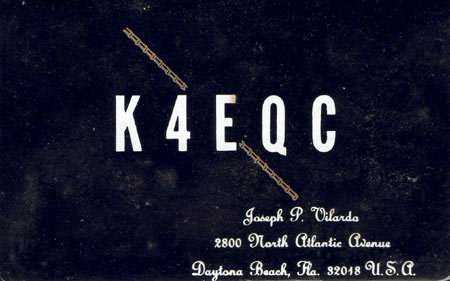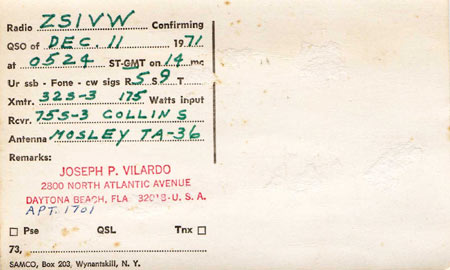 Joe K4EQC & his wife Josephine came out to Cape Town on a ship in 1971 & visited ZS1VW Harold & Alice Lange. This started a run of skeds virtually every Sunday morning on the 20 meter band. In 1979 ZS1AU Dennis, came in to join the skeds which continued for almost 30 years.
In 1980 Joe & Josephine came out on their second visit on board the liner The Royal Viking Star, where we all dined on the ship in Cape Town.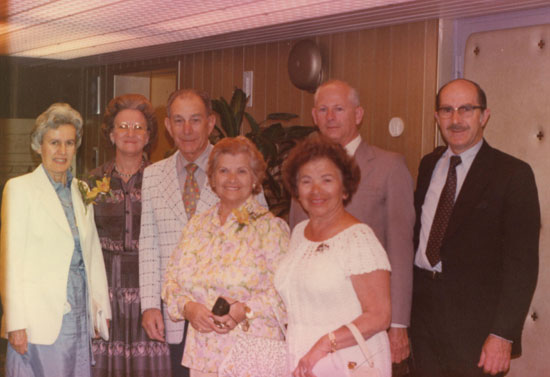 Left to right back row, Alice Lange XYL of ZS1VW, Joan Wells XYL of ZS1AU, Joe Vilardo K4EQC, Harold Lange ZS1VW & Dennis Wells ZS1AU.
The two ladies in front L to R Josephine Vilardo XYL of K4EQC & Maree the sister of Josephine, taken prior to Dinner on board THE ROYAL VIKING STAR in Cape Town Harbour.
Sadly, Joe, Josephine & Maree are since deceased.
The friendship & skeds lasted a total of 40 years. In 1983 ZS1VW visited K4EQC & in 1993 ZS1AU visited K4EQC in Daytona.
Joe & Josephine were known for being at sea on luxury liners at least 3 times a year for 40 years. They did not fly anywhere. !!!
Joe had a beam on top of the 22 story Condo on the beach of Daytona & put out a FB signal. He was a great conversationalist & he always had wonderful travel experiences to tell. They celebrated all their birthdays & wedding anniversaries on board a ship. After so many years, that the Captains got to know them & arranged special anniversary cakes for all.
For many years Joe sent monthly QST magazines to ZS1VW & ZS1AU.
Joe & Josephine were both High School teachers & had no children.
At the age of 95, Joe did a revised motor driving test to drive his Cadillac. On the license it stated that Joe passed the driving test & could drive without spectacles. !!!!
He & Josephine were indeed a remarkable & devoted couple who enjoyed life to the full. Joe became a SK towards the end of 2008 and Josephine passed away a few years before. Joe was one of Amateur Radios gentlemen & could easily have been granted Honorary CITIZENSHIP status of CAPE TOWN for all those years of being so fond of South Africa. His marathon run of skeds with his friends in Cape Town lasted over a period of 40 years.
TRUE FRIENDS INDEED. JOE & JOSEPHINE WILL BE REMEMBERED. R.I.P. DEAR FRIENDS.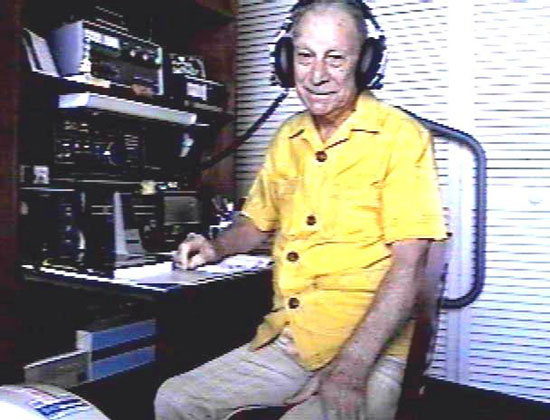 Courtesy of Harold Lange ZS1VW & Dennis Wells ZS1AU in Cape Town SOUTH AFRICA.