Tribute to Ethel Mae Smith W7FWB, W3MSU, K4LMB
1917 - February 5, 1997
Ethel founded the YLRL in 1939 and served as first president. Ethel Smith, K4LMB, of McLean, Virginia, who inspired and helped found the Young Ladies Radio League (YLRL), died February 5, 1997. She was 79. In accordance with her wishes, no services were scheduled. She was a ham for more than 60 years, She was a Wenatchee, Washington, native, discovered ''wireless'' as a youngster and became licensed as W7FWB in 1936. A story in QST for May 1940 outlines how Smith's letter to QST encouraged other female hams to form their own organization, which became the YLRL in October 1939 (with Ethel Smith as its first president). Her stints with the Army and Navy during World War II led to an offer from the Naval Research Laboratory in Washington, DC, in 1945 (she joined the Naval Reserve in 1950 and remained an active reservist for 10 years). Smith also participated in the formation of the Foundation for Amateur Radio (FAR) in 1957. Around that same time, she met and married the late John ''Tex'' De Bardeleben, W4TE (ex-W3CN), who was with the FCC. The couple set up housekeeping in Virginia, and she later served as the Virginia SEC (1966-69) and as an ARRL Assistant Director under four different Roanoke Division directors. Last August, six months after her 79th birthday, she celebrated her six decades in Amateur Radio by passing the Extra Class examination. In addition to being a member of ARRL, Ethel Smith was a member of QCWA, served as its executive secretary/general manager in 1974-75, and was elected to the QCWA board of directors. Her other recognitions include: Ham of the Year, Washington, DC, Mobile Radio Club (1965), ARRL Roanoke Division Service Award (1972), Dayton Hamvention Special Achievement Award (1984), QCWA Roll of Honor (1987), Radio Club of America Fellow (1988), and Foundation for Amateur Radio Ham of the Year (1993).
In an article in last fall's QCWA Journal celebrating Smith's 60 years in the hobby, she was quoted as saying: ''Amateur Radio is still the main focus of my life. It has brought me all the good things that ever happened to me. It gave me a challenging and rewarding career. It gave me a wonderful husband and the greatest collection of friends in the world, all over the world. I owe more to Amateur Radio than I can ever possibly repay.'' The quarterly featured a front-cover picture of Smith in her W7FWB shack.
ARRL Executive Vice President David Sumner, K1ZZ, expressed sorrow at Smith's passing, calling her ''a leading light in the ham community.'' Sumner said that Ethel Smith ''never stopped contributing, learning, and growing. I don't think it ever would have occurred to her that she should.''
Source: Special Bulletin 4 ARLX004, from ARRL Headquarters, Newington, CT February 6, 1997.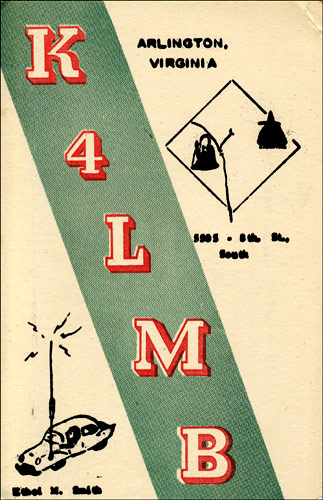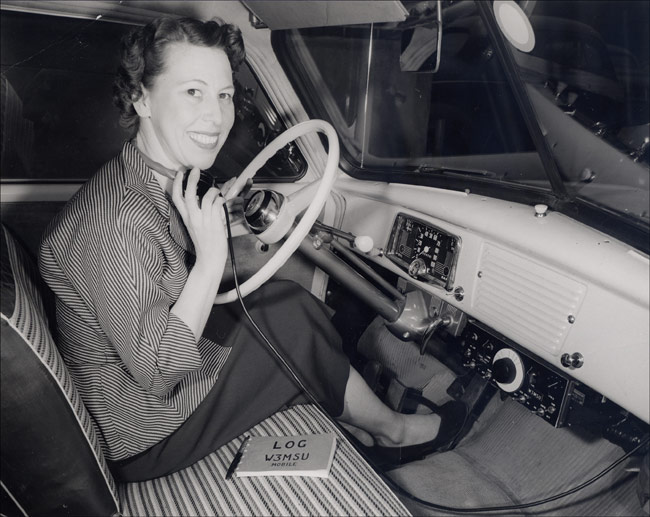 Ethel, W3MSU, operating mobile circa 1955
Photo and QSL from the estate of K4LMB, courtesy of W5KNE and WA0WOF
Other info courtesy of ARRL Special Bulletin 4 ARLX004