Tribute to Elaon R. Lamphier - K8ABP
1928 - 1985
Ealon R. Lamphier 1928-1985 became K8ABP, previously from Chippewa Lake, Ohio. A U.S. Navy Veteran. Ealon suffered from Polio eventually making his home in Rittman and Seville (Arkon area). I first knew of Lamp, meeting him at the Findlay Hamfest, a quadriplegic, painting amateur radio scenes in oil holding the brush in his mouth. Lamp suffered Polio at the age of 21 while he was in Colorado in 1949. He would later receive a full fellowship art course from Accelerated Schools. He painted some amazing greeting card scenes and art work. He expired in 1985 at Hinckley, Ohio leaving his wife Ruth, burial at Hinckley Ridge Cemetery.
Lamp starting out in 1956 with a small Heath AT1 and Hallicrafters SX99 on 40 meters.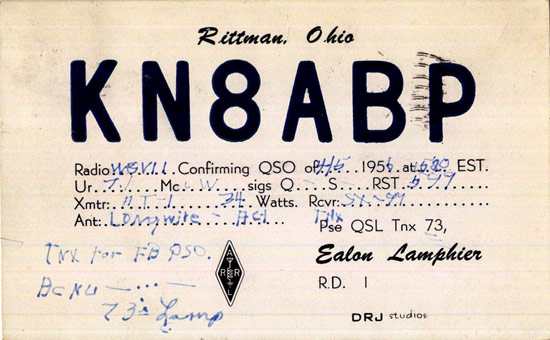 K8ABP at the Findlay, Ohio hamfest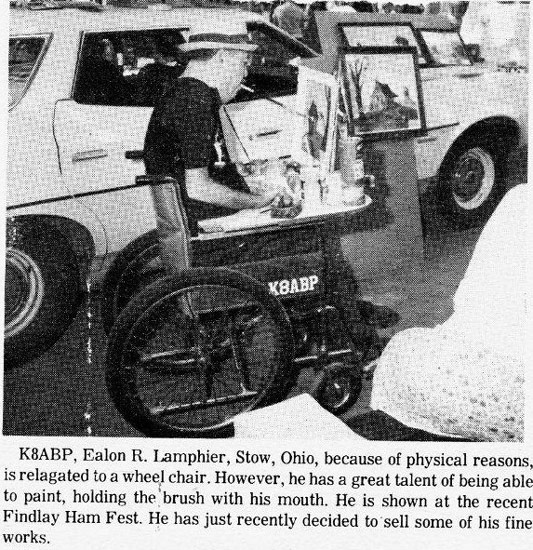 Lamp featured in the Beacon Journal around 1975 - he was a popular subject appearing in the Akron region scene with several art shows.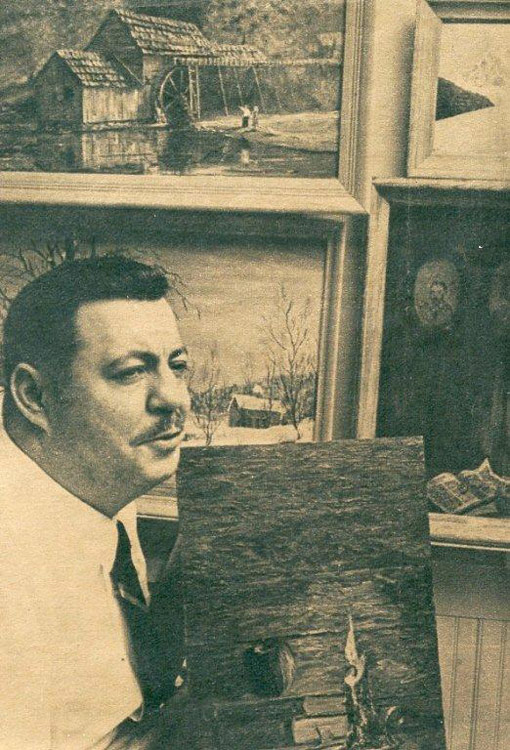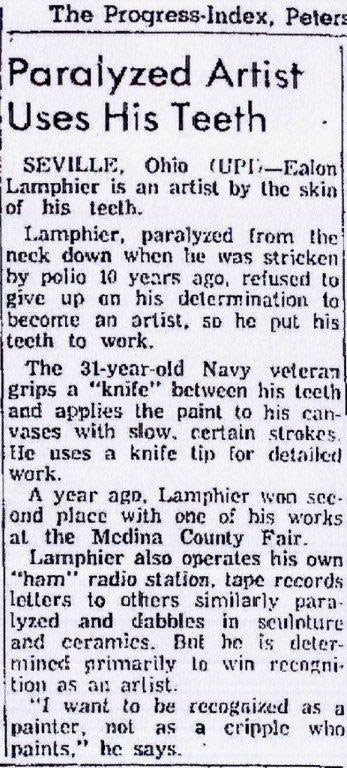 Lamphier had gone another step, at one time his first one-man show of 24 paintings, hung at Parma's Center Gallery. The prize winning artist at Lodi, Ohio, Franklin Bates, worked with Ealon for 5 years with his watercolors to oils. Lamp said "I want my work to say something - to be more than pretty pictures. I want to do things that will make people think. That's on my agenda for tomorrow, for next week, forever." Good work Lamp, blessings to you. W8SU
Here are some samples of Lamp's artwork, painted with brush in mouth!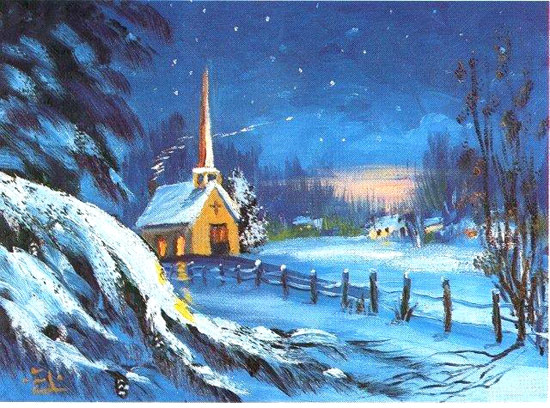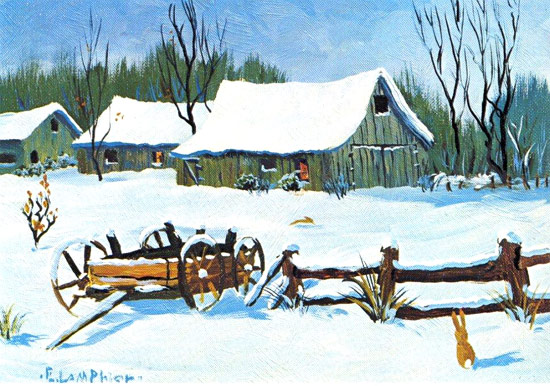 This was another Christmas card Ealon created.
A company overseas took his works and made Christmas cards etc and added the verse, they used the money to help the handicapped.
Look close there is even a rabbit on the lower right.
More samples of Lamp's work.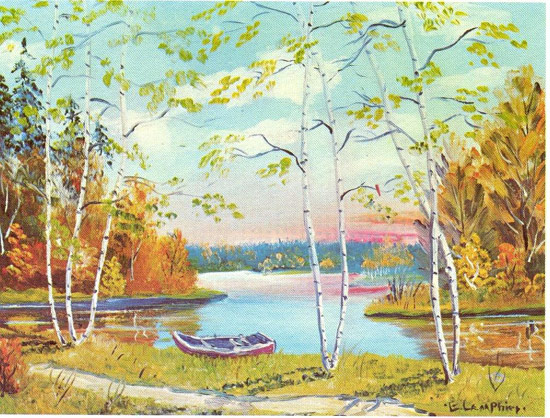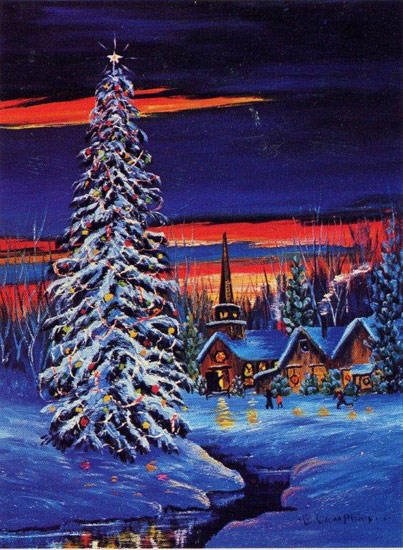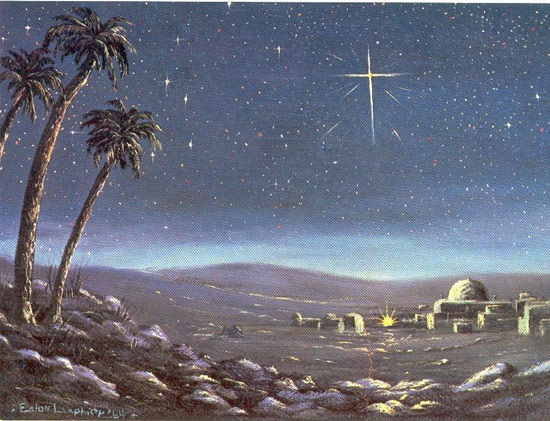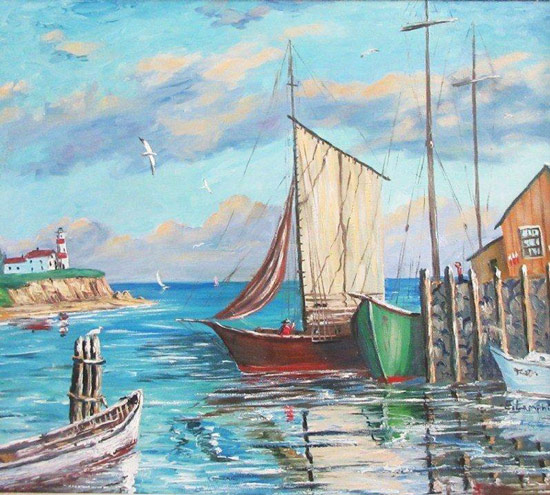 Courtesy of W8SU