Tribute to Richard C. Shelar K8CCV
October 30, 1939 - July 23, 2009
In the early days of the CQ 160 Contest, Dick was a stalwart and consistent high scorer. He always seemed to have a decent antenna even in those days. Later on he had a 4 square array, which I believe is still standing in Leetonia, Ohio along with an impressive mass of aluminum for the other bands.
Dick was an attorney. At one time he was the city attorney for Youngstown, and he maintained a private practice.
Dick's fist was unmistakable, as he always used a bug. When he had the 4 square array working properly on Top Band, he would sit for hours even on non contest evenings and run Europeans. He really did love that band.
Dick would wear hats like Byron Nelson might wear for the 1940 British open, and maybe even a sport coat and scarf for the winter hamfests.
Dick was always a good natured guy and had lots of stories. Sadly for the last few years he was confined to a wheelchair, but he still made an effort to go to the hamfests and was always glad to see his ham friends.
Rest in peace friend.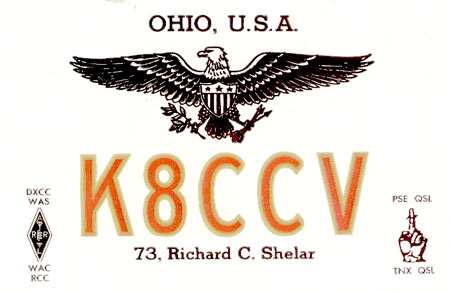 Tribute courtesy of K8MFO, K3LR, K8CX, W8JV, W8SU
---
This site is copyright © by K8CX of Paradox Design Group (PDG).
All Rights Reserved. All art, photos, and html is property of PDG.