Tribute to John R. Robeck K8ORF
1918 - 2002
John use to tell us he was Big Bad John, he enjoyed being called BBJ. John was born in PA, eventually from Newton Falls, OH. A WWII Army veteran in Europe and Italy. He held a nice position with the Ohio Turnpike Commission. He had a wife Helen and handicapped daughter Pamela. John had a younger brother who was blind (Bob) in an institution in PA. We visited Bob on a few occasions. BBJ was a joiner and socialized with the local ham brothers. He and Helen are truly missed.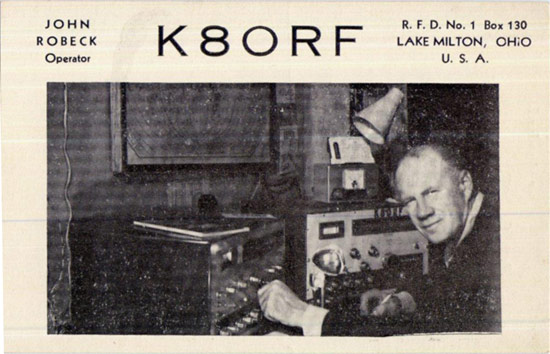 K8ORF 1954 Lake Milton, OH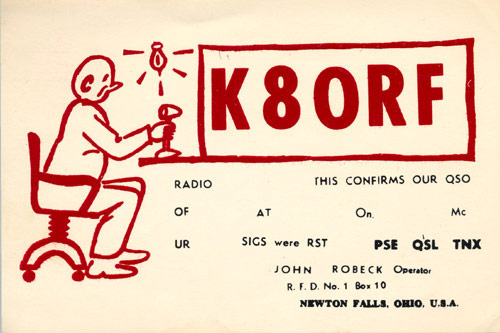 K8ORF 1960 Newton Falls, OH
John was a huge supporter and dedicated many hours at TAMPEEL in Lordstown, OH. His brick and fireplace work garnered many positive comments. TAMPEEL provided environmental education for Trumbull County, Ohio students but was closed down.
Read about TAMPEEL closing here!

1st QSL Card from the estate of K8KAE
2nd QSL & Tribute courtesy of W8SU
---
This site is copyright © by K8CX of Paradox Design Group (PDG).
All Rights Reserved. All art, photos, and html is property of PDG.