Tribute to James C. "Jim" Kimball - K9JXW
April 22, 1944 - November 14, 2005
Jim Kimball was one of the most respected Amateur Radio operators in the central Wisconsin area. He was noted for his professional voice and demeanor on the air. He was a longtime member of the RMRA and the Wisconsin Valley Radio Association.
Jim was born April 22, 1944, in Wausau to Fred and Dorothy (Clark) Kimball. He graduated from Newman High School in Wausau, received an A.A.S. degree in electronics from Northcentral Technical College, Bachelor of Science, Master of Science degrees in counseling and an Ed.S. degree, all from the University of Wisconsin-Stout. He became a National Certified Career Counselor.
He served in the U.S. Army Security Agency from 1968 to 1972.
He married Mary Ellen Knetter on May 17, 1969, in Edgar.
Jim began his counseling career at NTC in 1981, retiring in 2001. He served as a special needs counselor for the Learning Center at NTC for more than 20 years. Jim took great pride in his work with students, helping those with special needs transition into programs and thus improving their lives. He had been active in local, state and national counseling organizations.
Jim was also a Wausau Hospital Pastoral Care volunteer.
He was a member of the Vietnam Veteran Association and American Legion Montgomery-Plant Post No. 10, where he served as a member of the honor guard. Jim was a member of the Maine Lions and Big Bull Falls Lions Clubs.
He died Monday, Nov. 14, 2005, at Aspirus Wausau Hospital, after a log battle with leukemia.
At the time of his death, his family asked that memorials be given to the Leukemia Society of America-Wisconsin Chapter, 4125 N. 124th St. No. A, Brookfield WI 53005.
His widow, Mary E. Kimball, is now K9JXW.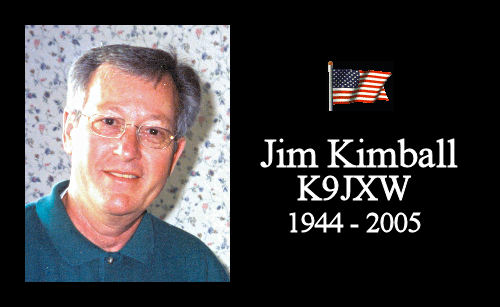 Obituary and photo used with permission of Rib Mountain Repeater Association, Wausau, Wisconsin.
Thanks W5KNE