Frank (Zoro) Spicer, Sr. KA2ZOR
Born 1933, SK May 7, 2011
Frank "Zoro" Spicer was blind and deaf but a loyal CW man. He had over 35,000 QSO's to his credit.
Email from Marjorie Wenski K2UTS Trenton, N.J.:
I know Bob W8SU has told you what a special man Frank KA2ZOR was and an amazing operator he became despite odds against him of two disabilities.
Bob introduced me to Frank & Barbara about 2 years ago and I became good friends with both and visited them in their home. Frank toured me around his radio room and explained his operation of the radio and his braille machine and the braille books he read every day namely the Bible. He played his accordain sitting in front of his radio set up that day for me. Was amazing how well he played. He sent me two recorded tapes he made the last two Christmas's. He worked hard on them all year to complete in time to send out for the holidays. The last one was especially good it was as if he somehow knew there might not be another one following. He did himself proud with all the tunes he played.. I will enjoy sitting and hearing his music again this holiday season and remembering his lively spirit and kindness in sharing his music.
Frank was a man of great heart and loved to tell jokes, when I called them as I did often he would get on the telephone and speak to me even though he could not hear what I said on his end. Barbara would hand write to him and we would converse like that and Frank would always have something funny to relate. He was full of enthusiasm, humor and love of his fellow man.
Last Christmas I had the tribute written by Bob W8SU transcribed into braille for Frank so that he could finally read and appreciate for himself what a fine story Bob had written about his special radio friend... Joy for me to know how pleased Frank was about the tribute his good radio buddy had graced him with. K2UTS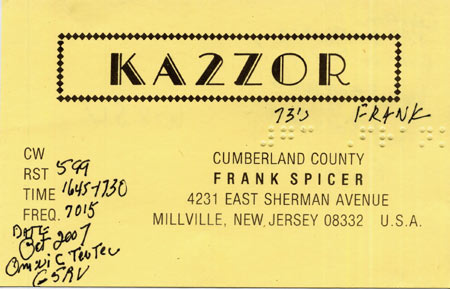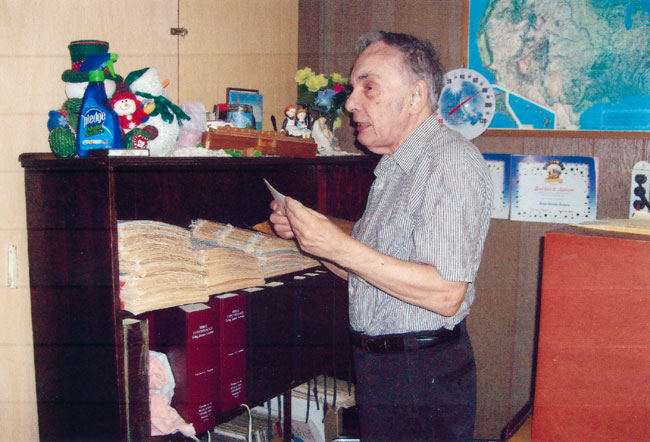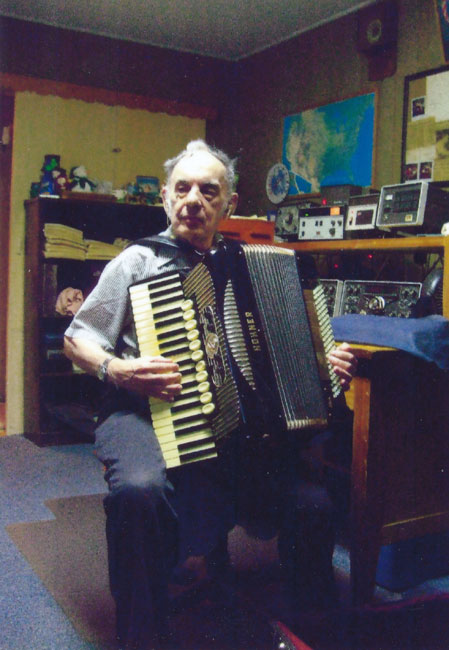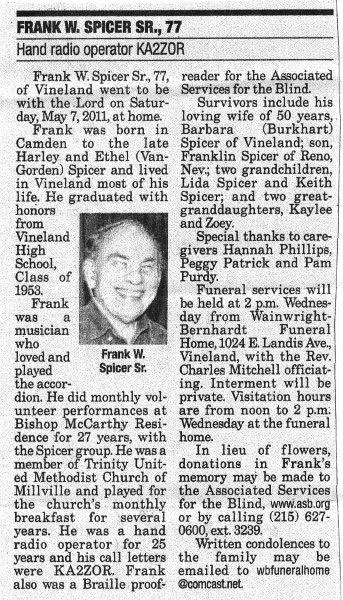 QSL and Tribute Courtesy of W8SU
Photos courtesy of K2UTS and also his wife Barbara Spicer
Email courtesy of K2UTS
---
This site is copyright © by K8CX of Paradox Design Group (PDG).
All Rights Reserved. All art, photos, and html is property of PDG.