Joseph 'Joe' M. Paterchok W3LDG
Born 1915, SK Sept. 22, 2012.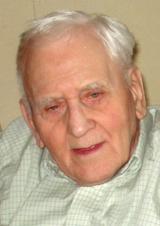 Joseph 'Joe' M. Paterchok
Westinghouse retiree was WWII veteran

A funeral service will be held Thursday for Joseph "Joe" M. Paterchok of John XXIII Home, Hermitage, who formerly lived on East Budd Street in Sharon. He died at 11:30 p.m. Saturday (9-22-12) in the home. He was 98.

Mr. Paterchok was born March 15, 1914, in Freeman, W.Va., to Louis and Maria Swaggar Paterchok.

He graduated from Farrell High School in 1932.

Joe retired in 1974 from the former Sharon Transformer Division of Westinghouse Electric Corp. After 24 years of service, working as an inspector.

During World War II, he served in the Navy and was awarded the Victory Medal and American Theater Ribbon.

Joe was a member of St. Stanislaus Kostka-Holy Trinity Church in Sharon and was a ham radio operator in earlier years.

His wife, the former E. Helena "Helen" Koleszar, whom he married Aug. 28, 1964, preceded him in death Nov. 22, 2004.

Surviving is a sister, Madeline Banjack, Westland, Mich.

He was preceded in death by a brother, Louis Patt; and three sisters, Julia Paterchok, Mary Bandzak and Margaret Pache.

Memorial contributions may be made in his memory to John XXIII Home, 2250 Shenango Valley Freeway, Hermitage, PA 16148.

Joseph "Joe" M., 98, Hermitage, formerly of East Budd Street, Sharon.

Calling hours: Friends may call from noon to time of service Thursday (9-27-12) in A.E. PUSTINGER FUNERAL HOME Ltd., 1310 Idaho St., Farrell. Condolences may be e-mailed to pustinger@verizon.net

Service: Funeral service at 1 p.m. Thursday in the funeral home with the Rev. Jeffrey J. Lucas, pastor of St. Stanislaus Kostka-Holy Trinity Church, Sharon, presiding.

Burial: Holy Trinity Roman Catholic Cemetery, Hermitage.
Obituary from the Sharon Herald
Courtesy of W8CXO