Danny Weil VP2VB
Born in London, England on Dec. 14, 1918
Died Oct. 3, 2003 and resided in San Antonio, TX.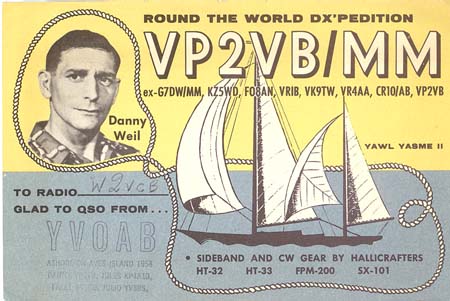 See his QST article, "Yasme II to Aves Island," which appeared in the December 1958 issue.
Danny Weil of San Antonio, TX was born January 14, 1918 in a suburb of London England. He was descended from many generations of watchmakers and was apprenticed in the trade of watchmaking. Later he earned a degree in Mechanical Engineering and Navigation. His father, Jack Weil, was killed during World War II in the London Blitz.
Danny joined the Royal Air Force at the age of 17 and in the 10 years he served, he was stationed in Ceylon, India, Norway and Stalingrad. Danny left England in 1954 in a boat he made by himself in order to travel the world alone after being inspired when he read the book "Kon Tiki" in 1947. Weil completed his first solo crossing of the Atlantic in 1954, landing in Antigua. In 1963, after 9 years, 3 boats and travels to the Atlantic, the Carribean and the Pacific Islands, Danny completed his around the world voyage. Needing a means of communication, he taught himself Morse Code, radio theory and obtained a British Amateur radio license. Sailing single handedly around the world was a trip he volunteered to undertake on behalf of ham radio operators. His voyage was integral in setting up ham radio stations on remote islands and made contact with over 100,000 amateur radio enthusiasts around the world. He is remembered by most "hams" as "the first DXpeditioner."
Danny was known as an adventurer who had a dry sense of humor which was characteristic to the British but his heart was warm and his loyalty as a friend was unparalleled. Danny was one of the original inductees into the CQ DX Hall of Fame. He eventually gave up Ham Radio. In the 1960s, he married Naomi. They settled in Texas and Danny became a US citizen. He was preceded in death by his wife Naomi and his mother Christine Eckels.
Danny is survived by his close knit extended family of friends, Dan & Barbara Mclhany of Fair Oaks; Bonnie & Billy Henderson of San Antonio and all of the employees at Towne North Animal Hospital.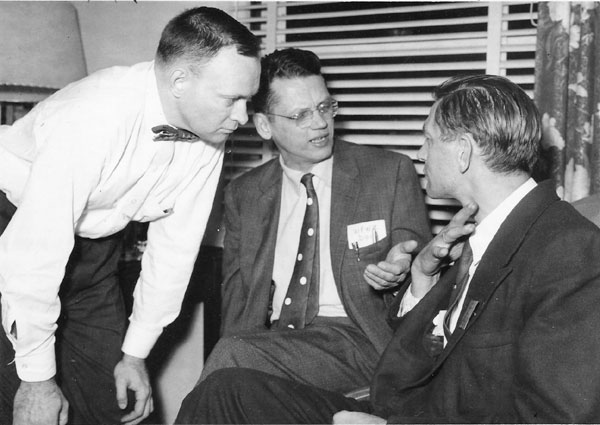 From Left: Al Hix W8PQQ (W8AH), Harold Striker W8WZ, Danny Weil VP2VB. Photo taken at Dayton Hamvention 1958. Courtesy of K8MFO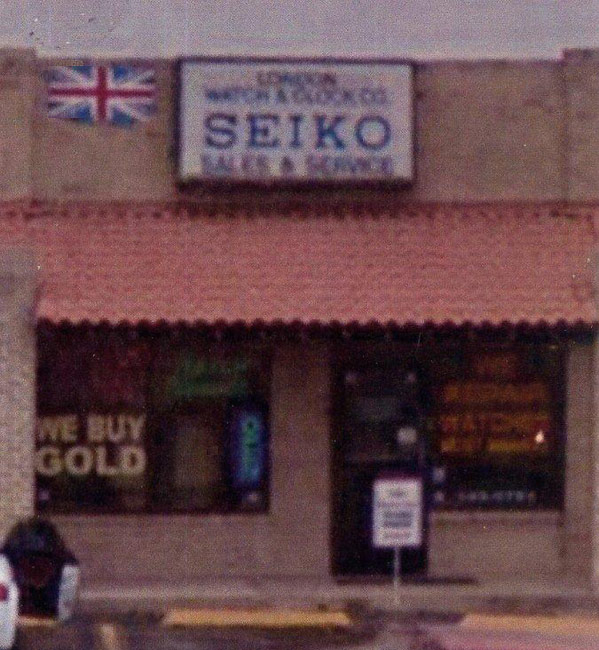 Danny never got licensed after his KZ5WD lapsed and became a US Citizen. Here is his business location in San Antonio, London Watch and Clock Co. Inc. of West Avenue, San Antonio, Tx. I love the Union Jack up in the off center facade portion. It is true he didn't get active on the bands again after he settled in Texas but he did have a Collins 75A4 in the shop that he enjoyed listening with. One of the few possessions from the old days he kept in the inventory. He liked dogs and his last days were filled with his pet lil Spunky.
Info & photo courtesy of K8MFO
Info, shop photo & research courtesy of W8SU