Tribute to James E. McKim W9MVG, W0MVG, W0CY
1915 - 1996
Jim W0CY was an engineer, a U.S. Navy veteran, vice director of ARRL midwest division, president of Central Kansas Radio Club and much more! Jim was known as "Mr. Ham Radio" all through central Kansas. Please read his tribute by W8SU!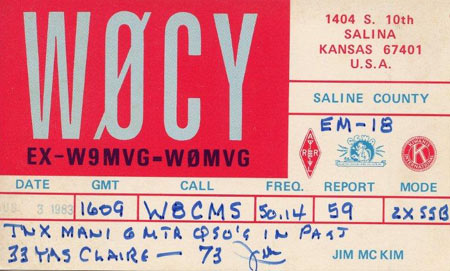 Tribute courtesy of W8SU
QSL courtesy of W8SU, from the estate of W8CMS
Some info from 1958 Ham Register
---
This site is copyright © by K8CX of Paradox Design Group (PDG).
All Rights Reserved. All art, photos, and html is property of PDG.