Tribute to Michael Lentini - W1VLA
A tribute to Lentini Communications, founded in 1954 by WW2 U.S. Navy veteran the late Michael Lentini W1VLA. Mike amalgamated his ham radio knowledge into a livelihood on Winthrop Street in New Britain as a TV Shop. Mike later moved the business to Newington CT.
Your author recalls the ARRL gang in Newington often mentioning spending lunch hour at Lentini's looking at the latest electronic equipment. Eventually Mike and his brother Alex N1EBU branched out with the company into a communications depot, serving muni, industrial and medical two way radio users and made into a mecca for radio hams from southern New England and nearby New York.
Alex being also a musician, added the Route 66 Music division. Today the new Lentini's showroom and warehouse stands as a living testament to what amateur radio can evolve to. The new business is now open at 221 Christian Lane, Berlin, CT. They have an internet webpage. W1LVA lives again in the form of a memorial station, including a repeater system in the amateur bands.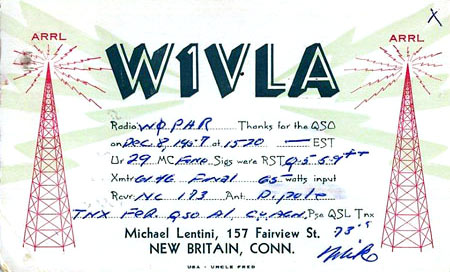 Partially scripted by N1API
Tribute courtesy of W8SU
QSL from the estate of W0PHR