Tribute to Clarence Seid - 2APB, 2AIQ, 2AQN, W2KW
May 9, 1908 - August 1, 2004
Clarence had 225 acres with 3 switchable sterba curtains. He loved collecting historic wireless equipment and started a Wireless Museum at his location on Radio Hill in Middletown, NY.
Read his tribute by W8SU!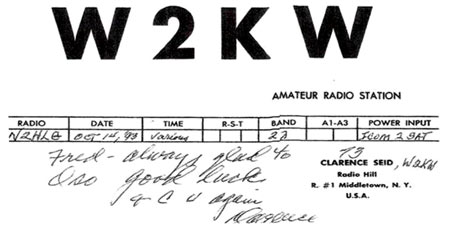 Tribute courtesy of W8SU
QSL courtesy of KC2LIT
---
This site is copyright © by K8CX of Paradox Design Group (PDG).
All Rights Reserved. All art, photos, and html is property of PDG.