Tribute to Myron H. Primus W2OY
1903 - 1967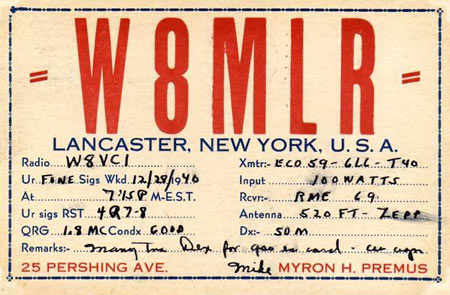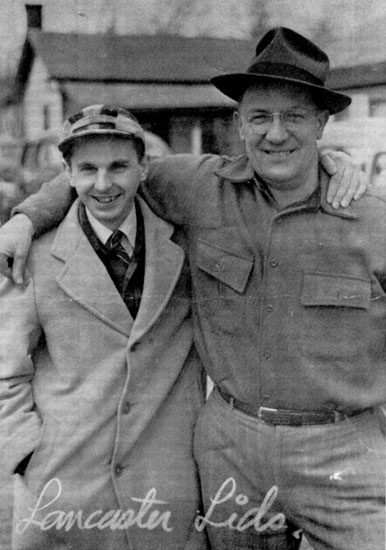 Dick Haungs W2UJR, Mike Primus W2OY
Myron H. Premus, W2OY, 8AHQ, 8MU, W8MLR, W2PQI, W2QWK.
You may have heard it said, this man was a pioneer in ham radio and every word said about him was true. Essentially Mike is Western New York Ham folklore. He was a mentor, a radio pioneer, HE DID LIKE KIDS, the kids in Lancaster called him Gramps. However you had to operate in Mike's realm or face the consequences if you wanted to talk to him on the air. That is what caused the problems. Here is Mike Premus W2OY remembered.
The mere fact Mike knew how to put out a big signal caused much of his personal operating habits and radio philosophy to be heard with ease all over the region. Yes, he used his ham radio to troll and had his fun on the air.
When on the air Mike was a 3810 kc fixture. Carriers and verbal abuse found its way on his frequency when he was on the air. Mike had a great signal and QTH, the carriers were of no consequence. Mike seemed to have a big ego and his main peave was "Phonetics". Mike hated phonetics with a passion. You could hear it in his scowl, "No phoney phonetics, A1 operators only!" If you used them in a QSO with him, it would bring out the old curmudgeon hair standing on end. He had his dealings with the FCC because of his verbal reprimands he issued to his fellow hams. There was action started to not renew his license, but the action failed.
Mike's statement I remember most, included with his CQ's was, "No lids, no kids, no space cadets, no bicycle riders, ... I was 12 years old and had just received my novice license, WN8KCX. I was having lots of fun on the CW novice bands but decided to tune around the phone bands to see what they were like. I came across W2OY. He scared me so much, I turned off my radio, HQ129X (same as his), and ran outside. It was a while before I returned to the ham shack. When I did, I turned the band switch and moved the dials before I put power to the radio, in case W2OY was still there... Luckily I returned to the novice bands. I stayed on 40 and 15 meters the remaining year of my novice license. When I passed my general, I also ran across him a few times. Now I was older and more amused than scared. He was interesting to listen to. I still didn't have the courage to call him.
Mike wound up with his legendary on the air routine and W2OY folklore commenced in the 50's and 60's. The new generation was here, being corrected over the air was not going to fly and the new SSB was becoming more popular. Mike had always used AM phone. This also did not set well at the time but I did hear he eventually got on SSB.
Back in the 1950s and 1960s W2OY had "HIS" private AM frequency on 160, 80, 40, 20, 15, and 10 meters. He seldom operated on them, but anyone who called CQ on one of those frequencies was immediately chastised and berated for anywhere between 15 minutes and over an hour of continuous transmission.
Mikes ham radio career spanned 48 years. Mike started in the hobby as 8AHQ in 1919 and later 8MU. In 1947 he applied for W2OY when NY bacame the second district. Mike owned an appliance retail business in Buffalo, NY. His knowhow and good service caused a good local business relationship that would last. Mike was the complete amateur and did his own antenna work. In 1967, he had a fatal heart attack while working on a utility pole that supported the east end of his antenna. He was quickly attended to by a local emergency crew but it was too late.
At the time W2OY was on the air, the only prefixes that had been issued were W's and K's. The first K's started sometime in the mid 50's, so a K callsign meant you were a Johnny-come-lately. I think "No K Calls" was eventually replaced with "No Slopbuckets".
Some of his other famous sayings were:
"No Buster Brown Haircutters, No Phoney Phonetics, Only real Hams please"
"No Wet Bottoms (WB prefixes?)"
"No Kings, No Queens, No Jacks, No Long-talkin' Old Washer Women"
I have heard that Mike was always very good with the local children. At his funeral, there were dozens of kids who mourned his loss. It was generally unknown on the airwaves that he was very active working with kids and various groups in their behalf.
Tribute by K8CX, W8SU
Sound Clip #1 courtesy of W1UJR
Sound Clip #2 courtesy of W2INR. Sound Clips from amfone.net.
Photo courtesy of K2VH
QSL card courtesy of W8SU
---
This site is copyright © by K8CX of Paradox Design Group (PDG).
All Rights Reserved. All art, photos, and html is property of PDG.