Tribute to Harry T. Burhans Jr. - W3HUS, W3FM
1921 - November 14, 2011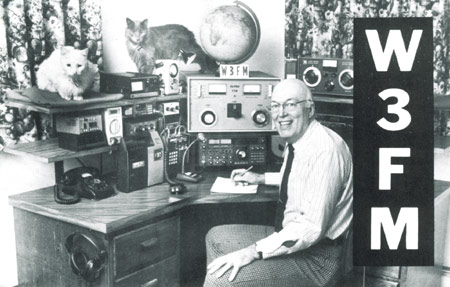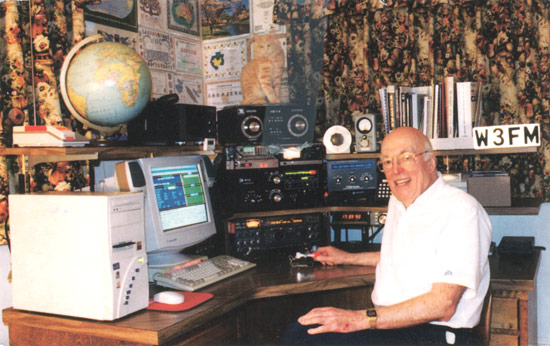 I am K3DK and a friend of Harry Burhans W3FM. I am sorry to announce that Harry passed away on Nov. 14, 2011. He was found deceased in his home by a caretaker that stopped by daily to assist with meals and general light house keeping. It is believed that he may have suffered a heart attack.
I was told that Harry was drafted into WWII at the age of 17 in early 1942. Since he was already a Ham and highly proficient in morse code, they immediately put him in the Signal Corps when they realized this. He soon was teaching recruits/draftees the code and he was rapidly advanced to the rank of Sargeant. He served in Europe (Germany) during WWII and one of the things his platoon did was also checkout any abandoned Nazi facilities (the Nazi's were fleeing across Europe at one point). Well... He brought back a couple of Nazi Morse Code straight keys. He gave one to me about 4 years ago - it works well (I am a CW buff too).
Harry only worked CW on the HF bands... the microphone for his Yaesu FT-1000D was kept in an approproate place... the closet! LOL BTW - After the military, Harry worked for many years as an Engineer for Borroughs (later Unisys Corp) and then retired.
Harry was 90 years old and a REAL HAM and an avid DXer. Harry LOVED radio and I believe that he was active... going as far back as 1938.
Harry had DXCC Honor Roll, 5 BDXCC and DXCC on 160M, as well as numerous other awards (all CW, no phone) and a 25 WPM Code endorsement from the ARRL many years ago.
I (K3DK) was president of MARC (Mid-Atlantic Amateur Radio Club) until Oct 2010. I'm still on the MARC Board as Trustee of W3NWA (club callsign). Harry was once a member of our club many years ago and I met him through MARC about 12 years ago. Our club website is www.marc-radio.org. Harry was a current member of the DX Frankford Club.
Harry was creamated and his ashes were scattered up in Reading, PA. (where his mother is buried). He had no wife at the time (he was married years ago, divorced) and no children. Harry was a former US WW II vet and served in Europe (Germany).
Lisa Scottoline (popular author) was Harry's neighbor and she writes a weekly column called "Chick Wit" in the Philadelphia Sunday Inquirer. About 4 years ago, she and her daughter Francesca wrote a Thanksgiving piece on how they met Harry and became friends. The story went on to elaborate about how she and her daughter also invited him over for Thanksgiving dinner and he talked about Ham Radio with great enthusiasm.
RIP W3FM
Dieter Hauer, K3DK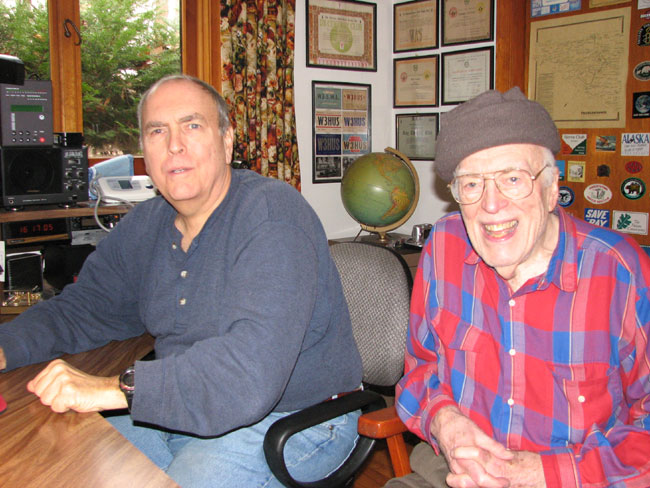 W3BG Jim on left - W3FM Harry on right.
Jim Samuels W3BG was a good, long time friend of Harry's and held a luncheon/get together a few days ago at his home in rememberence of Harry. There were about 20 people that attended, many of them Harry's neighbors and some hams. Since Harry was 90, he outlived his siblings and of course parents and I believe that he didn't have many relatives left.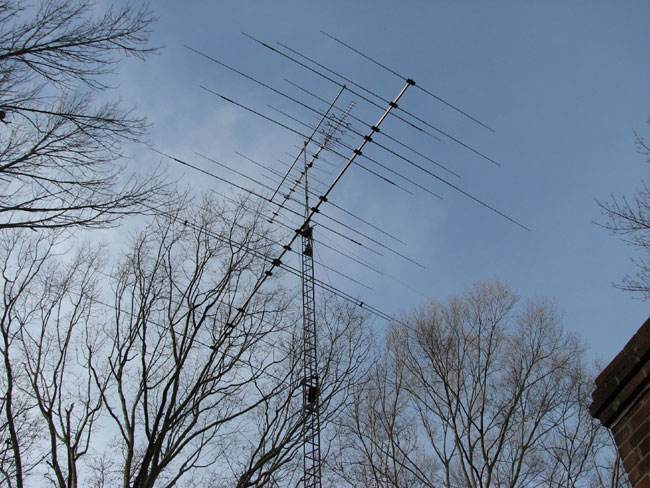 W3FM Antennas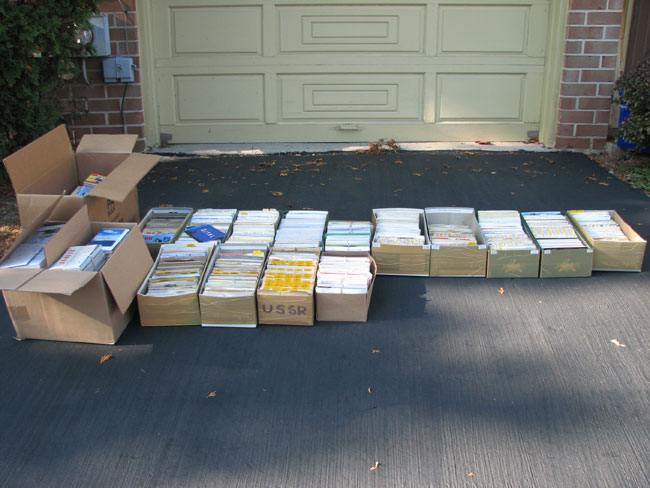 W3FM QSL Collection
W3FM and K3DK sent this QSL Collection to the K8CX QSL Museum in April 2009.
Go to http://hamgallery.com/qsl/ and type W3FM into the search engine on that page to bring up some special QSL's from this collection.
Harry had a pet cat named Spunky - a very old cat (estimate 13 years) that looks like Morris and is equally finicky! Well, Spunky was adopted by one of Harry's neighbors.... famous author Lisa Scottoline! Lucky Spunky - being adopted by a rather well-to-do blonde and upgrading to nicer digs with other animal friends too! The funny thing though is that Spunky for the first week or two, may leave Lisa's house and try to go back to his old home! After all... it is nearby! LOL
Here is the Sunday Philadelphia Inquirer column by Lisa Scottoline, where she wrote about the passing of Harry.
http://www.philly.com/philly/entertainment/134112038.html
QSL Cards from the W3FM Collection
Photos and tribute courtesy of K3DK
---
This site is copyright © by K8CX of Paradox Design Group (PDG).
All Rights Reserved. All art, photos, and html is property of PDG.