Tribute to Robert W. King W3WGH / W3GH
August 3, 1931 - October 15, 2017
Robert W. King, 86, of Apollo, passed away Sunday, Oct. 15, 2017, at Concordia at Rebecca Residence, in Allison Park. He was born Aug. 3, 1931, in Edmond, Pa., the son of the late Earl W. and H. Margaret Schall King. Before his retirement in 1993, he was employed by Alcoa Technical Center in Upper Burrell as a laboratory technician with more than 40 years of service. He is a 1949 graduate of Bell Township High School. Bob was an Air Force veteran, having served during the Korean War, where he achieved the rank of Staff Sergeant. He was a life member of the NRA, life member of the ARRL, holding the amateur radio call letters W3GH for more than 60 years, a member of the NMLRA for more than 50 years, a member of Lodge No. 617 Free and Accepted Masons of Vandergrift, member of the AASR in Coudersport, Pa., for more than 50 years, member of AAONMS in Cheswick for more than 50 years, member of the Skyview Radio Society in New Kensington for more than 50 years, a life member of VFW Post 92 in New Kensington, and a life member of the American Legion Post 868 in Lower Burrell. He is survived by two children, Jeffery A. King and his wife, Debra, of Pittsburgh, and Jodi K. Cantler and her husband, Donald, of Rising Sun, Md.; two grandchildren, Kayleigh (King) Fontana and her husband, Nate, and Courtney Rabi and her husband, Neil, and two great-grandchildren, Ayden and Liam Fontana, all of Pittsburgh; a brother, William R. King, of Avonmore; two sisters, Helen May, of Washington Township; and Patricia Almes and her husband, Michael, of Blacklick. In addition to his parents, he was preceded in death by his wife, Jill King, in 2016.
Family will receive friends from 9:30 a.m. to noon Saturday, Nov. 4, 2017, in the KELLY L. CORRIDONI FUNERAL HOME LTD., 1916 Moore Ave., North Apollo. Services will be conducted at noon in the funeral home with the Rev. Thomas Holmes officiating. An honor guard service and interment will follow in Edgewood Cemetery, Saltsburg.
In lieu of flowers, donations can be made to the American Legion. To view and send online condolences, please visit our website at www.corridonifuneralhomes.com.
Published in The Valley News Dispatch on Nov. 1, 2017
(Tnx K3MJW, K3FH)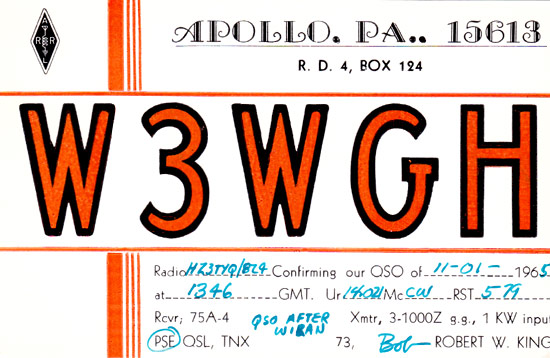 This card confirms HZ3TYQ/8Z4, Deleted entity Saudi Arabia / Iraq Neutral Zone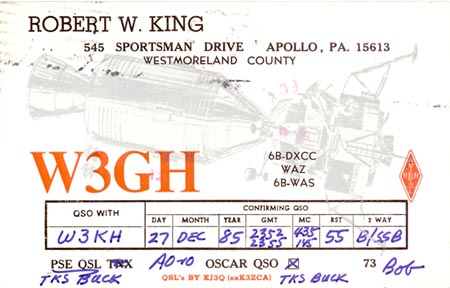 Here is a card from a contact thru AO-10 satellite.
Bob was big in working through the satellites back in the 1980's.
---
Bob was on a DXpedition to Navassa Island February 10 - 18, 1988. The calls used were N2EDF/NP1 and K2SG/NP1.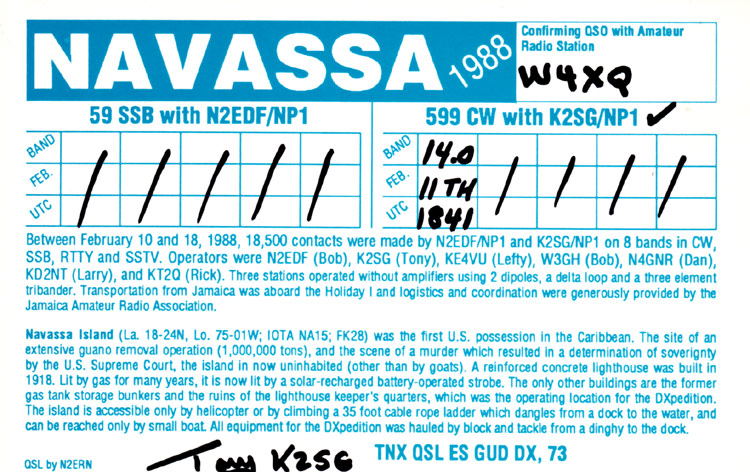 K2SG/NP1 was one of the calls used on Navassa Is. with W3GH as operator.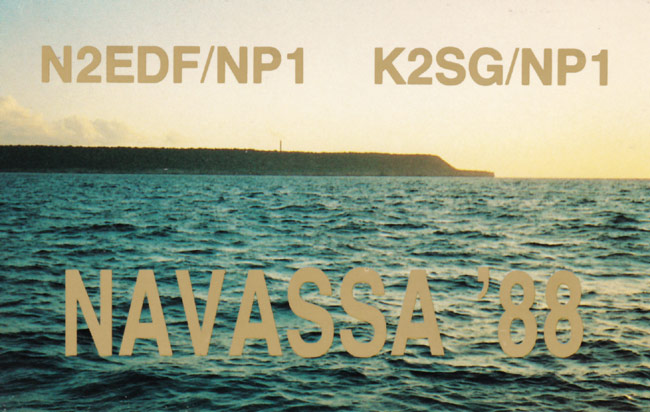 N2EDF/NP1 was the other call used on Navassa Is. with W3GH as operator.
Operators were N2EDF, K2SG, KE4VU, W3GH, N4GNR, KD2NT, KT2Q.
---
Bob was a good friend of mine. He was a famous DXer "The Green Hornet" that didn't miss anything on the bands. We were in many pileups together. I would hear him on daily. His DXCC totals were 390/339. His 160 meter country total was 309. Very impressive! Bob could be heard in the DX contests as well.
When at Dayton, we would hang out together. He would always ride with me to Hara Arena. Our tradition was to stop at McDonalds for coffee and a breakfast, then head to Hara. I would always drive and he would always pay for parking. In the evenings, we would talk quite a bit in the hospitality suites at Crowne Plaza. We would talk DX. Bob always knew the ins and outs of everything on the bands, past and present. I could bring up a DXpedition from 20 years ago and he would tell me the bands he worked them on and who was on the DXpedition. Bob was very popular at Dayton. He knew most everyone and everyone knew him in the hospitality suites. He was part of our late Saturday night party crew. We would all gather at a table and tell stories, drink beverage, and do a lot of laughing. Bob was always one of the last ones to leave. He will surely be missed. (K8CX)
---
Dayton will never be the same without "The Green Hornet"! I know that the happiest times I ever had were when Bob was around at Dayton. We all are really going to miss this guy so much. (WA3FET)
---
Bob was in the service and I have this story to share:
Well, about my military service: 1949. I enlisted in the USAF June 8, a couple days out of high school at 17. Three months basic training at Lackland AFB, San Antonio, TX. Home for two weeks then returned to Belleville, IL to Scott AFB for nine months of electronics school and communications. After graduating late June 1950 the Korean War broke out Jun 30, 1950. I had thirty days leave and returned to Camp Stoneman, Pittsburg, CA for prep to ship to Japan. 21 days on the Pacific Ocean in a prev mothballed WW2 troopship arrived in Yokohama, Japan. A few days in Yokohama, then shipped by train 600 miles to Southern JA, 90 miles from Korea. I was on a tactical AFB doing comm gear repair and alignment then was in charge of control tower MF and VHF receivers care and land line trouble shooting. Our transmitters were remote so another crew was in charge of their care. We had fighters, bombers and recon planes coming and going 24 hours a day supporting the war effort. Quite a few of these babies returned shot to hell. Hard to imagine how some of them could fly back to base from Korea. After two years, I was sent to a comm detachment in charge of their towers' VHF Rx and Tx gear and LF homing beacon Tx, plus other vhf/uhf gear to be installed. During this time, I became good friends with my CO and had an oppurtunity to fly with him to Korea in the Co Pilots seat of a C47. He even let me take over the control! We Spent some time in Tageu and Suwon, Korea then returned to JA. Got my income tax eliminated for that month as I was in a war zone hi. At this time I was promoted to Staff Sergeant. I had a one year extension applied to my original three year enlistment so called Truman tour. Harry Truman was prez at that time. The Korean War was taming somewhat during the later part of 1952 so my one year extension was dropped to six months. In November 1952 I traveled by train 700 miles north again to Tachakawa AFB north of Tokyo for processing to return to good old USA! Again, on a troop ship for nine days arrived In San Francisco in early December, 1952. On December 8, 1952 was finally discharged at Hamilton AFB, CA after serving three years six months and one day! Four of us spent a few days in CA then boarded a bus for the trip East. After stopping in Oklahoma City, OK I thought about applying for a civil service job at Tinker AFB but met a chic and forgot about it. A week there I boarded the bus with a buddy from NC and traveled to his home for a couple days then returned to Pittsburgh and finally home after a two week trip via bus from CA. Returned home just before Christmas 1952. I had thoughts about re-enlisting and making the AF a career but after being home a few weeks and getting employed in Alcoas' Reserch Lab I forgot about it. Forty years and one month later on February 28, 1992 I was retired and thats my story and I'm stickin' to it. God life is Great! (K3LR, K3UA, K8CX)
---
We are all saddened with Bob's passing. Bob started contesting with a Multi op group in the late 1950's. He mention everyone brought equipment to the hosts place. He said it took a lot of muscle by several people to get a Collins KW-1 up a flight of stairs. At Bob's station he still had the crystal set he built as a cub scout. On his work bench he still had a Multi-Elmac AF67 transmitter with hand mike and most of the cables turned into saw dust. What people didn't know he was great train enthusiast and helped rebuild a locomotive. I've seen pictures of him with his engineers cap waving from inside the cabin of a locomotive. I actually thought someday I might be out at his place and see a locomotive or at least a caboose. At one time he had a cabin cruiser in his back yard, we use to joke we would operate FD as maritime mobile from his back yard. Bob was the true spirit of what a ham was. Besides me having no station and many others not having one either, we/they were always welcome to operate his station. He was a life member of the ARRL & NRA. (W9XR)
---
I am extremely saddened by the passing of my very dear friend and pal Bob W3GH (previously W3WGH).
Bob will be very much missed by his always present smiling face and good-natured personality at the Dayton hospitality suites.
The last time I talked to Bob was at Dayton 2016 with emails and phone messages being left with no return answers.
Up until that Dayton we were always in regular contact.
Bob was always a regular at the early K3LR MM's and was the regular 160M op. Since I was mostly the 15M op in those days I was always joking and kidding with the Green Hornet since our chairs were side by side.
Bob's QTH is Apollo, PA. so I referred to him as Apollo Bob when I would tell my wife I was going to visit Bob.
Bob never was stressed about anything and was always the good guy to help turn a person when they were feeling down or just not in a great mood.
Bob we will miss you and think about often in the days to come.
73 to our good friend Bob AKA Green Hornet.
(Phil K3UA)
---
G'day,
Sad to hear from Jim K1PX that Bob W3GH has gone SK. He was a superb 160m op and used to work him regularly from the mid-1990s onwards. There are some CW ops that can just slip their call into a pile-up as neatly as a playing card falling through a gap in the floorboards and Bob was one of those. His timing was just about perfect - one cleverly timed short call and Bob was through. RIP Green Hornet - and thanks for the memories.
Vy 73, Steve, VK6VZ
---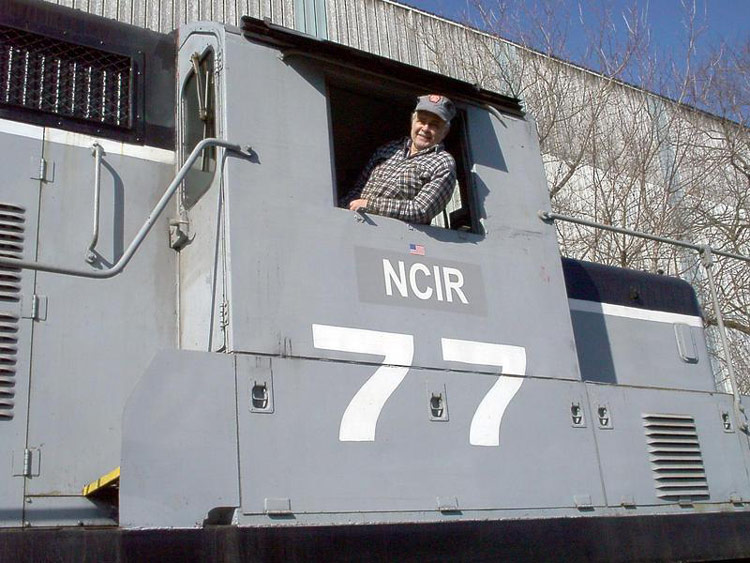 Bob W3GH had this photo on his QRZ.com page.
| Page 1 | Page 2 | Page 3 | Page 4 | Page 5 | Page 6 | Page 7 | Page 8 |
---
W3WGH QSL from the estate of ET3VC, MP4BDL, HZ3TYQ, HZ3TYQ/8Z4, W8NUV, W2YOJ, W1TYQ, Tnx W1RAN, K8MFO
W3GH QSL from the estate of W3KH
1st Navassa QSL from the estate of K4GLA, W4XQ
2nd Navassa QSL from the estate of W5BGP / W5IO, courtesy of W5KNE
Info courtesy of K8CX, K3LR, K3UA, W9XR, WC3O, K3MJW, K3FH, WA3FET
2017 Clubhouse photo courtesy of K3STL
Facebook Photos & Begali booth photo courtesy of WC3O
CQWW photos courtesy of XE2AC
Dayton photos K8CX Collection
Some Dayton Photos by W4MPY, W4MYA as marked
---
This site is copyright © by K8CX of Paradox Design Group (PDG).
All Rights Reserved. All art, photos, and html is property of PDG.