Tribute to Charles E. Matthews W4CYP
Charles was apparently on the staff at Mt. Olivet Cemetery and funeral home in the 1930's. He call himself "The Ghost Of The Air" on his QSL card.
I am Charles Matthews's granddaughter and have just stumbled across your tribute to him. His father Julian was a groundskeeper at Mount Olivet Cemetery which would explain Charlie's working there as a teenager. As an adult, he was the graveyard shift engineer at the WLAC-AM transmitter site off Brick Church Pk. (Nashville). Charlie and Dorothy raised their two children in Madison, TN. He died of lung cancer just a few months after his retirement from WLAC and is buried at Mount Olivet Cemetery.
P.S. DEFINITELY not Charlie driving the hearse. He was a thin man!
Please read his tribute by W8SU!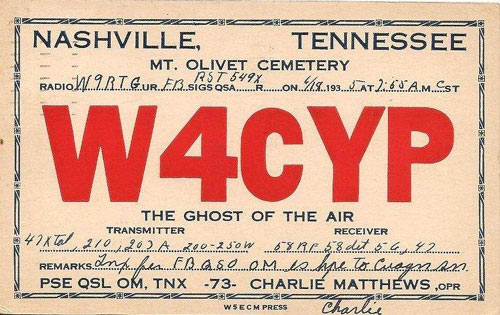 Charles Matthews W4CYP 1935 Nashville, TN
Tribute courtesy of W8SU
Additional info courtesy of Charlie's Granddaughter Deborah Katherine Lovett
---
This site is copyright © by K8CX of Paradox Design Group (PDG).
All Rights Reserved. All art, photos, and html is property of PDG.