Dale Westfall W4FDF
1920 - 2000
Dale was born in Piqua, Ohio. He became a Ham operator in Chicago - 1951 as W9SDD. Although he had many interests, Dale was dedicated to Amateur Radio.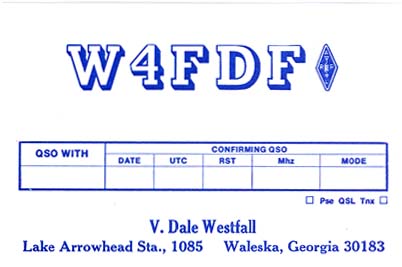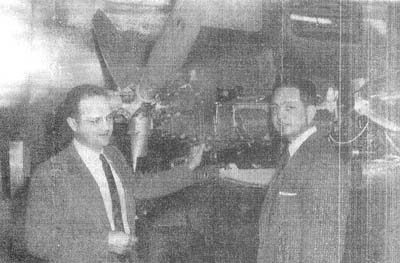 Ralph Harmon, chief engineer and Dale Westfall, chief test pilot
Our thoughts and prayers are with the family and friends of Dale Westfall, of Waleska, Georgia, who passed away on Monday, August 21, 2000.
In August, 1952, Dale was flight testing an aircraft when the machine literally disintegrated around him. When the aircraft fell apart in the air, Dale had a tough time getting his 5 foot 11, 190 pound frame out of the cockpit. To top it all off, his parachute didn't open until he was about 200 feet above the ground. He survived the disaster and later became a member of the Caterpillar Club, an organization for people who have made an unscheduled parachute jump from a disabled aircraft.
Dale later became a first officer for Trans World Airlines and later worked for Delta Airlines. While he was a pilot for Delta, he flew in the Korean airlift.
Pictured above on the right, Dale was the chief test pilot for Cessna Aircraft Company on the 620 project. Dale went to work for Cessna in 1956 and was assigned chief test pilot for the 620 project. The 620 was a four-engine commuter that Cessna certified in 1958, but due to a large number of surplus military aircraft that could be readily converted into corporate aircraft, Cessna never put the 620 into production.
In 1958, Dale moved to Atlanta, Georgia and went to work for Lockhead Martin Corporation in sales and management.
Dale spent a large amount of time playing, maintaining and restoring church and theater pipe organs. He used his engineering and musical background at Oglethorpe University helping maintain its 42 bell carillon built in 1920.
For eight years, Mr. Westfall was a Dale Carnegie instructor in public speaking and personal relationships. Many of his over 200 classes were given at the federal penitentiary in Atlanta, where they were well received and respected by the inmates.
Dale is survived by his wife, Barbara, his son, Todd, (Twin Cessna Flyer member #350) two sisters, one brother and two grandchildren.
I had the pleasure of meeting Dale during our "Return To Wichita" fly-in at Wichita in 1993. I can't begin to tell you how interesting this man was to talk to. He told me stories about his co-workers at Cessna and some of the fun times they must have had flight testing new Cessna aircraft. He respectfully declined to speak at that meeting because he was inflicted with Parkinson's disease and he had a very soft voice. He was one of the most pleasant people I ever had the opportunity to meet and he will be missed.
Tribute by his wife, Ms. Barbara Westfall KE4FNT