Tribute to Willard "Bill" F. Hunton - W6ODD, W3AG
SK in 1998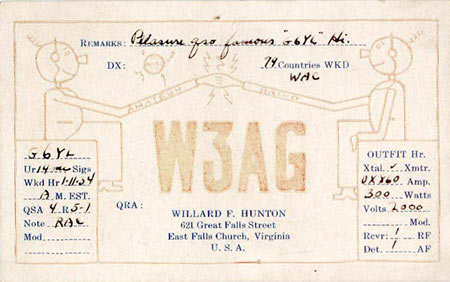 When WWII started, Bill joined the US Merchant Marines and became a radio officer. On VJ (Victory over Japan) day, August 15, 1945, Bill was in Shanghai, China. Even though the FCC still didn't allow the military to transmit on the ham bands in the USA or on foreign soil for at least another year, military personal around the world (and some US citizens) were putting up wire antennas and became active. Bill was no exception. Bill had his homebrew transmitter with him, a pair of 807's, built from the 1937 ARRL handbook. Bill got on from Shanghai in October 1945 as W3AG/XU. When contacting other GI's across China, Bill noticed that their "made-up" callsigns had the XU substitued for the prefix. Bill then changed his call to XU3AG for his remaining time in China. Several of these GI's were approached by the FCC on their arrival back to the USA. They were chastised for their operations abroad before formal approval but nothing else was done.
At the end of October 1945, Bill traveled to Penang, Malaya (Now West Malaysia 9M2), and operated as VS3AG. En route, he oped from the ship as XW3AG. Maritime mobile operations started with an X at that time. The country of Laos (XW) would not become recognized for another 9 years.
In November, Bill returned to China and took a boat to Hulutao, Manchukuo (Manchuria). Manchoukuo was a state created in 1932 by the Japanese in Manchuria, a puppet regime ruled in name only by " The Last Emperor" PuYI. It only existed till 1945, the end of the war, and then was reclaimed by China. That region wouldn't start using the prefix C9 for another year. On his 1st night there, Bill got on 20 meters as MX3AG. Bill was here for 2 weeks and kept this operation very secretive. He said the locals were very sensitive to foreigners due to the problems from the war. There were very few operations from this area in the coming years. MX and C9 were extremely rare.
In early December 1945, Bill returned to mainland China and oped once again as XU3AG. He made over 300 QSO's before leaving China.
In January 1946, he arranged transportation stateside on a boat. He stopped in El Salvador and Mexico on his way home. His W6ODD QSL shows his home QTH as Stinson Beach, California.
In 1948, Bill was back in Asia and the Pacific. On the morning of August 2, 1948, Bill would become the only DXCC operation from the Island of Dui, Portuguese India. He was on the air only one time, in the morning, and made around 55 contacts as W6ODD/CR8. This counted for DXCC. If you weren't on that morning or didn't find Bill on 20 meter CW, you weren't able to be "on top" of the DXCC honor roll list. This is now concidered the rarest operation in the world.
From his operation on Dui Island, Bill operated from Guam on March 7, 1948 as W6ODD/KG6, then to El Salvador on April 6, 1948 as W6ODD/YS3, then back to SE Asia and operated on June 7, 1948 from Saigon, French Indochina as W6ODD/FI8. He got permission from the Chief of Police in Saigon to operate. This was also a very rare and sensitive place to operate from at this time. He then traveled to Midway Island and oped on June 19, 1948 as W6ODD/KM6. He then stopped in Honolulu on his route back to San Francisco.
Bill operated from Nicaragua on July 7, 1951 as YN3AG. His QSL card from this operation shows his address as Baltimore, MD.
Ancestory records show that Bill became a SK in 1998, in Lewisburg, Union County, Pennsylvania.
If anyone has any other information on Mr. Hunton W6ODD, W3AG, please send it to me, K8CX, and I will add it to this page.
Here are the QSL cards I have from his operations. If you have any other cards, please send me the cards or scans.
---
NU3AG 1927 Falls Church, VA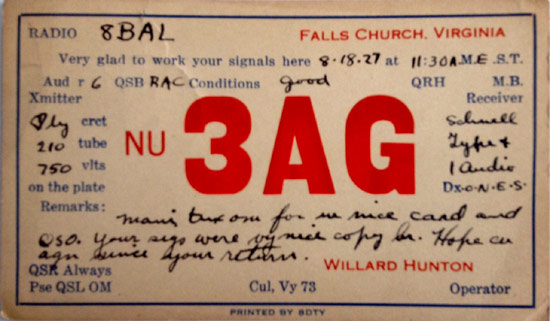 3AG 1928 Falls Church, VA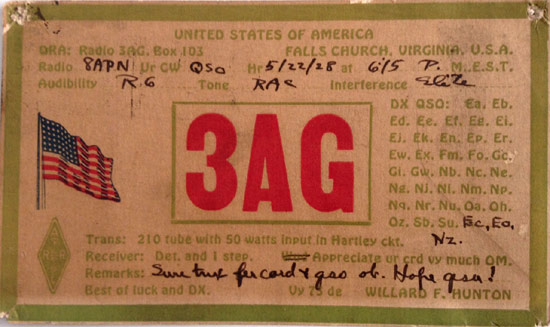 ---
W6ODD/CR8 from Dui Island, Portuguese India.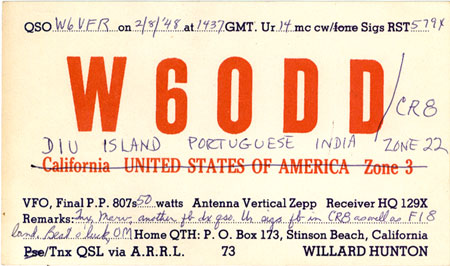 From the estate of W9ANS, W6VFR, W6FR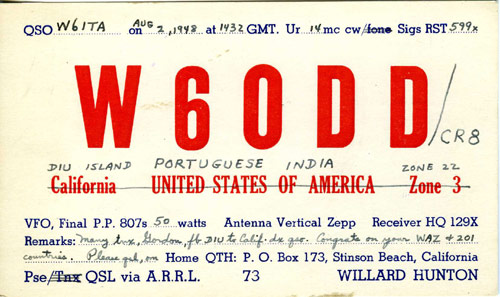 W6YA Collection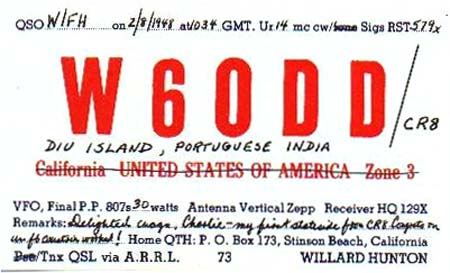 ARRL Archives
---
W6ODD/KG6 Guam, Marianas Islands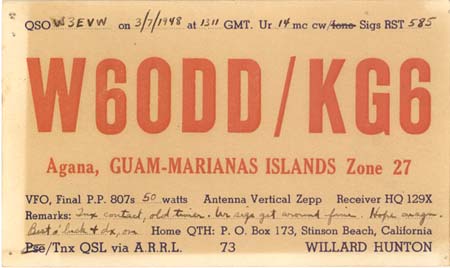 ---
W6ODD/YS3 El Salvador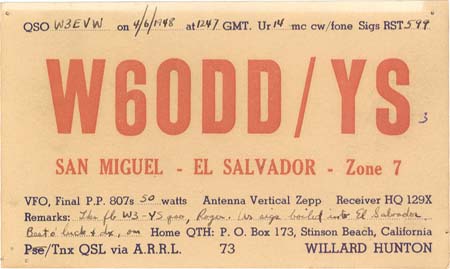 ---
W6ODD/FI8 French Indo-China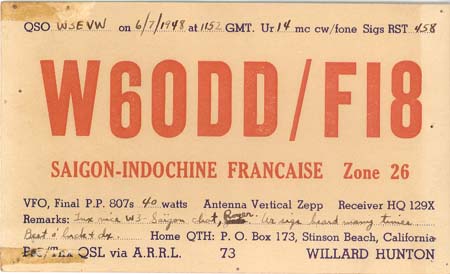 W6ODD/FI8 was a very rare and dangerous operation from Saigon, French Indochina, now Vietnam.
---
W6ODD/KM6 Midway Island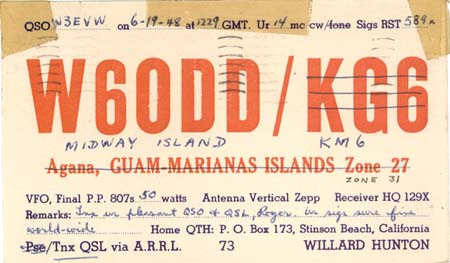 ---
W6ODD/VP4 Trinidad Island, BWI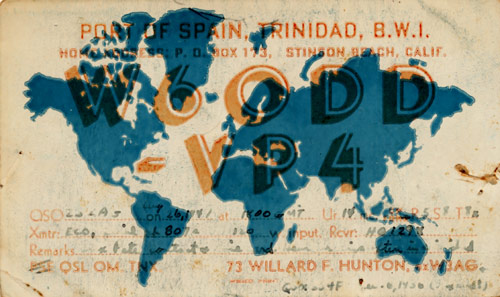 ---
YN3AG Nicaragua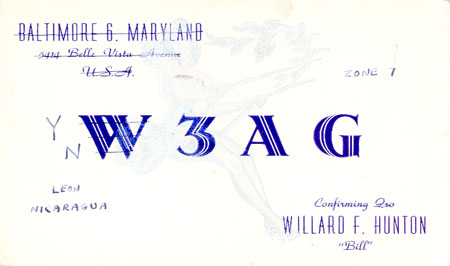 ---
Willard was listed in the U.S. Department of Commerce callbooks as follows:
1927 3AG
1928 W3AG
1929 W3AG
---
Information for tribute courtesy of Jan Perkins N6AW from his book Don C. Wallace W6AM Amateur Radio's Pioneer.
Other information and research for tribute courtesy of W8SU, K8MFO, and K8CX.
QSL W3AG from the estate of G6YL
NU3AG, 3AG courtesy NL7XM Collection
QSL's W6ODD/CR8 from the estate of W6VFR, W6FR; W6YA Collection, ARRL Archives
QSL's W6ODD/KG6, W6ODD/YS3, W6ODD/FI8, W6ODD/KM6, from the estate of W3EVW, K8CX Collection
QSL YN3AG from the estate of W5ASC, W8DRF, W8HXX, K8CX Collection
W6ODD/VP4 QSL K8CX Collection
Callbook info courtesy of W5KNE
---
This site is copyright © by K8CX of Paradox Design Group (PDG).
All Rights Reserved. All art, photos, and html is property of PDG.