Tribute to Charles O. Slyfield 8PH, 8ANT, 8LA, W6WQ
1898-1974
Samp Slyfield 1898-1974 a Marconi operator in the early days and Ann Arbor Railroad shore station WFK Frankfort Michigan. He held 8PH 8ANT 8LA and finally W6WQ. He ran a wireless school out of his home in Frankfort and was on duty when the Car Ferry 4 foundered at the pier head in a 1923 storm.
Samp later became a award winning sound engineer, being the director of sound at Disney Studios. A three time Oscar nominee for his efforts and was given special tribute for his work with Disney.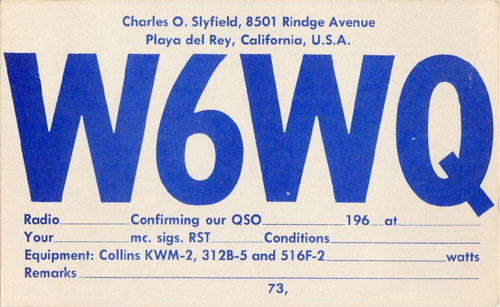 Tribute courtesy of W8SU
QSL to W8SU by Charles grand daughter Kathy Wright
---
This site is copyright © by K8CX of Paradox Design Group (PDG).
All Rights Reserved. All art, photos, and html is property of PDG.