Tribute to Dave Humphries - W8AGX
October 21, 1926 - November 26, 2007
When I was 12 years old in 1963, I passed my novice license (WN8KCX, now K8CX) and my dad took me to a ham radio store in Youngstown, OH called "Armies" to get some equipment. This is the 1st time I met Dave W8AGX. He worked in the ham radio section. Dave suggested to my dad that I get a nicely refurbished Hammarlund HQ129X receiver they had on the shelf. This and a DX35 transmitter (given to me by my dad's friend W8GFG) served me well through my novice year.
Armies was in 2 rooms. The front room was more of an electronic, electrical type store. The back room was smaller but had walls of refurbished ham radio equipment (boat anchors), racks of rocks of any freq you could want, books & magazines, a showcase that had stuff like keys and mikes. The back room was 100 percent ham radio. Thats where Dave worked.
I was back in Armies around 1965 admiring a very shinny vibroplex key that was in a glass showcase. It had an "out of range" price tag on it but was very FB with its chrome body, red paddles, and red jewel on top. I was probably 15 yrs old at that time. Dave caught me eyeing the key. He said some guy just brought it in earlier that day. Dave sold it to me for the price he just paid for it which was quite a bit less then the price tag. I still have that key today. I still think its beautiful and a nice rememberance of Dave Humphries W8AGX.
I would run into Dave from time to time at a local hamfest. He was a very good guy and enjoyed his time at Armies and time on the air. Before his wife Vicki, he was married to Betty WA8BBG, also now SK. She was a big 6 meter op. I would talk to them both quite a bit on six. Dave and Betty visited me at my parents home back around 1965.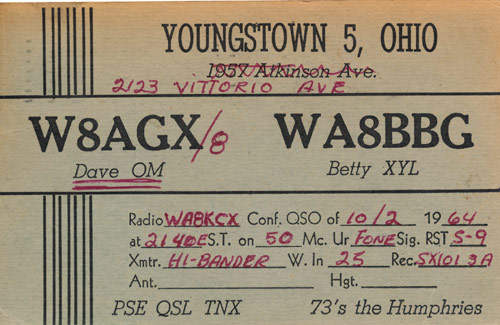 I am updating my log and I found an old log book entry, and I am entering a couple of those entries into my computer log. I came upon a entry for W8AGX where I had a QSO in 1985. That is 30 years ago, now that is not very long ago from reading your nice comments about Dave. We had a QSO on 40 meter CW 7.122 MHz when that was part of the Novice band. My notes says he was operating a Drake TR-5.
Jeffrey - KA2BKG
Bel Air, MD
David Humphries from Hubbard, Ohio, 81, died on Monday afternoon, November 26, 2007, at his residence. He was born on October 21, 1926, in Youngstown, a son of Arthur and Mary Humphries and was a lifelong area resident.
Mr. Humphries was an electrician for Commercial Shearing & Stamping for thirty years, retiring in 1989, he worked at Armies part time. He was a veteran of the U. S. Navy, having served during World War II. David was a ham radio operator with W8AGX as his call sign. He was a NASCAR fan and enjoyed motorcycle riding and boat racing and was a member of the Lake Erie Boat Club of Conneaut, OH.
He leaves his wife, the former Violet P. "Vicki" Williams, whom he married on May 14, 1972; six sons; David Michael (Regina) Humphries of Petersburg, OH, Charles G. (Karen) Humphries of Youngstown, James G. (Anna) Morrison and Jeffrey Morrison, both of Hubbard, Ronald (Cathy) Morrison of Brockway, PA and Daniel (Brenda) Morrison of Concord, NC; two daughters, Sandi (Dave) Watson of Marion, OH and Vicki Barton of Hubbard; four brothers, Charles Humphries of Youngstown, Arthur Humphries of Canfield, Martin Humphries of Youngstown and Francis "Frank" Humphries of Youngstown; two sisters, Margaret "Peg" Campbell of Austintown and Rita Raver of Youngstown; 13 grandchildren and 8 great-grandchildren.
Preceding him in death were his parents, a sister, Annabel Raber and four brothers, Joe, Jack and Arthur "Deacon" and Walt Humphries.
About a year before W8AGX expired, there was a bad fire at the family home, the date 20 Jan 2006. Here is the Youngstown Vindicator article.
Rest in peace my friend.
Tribute courtesy of K8CX, W8SU
Newspaper article and obituary from Youngstown Vindicator