Tribute to George Morrow W8BKP
July 22, 1908 - July 7, 1994
| Many Remembrances of W8BKP by Jack Bennett W8WEN | W8BKP QSL Cards |
| Newspaper Articles |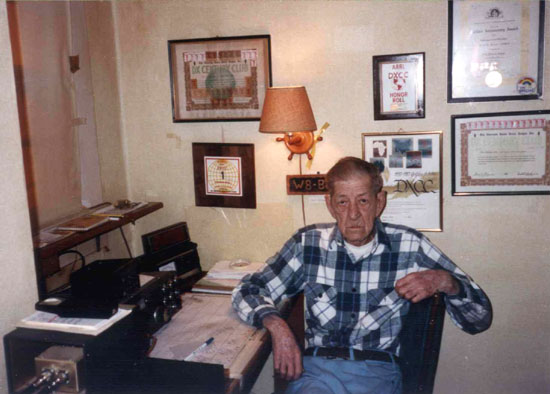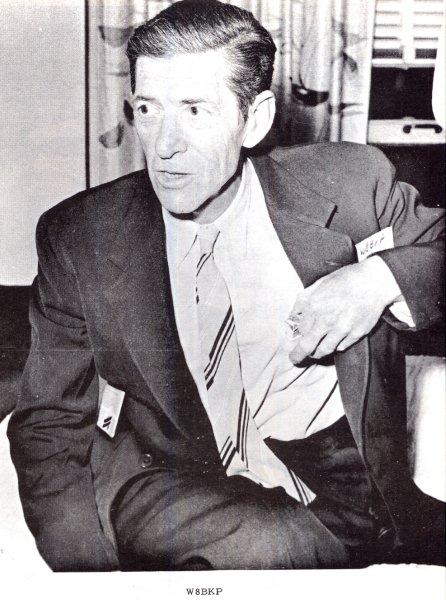 I wrote George W8BKP a letter a long time ago asking about W3CRA and he was very helpful and finally said "we would sit over at the Lucas QTH, drink beer and smoke Camels when it wasn't a sin! Some gifted talent those fellows! W8SU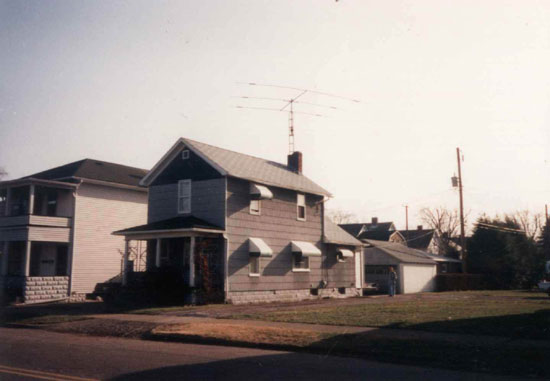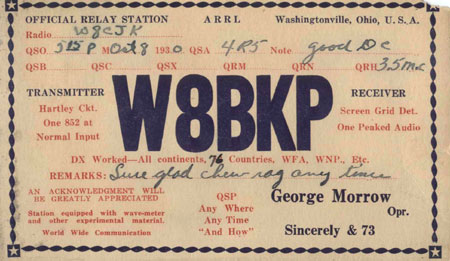 As told by W8WEN and K8MFO
Supplemental information on George Morrow. A great deal of this came from Jack Bennett – W8WEN, shortly before he himself became a silent key in 2007. Some editing and additions by K8MFO.
GEORGE W. MORROW was born July 22, 1908----At the age of 12, while on a trip to Chicago with his father, George spotted a QST magazine at Union Station. His father purchased it for him and George was into radio---When he was 13 he had already been listening to amateurs 100 miles away using Morse code, but he was startled one night when he heard voices and music, He had his mother listen on his headphones, "Oh My God " she cried, You're right. Please don't tell anyone about this, George they'll put us both in Massillon (State mental hospital)." The townspeople had already been talking and accusing George of fibbing about hearing people on Morse code over 100 miles away.
George was licensed October 7, 1921 with the radio call of 8DTN. In the August 1928 QST magazine, Ohio section manager H.C. Storck, 8BYN says "8DTN hopes to be on with a 50 watter soon" ---I believe to be in accordance with a provision of the Washington Convention The Federal Radio Commission beginning January 1929 changed 8DTN to W8BKP. ----- K8MFO note: George told me that the call sign change took place because of BCI complaints to the FCC. An FCC agent showed up at the Morrow home, and told George he had been ordered to revoke his 8DTN call. The FCC guy was so impressed with George's setup and knowledge that he issued him W8BKP on the spot. As the FCC guy said, "They told me to revoke the license, but they didn't say I couldn't issue a new one."
In 1938 George received DXCC #65 the first in Ohio. He would continue his DX saga for the next 56 years, until he became a Silent Key.
George also knew his way around the contest scene, with a #1 USA All Band WIN in the 1964 ARRL PHONE DX CONTEST. In 1929 George had a second place finish in the ARRL CW CONTEST.
George Morrow was one GIANT of a ham and we were proud to know him.
73
Jack Bennett – W8WEN, Don Karvonen – K8MFO
Article and photos courtesy of K8MFO, W8WEN
Black & white photo courtesy of W8SU, from Don Chesser Ohio Valley DX Bulletin Sept. 1959
---
This site is copyright © by K8CX of Paradox Design Group (PDG).
All Rights Reserved. All art, photos, and html is property of PDG.