Tribute to Reuben K. (Kelly) Bolles - W8DIY
1921 - 2008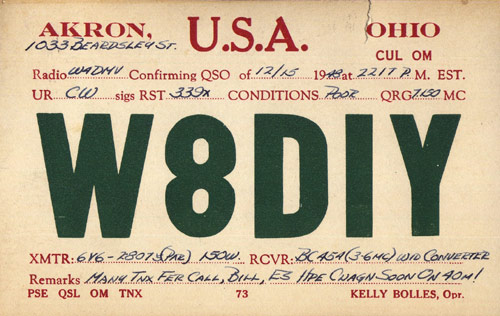 W8DIY Reuben K. (Kelly) Bolles - Broadcasters Hall of Fame Kelly inductee began his radio career with the "First Mobile Broadcasting Company U.S. Army as a member of the "Transmitter Technician of the Combat Propaganda Team, North Africa, Italy, France and Germany from 1942 to 1945. After returning to the Akron area, Mr. Bolles worked at both WHIZ and WADC as an engineer until he found his broadcasting home at WAKR for 38 years. He worked as an engineer at WAKR AM FM and TV. He retired in 1986 but was still an active amateur radio operator, a hobby he began in the 1940s. His son-in-law Ron Bartlebaugh W8JPG is also an inductee in the Hall and broadcast engineer for WKSU at Kent State. Partially scripted Akron Broadcasters Hall of Fame.
QSL from the estate of W4DMV
Tribute courtesy of W8SU
---
This site is copyright © by K8CX of Paradox Design Group (PDG).
All Rights Reserved. All art, photos, and html is property of PDG.