Here is a great story and tribute to Raymond J. Abraczinskas - W3HJR, W8HVG
July 19, 1936 - November 9, 2010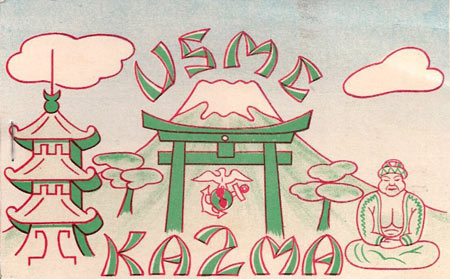 This was from the 1st Marine Air Wing ham station, at Atsugi Naval Air Station in 1956 - 1960 where I was the custodian from 1956 to 1958.
My Ham Radio Story:
Like many people I suppose, I got interested in amateur radio while in high school in the early 1950's growing up on a farm in the mountains of central-eastern Pennsylvania. Television reception in the area was a challenge then. I began to play around with TV antennas and hang out in several TV repair shops to learn all that I could. Three of the shop owners were hams and watching them operate their ham stations, I knew that I just had to become a ham radio operator! Their operation was on AM phone and CW then; it was intriguing seeing their QSL cards from all over the world hanging on their ham shack walls.
In October 1954, I joined the Marine Corps and after various combat training courses and schools, I graduated from the Navy Electronics School in Memphis, Tennessee. In February 1956, I was assigned to the 1st Marine Air Wing, Marine Air Group 11 Headquarters unit based at NAS Atsugi, near Yokohama, Japan. I worked in the MAG-11 Avionics Shop on APG-30 gunnery radar equipment and Sidewinder missile guidance heads. Several people in the shop were hams and soon I was connected with other people on the base that were also hams. I bought a Hallicrafters SX-28 radio receiver from my shop NCOIC, M/Sgt. Julius Jones, and was able to listen to the bands with just a wire antenna.
There were two amateur radio stations located on-base at the time, KA2NA on the Navy-side, and KA2MA on the Marine-side. Navy Chiefs "Pappy" Yetter and Bill Boykin operated the KA2NA station which used a Collins KW-1 transmitter and a 75A1 receiver. On the Marine-side, Robert H. Mitchell (KA2EC and W5DWT), Chuck Howder and Gedney Webb operated KA2MA using a converted BC-610 transmitter with a Central Electronics 20A SSB exciter and 75A-series receiver. The station was housed in a quonset hut near my barracks. I hung around the station during my spare time and became familar with radio operation.
In those days, there were no American "ham stations" in Japan, they were called AMRS, or Auxiliary Military Radio Stations and they were regulated by the Far East Auxiliary Radio League or FEARL (Military). The military-affiliated KA-stations were limited to operating on the 20, 15 and 10-meter bands then, and the KAs weren't recognized by the Japanese JA-hams. Most AMRS were also members of the Military Affiliate Radio System, or MARS. So AMRS KA2MA was assigned AD1BU in the MARS and participated in the many Far East MARS traffic nets involving stations in Japan, Korea, Okinawa and the Phillipines.
In 1956, being in Japan and not being close to a FCC examining office, I was able to take my ham license exam in front of other qualified amateurs. I achieved a conditional class license, which was the same as general class then. For my test, I remember having to draw a schematic of a VFO and a power supply, along with answering all the questions, and being able to send AND receive the morse code. I remember being scared but in the end, because of my military electronics training, it was no problem. I passed with flying colors and received the callsign W3HJR (Hopping Jack Rabbits)!
My First Contact!
I remember my very first contact was with VK2FA in Sydney, Australia on 20M. His name was Horrie Oakes and he was very enjoyable to talk with. We spoke for over three hours which qualified us both for a Rag Chewers Certificate, or RCC as it was called back then. It was my first contact and my first ARRL award! Horrie had a daughter named Pauline who was about my age and we became pen pals for several years. I can still remember Horrie's address clear as a bell yet today, some 47 years later. Ham radio provides great memories!
Shortly thereafter, I became the custodian for KA2MA and I was assigned full time duty to running and managing the station. It played an important role in relaying health and welfare traffic via the MARS nets (including phone patches). As such, we needed new equipment-capabilities.
The Best New Equipment:
I was able to get approval to order a new Collins KWS-1 transmitter, 75A4 receiver, and a W3DZZ tri-band beam antenna from Henry Radio in Los Angeles, California. Conveniently, I would speak to Ted Henry, W6UOU and his brother Bob, W0ARA several times a week on 20M. Occasionally, I'd also talk to their brother Walt, W4LIM who was in the Navy. The new equipment arrived about one month later and was immediately installed in the new shack. I can still remember that Collins "new equipment smell."
I would buy ham magazines in the local PX. In June 1956, Bob Adams, K2DW (later changed to W3SW) started writing a Single-Side band column (called SSB) in CQ magazine covering the new SSB activities around the world. His first single-page article read, " There are now FIFTY countries with SSB operation." The column regularly quantified those hams achieving working new DX-stations and countries on SSB. Plus, it was always a pleasure then to read the Collins advertisements on the inside cover of every CQ magazine.
By mid-1957, a few competitive side-band hams began achieving 75 countries worked on SSB. To assist those endeavors, many hams would circulate SSB equipment around to rare DX stations so that new countries could be worked on SSB. Ted Henry, W6UOU was one of many sponsors having his small 11-pound "Argonaut" SSB package circling the globe (sometimes called the "Little Juggernaut" and the "Little Jaugernot"). In April 1957, there were only eighty-seven countries with SSB activity (as listed in Bob Adams SSB column).
The late 1950s experienced great conditions on 10M and mobile SSB operation was made popular using the newly popular Collins KWM-1 transceiver. Art Collins, W0CXX worked with Generals Francis "Butch" Griswold, K0DWC and Curtis E. LeMay, K0GRL in implementing SSB into the U.S. Strategic Air Command's operations. They would take many flying junkets around the world in a SAC C-97 Stratofreighter operating and demonstrating SSB. The U.S. Navy quickly followed suit implementing SSB, and Admiral Arleigh Burke's plane eventually had an ARC-58 airborne 1kw SSB transceiver installed, which I had the pleasure of checking out once during his visit to NAS Atsugi in 1957.
Operating from Japan as a side-band DX station was a real pleasure! In the mornings I would participate in the MARS nets running traffic and in the afternoons and evenings, I would ham. If there was no traffic to run, or a MARS net to manage, I would ham. It was easy to fill a half-dozen log sheets every day! I had a policy to send a QSL card to everyone I talked to and so I designed a beautiful five-color QSL card and had two-thousand printed in Tokyo. It highlighted the USMC symbol and several famous Japanese shrines and symbols, i.e., Mt. Fuji, a Budda, a Tori, etc. I received numerous compliments daily about the KA2MA QSL card. Unfortunately today, I don't have one because all my QSL's and records from operating KA2MA burned in a house fire in 1977. Does anyone out there have one?
In March 2008, I received a copy of my KA2MA QSL card from former Marine Charles Blackstock, N7ORE in Tucson , Arizona who took over the station from me in 1958.
Some Hams I Remember Talking With:
There were so many new and distinctive hams operating SSB all around the world in the latter-1950s. Some that I remember talking with regularly then were Capt. Kurt Carlson, W2ZXM on the ship called the "Flying Enterprise II," Bill Leonard, W2SKE who had a ham program on the Voice of America (and later became President of CBS News); Harry Whiting, W2JXH (the first U.S. station to WAC and work 100 countries on SSB); Mort Kahn, W2KR from Long Island; Mike Ercolino, W2BDS, of Asbury Park, New Jersey and the President of the Telrex Antenna Corporation; Reg Tibbetts, W6ITH in California; Uncle Dave Marks, W2APF who did around-the-world ham tours and had the largest QSL card of any station. He owned Fort Orange Radio Distributing in Albany, New York; Hazzard "Buzz" Reeves, K2GL, ex-W2HJR; George Bailey, W2KH and ex-ARRL President; George Burns, W2DR from New York (George stopped in to see me at KA2MA during his around-the-world trip in 1957); Tony Vitale, W2EWL; Bob, W8DNY in Jackson, Michigan; Allan, W3ZP; Al Hart, W4FB who operated the White House station call W3WTE on President Eisenhower's special railroad car while traveling to Cleveland, Ohio in October 1957; Dave Atkins, W6VX; Dick Dorrance, W2LEJ; Arthur Godfrey, K4LIB; Don Merten, K2AAA on Long Island; Chuck Boegel, W0CVU in Cedar Rapids; Ted Henry, W6UOU (the first station to confirm working 100 countries on SSB) and his brother Bob Henry, W0ARA, all in the U.S. These were people I frequently talked with! Ham radio provides great memories!
Some of the distinctive DX stations I remember talking to regularly then were Cyril, VK3AAE; Ami Shami, 4X4DK in Israel and the winner of the single-operator category in the phone DX-contest in 1956; Empty, ZS6KD in Johanesburg; Jock, ZL2GX in New Zealand; Rundy (W3VA) operating as XV5A in Saigon; Volt Sato, DU7SV in Manilla; Ken Barzee (W6JOT) operating as HS1A in Bangkok; Ramsey, VK4AB in Australia; Scotty, KA0SC on Iwo Jima; Bill, KG6FAE on Guam Island; Alex Perenyl and his wife Eva, CN8MM in Morocco (the winner of the first World-Wide SSB DX Contest in 1957); Bob, AP2BP in Pakistan; Jim, DL4SV in Germany; Bruno, HB9FU in Zurich; Bob, 5A2TP, Lyle, VS6BE and Luk, VS6AZ in Hong Kong; Mirko, YU1AD in Yugoslavia; Humberto, TI2HP; Bill Slater, SV0WA in Salonika, Greece; Augusto, I1LOV in Italy; Howard, BV1US in Formosa; Robby Robson, VQ4ERR in Nairobi; Martin, VE3MR in Toronto; Bob Adams, OD5BZ in Lebanon (Bob, W8BKO from Columbus, Ohio had the same name as CQ's SSB columnist Bob Adams, W3SW); Wayne Cooper, HR2WC in Honduras; Wally, KZ5WZ in Panama; Mick and Don at 5A5TH; Charlie at F7AF in France; Katashi Nose, KH6IJ in Hawaii; HZ1AB, the USAF club station in Saudi Arabia; Mick, ZL3PJ; Corny, YV5FL the first SSB station in South America; KC4USA at "Little America" at the South Pole; KC4USV on Ross Island. It was not uncommon then to participate in a real-time WAC (Worked All Continents) roundtable on 20M SSB. The first real-time SSB WAC was reported in Bob Adam's SSB column in December 1956. I participated in several after that.
Another one of the most interesting SSB stations I talked to then was run by Navy man Bob Dennis, W4VEI/KL7 (and maritime mobile) on the icebreaker U.S.S. Burton Island which operated near Pt. Barrow, Alaska. Later, Bob operated during the Burton Island's travels all the way down to the Antartic arriving there in January 1957.
In the October 1957 World-Wide CQ-DX phone contest sponsored by CQ magazine, I spent 56 hours preparing and operating KA2MA along with KA2GW (Gedney Webb), K4HFG and W6FJF. We contacted 711 operators in 104 countries and scored 4th place in the world-wide competition (just behind 5A5TH). The contest happenings were beautifully described in an article entitled "Battle of the Hams" in Sports Illustrated magazine on June 30, 1958, written by Bill Leonard, W2SKE. My hand-drawn five-color QSL card was featured in the article. Note- This article is viewable yet today on the web by searching "Battle of the Hams" or W2SKE. Ham radio provides great memories!
One of the great memories of operating in Japan was meeting and visiting other hams and seeing their stations. There were several excellent but somewhat competing AMRS SSB stations operating in Japan then, such as KA2YA at Yokota Air Base run by M/Sgt Ray Domke (and Al, Bob, Dave and Jim), KA2KS (Chuck) at Kamiseya, KA2NY (the Navy Mike and Key Club Station) and KA2CU (Charlie Umfried) in Yokosuka, KA2ZS at Camp Zama, KA5MC (R.F. Krist, W6KTE and Jim Ahneman, W9FWQ) and KA5ZS (Zane Sprague, W6UWL) at the Marine Corps Air Station at Iwakuni, Japan. I used to fly down to Iwakuni and play in the USMC basketball tournaments held there.
Many KA-stations in Japan gave operating awards. KA2YA used to give a diploma for working them entitled "Honeybucket Hollow Gabfest Society." The FEARL gave a WTFKAS (Worked 25 KA Stations) Certificate, and the KA2NY Navy Mike and Key Club gave a "WAY" Certificate (Worked All Yokosuka).
M/Sgt Ray Domke, from KA2YA-fame left Japan in July, 1957 for an assignment at Andrews AFB, where I visited him after getting back from Japan in early 1958. Ham radio provides great memories!
There were several standout Japanese amateurs who were regulars on SSB. Two that I remember were Gin, JA1ACB and Haru "Harry" Yoneda, JA1ANG. Harry attended Columbia University and was a good friend of Bill Leonard, W2SKE and his wife Kappy. Harry and his wife Yoshiko lived in Tokyo and it was always a great thrill visiting him. He lived not far from the Akihabara district which was known then as "electronics city." I bought my first "CW-bug" in Akihabara.
All through the 1950s, there was another great ham story occurring with Danny Weil, VP2VG sailing his boat around (the YASME and later on the YASME II) giving new country contacts to hams all over the world. I listened to Danny's pileups many times but never had the pleasure of working him. His singlehanded DX-operation feats go unsurpassed yet today.
In March 2003, the ARRL website reported that: Famous DXpeditioner Danny Weil, ex-VP2VB, reported ill (Mar 26, 2003) -- DXpeditioner Danny Weil, ex-VP2VB, of YASME fame, reportedly is in a nursing facility after suffering a stroke late last year. Now 84, Weil would welcome cards and notes from his friends and acquaintances around the world. He was active under a variety of call signs in the 1950s and early 1960s from various ports of call while sailing one of the three YASME yachts. His address is Danny Weil, Regency Care at Medical Center, Room 101, 3935 Medical, San Antonio, TX 78229. More information is available on the Danny Weil, VP2VB, Page. ARRL soon will publish the book YASME: The Danny Weil and Colvin Radio Expeditions by Jim Cain, K1TN, which includes many tales of Weil's DXing adventures.
One of the more popular multi-band beam antennas of the times then was the G4ZU Minibeam designed by Captain Dick Bird, G4ZU in Surrey, England. I remember many of the hundreds of foreign QSL cards I received in Japan indicated G4ZU beam antennas were used. Many of the QSLs received from the States then indicated W3DZZ, Telrex and Mosley tri-band beams being used.
Just before leaving Japan, Hal Drake, a reporter for the Far East Stars and Stripes newspaper wrote a full page article about me operating KA2MA. He said, "Marine Sgt. Ray Abraczinskas is probably the only man whose daily duties include an afternoon strictly limited to pleasure," and he was right! My folks put the article in my home town newspaper and it was good hearing from everyone back home. I even talked with my friend Hots, W3MYV, who got me interested in ham radio.
Leaving Japan:
I left Japan in March 1958, flying out on a MATS C-124 Globemaster aircraft. We stopped to refuel on Wake Island and Hawaii on the way back to the U.S. I eventually ended up at Treasure Island, California waiting for my orders. It was fun operating K6NCG there and keeping in touch with old friends.
While waiting for new orders at TI, I picked up a copy of the April 1958 issue of CQ magazine and Bob Adams had the following clip in his SSB column. "Abe, KA2MA is leaving Japan this month and we will lose one of the most active Hams on SB. One could always find KA2MA in the early morning hours, and Abe was always ready to carry on an interesting QSO. We will miss you ABE, and we will be waiting to hear about your next assignment. He reports a thirteen country roundtable on February 12th starting at 1500Z and lasting two hours. All stations in the round-table heard each other Q4 or better. The following participated" HS1A, AP2BP, YA1AA, JA1ANG, JA1ACB, VQ4EX, 4X4JW, VS6AZ, 5A5TH, ZB1CZ, YU1AD, VU2RX, CN8MM, and KA2MA."
New Duties and Old Acquaintances:
I finally received my orders to MAG-33 at Marine Corps Air Station, Cherry Point, North Carolina, where I'd put in my final five months before getting discharged and going to college. But first, I had 30 days leave to relax at home and ham. (Ray graduated from Trine Univesity in 1961 with a BSEE)
While home on leave in eastern-Pennsylvania operating W3HJR, I experimented with antennas, built linears, and visited ham friends. I occasionally talked with DX friends using my friend Hots, W3MYV's station with his kw and tri-band beam. He was intimately responsible for me gettting interested in ham radio in the early 1950s.
I phoned several of the stateside-SSB stations I worked from Japan and visited them all. Several of us drove to Albany, New York and visited Uncle Dave Marks, W2APF. It was a wonderful visit! Later, I visited Barry Barker and Jack Williamson, owners of the B&W Company in Bristol, PA. Jack gave us a plant tour and it was great seeing some of the new BC-610s being built for the Military. I visited M/Sgt Ray Domke, W1QLR (from KA2YA) and his wife at Andrews AFB. I visited Mort Kahn, W2KR on Long Island. I went to Canal Street in New York City and roamed the surplus shops. I visited Harrison Radio on Greenwich Street and traded some equipment. Ham radio provides great memories!
At Cherry Point now, I worked in the Avionics shop there, but I also helped set up the Marine ham station K4BUJ. I helped the custodian install new antennas and set up the Johnson Viking desk kilowatt station (for SSB) in a refurbished barracks. I made new friends and was able to stay in touch with ham friends overseas and back home.
One day while operating K4BUJ, I ran across a familiar voice on the band. His call was W4RQR. It was Lt. Col. Bob Mitchell (ex-KA2EC), who gave me my first ham exam in Japan! Bob was operating in the Caribbean, island hopping and adding countries to the SSB country-list. It was like old home week again on the bands! An article titled "The Wandering Sideband" appeared in the November 1958 CQ magazine describing his Caribbean adventures. College Included Ham Radio
In 1959, I started college at Tri-State College in Angola, Indiana working on a degree in Electronics. My Marine Corps training, avionics experience, and ham license gave me some college credits. While there, I was President of the ham club W9PMZ and still kept in touch with old ham friends. While in college, I attended my first Dayton Hamvention held then at the Biltmore Hotel. It was fun meeting many people I talked with from Japan, and many new people like Bill Halligan, W9AC from Hallicrafters, and Wes Schum of Central Electronics. It was a time when 6M FM and 2M FM was growing, so I also operated mobile with old converted Motorola and Link surplus police radios. When I graduated in 1961, one of my many KA2MA contacts, Mort Kahn, W2KR, was sending his son to Tri-State College.
After graduation, I worked as a Field Engineer for ACF Electronics, working on flight simulators located at various Air Force bases. I traveled working in Maryland, Michigan, Ohio, Indiana and Las Vegas, Nevada. I still hammed using my Collins KWM-2 both mobile and portable talking with friends and my fiance' back in Michigan. Her brother was a ham with callsign K8LZH and so it was easy to keep in touch. Ham radio provides great memories!
In 1962, I started working at the McDonnell Aircraft Company (for ACF Electronics), working on an airborne Infrared Search/Tracking System being installed on the Navy F-4B Phantom Jet aircraft. It was great and prestigous working at MAC, and there were many other hams working there. One friend I worked closely with was Ken "K.J." Fatman, W0BMQ who was an avid DX chaser. Another ham friend was Spencer Allen, K0REC who was the news anchorman for KMOX-TV Channel 4 in St. Louis. Another well known ham in the area was Bill Brown, W0SYK who also chased DX. He designed and built custom SSB amps running a pair of 4-1000A's.
In June 1963, I wed my fiance' from Charlevoix, Michigan and we started a family in Hazelwood, Missouri. My wife is a nurse and we both worked. I operated ham radio with my KWM-2, a P&H Electronics LA-400C linear amplifier, and three-half waves in phase on 75M, still keeping in touch with old friends around the U.S.
In 1966, an opportunity arose to work at Lear Siegler in Grand Rapids, Michigan. It was a good company stemming from the famous aviation pioneer and Collier Trophy winner, William "Bill" Lear. I was to help develop lasers and had to set up a laser laboratory in Grand Rapids. Lear Siegler had just purchased a Laser development laboratory in Ann Arbor and I was going to work in association with them.
I helped build a laser laboratory but shortly thereafter, Lear Siegler won a huge contract to help develop a LORAN navigation system computer for the USAF called the ARN-92. I became a system engineer on the project. I still operated ham radio but about the mid-1960s, 2M repeaters were coming into use in Grand Rapids and so I got involved. In 1966, and living in Michigan, I changed my callsign to W8HVG (High Voltage Generator).
In 1979, I helped start a large 2-meter repeater linking project in Michigan with a group called the Independent Repeater Association. By the late-1990s, it had grown to become a linked-system of twelve 2M-repeaters covering most of the lower-Peninsula and surrounding areas.
Strange Coincidence:
While attending the Dayton Hamvention in 2000, I was walking through the crowd and immediately recognized a familiar name tag. It was W2APF, only it wasn't the Dave Marks I knew from Albany, New York! It turned out to be his son-in-law, Thaire Bryant from North Easton, Massachussetts, who had gotten the callsign in honor of his wife's father. I told him about my experiences with Uncle Dave and he really appreciated hearing the story! What an unusual chance meeting! Ham radio provides great memories!
I retired from Smiths Aerospace Corporation in Grand Rapids, Michigan in 2001 after working there for 35 years (including 21 years for Lear Siegler). It was interesting work and I traveled the world, some times having an opportunity to meet new hams, and hams that I've talked to before. I also had the pleasure of writing and co-authoring the history of Smiths Industries Aerospace Corporation, Lear Siegler Incorporated and Lear Incorporated operations in Grand Rapids, Michigan (where I worked). William "Bill" Lear started it all in Grand Rapids in 1943. The book's title is "Fifty-five Trips Around the Sun" and it tells the 55-year history about the equipment and programs those companies were involved in.
Harry Yoneda, JA1ANG and I would still stay in touch after I left Japan in 1958. Occasionally, we'd chat on 20M and in 1970, I had the opportunity to visit Harry again while on a business trip to Tokyo. In 2000, Harry called me on the phone from Chicago to say hello as he traveled to one of the AMSAT conventions. He was one of the founders of JAMSAT. Ham radio provides great memories! In October 2007, it was very sad to learn of Harry's passing from a long bout with pneumonia. He was 88 and a memorable ham!
In early 2003, I had the pleasure of purchasing something from the Henry Radio ebay® Store. It gave me the opportunity to send a note back saying that I used to talk to Ted henry, W6UOU many years ago and that we bought our Collins ham equipment from him in 1956 for the Marine Corps ham station KA2MA in Japan. Much to my surprise, I received a pleasant email back from Ted Henry's son who runs the business now and he said that his father Ted, now 82, still comes into work most everyday and that he would give him my message.
After over half a century of being interested in ham radio and operating for over 51 years with all different kinds of equipmment and antennas, I can truthfully say that ham radio has affected my life! It's been partially responsible for the type of work I got into, the woman I married, and the people I've met and known most of my life. I am particularly proud that our son Dave is also an active ham (K8DJA).
Since 1992, many of the Marines that I was stationed with from the MAG-11 Electronics Shop in Atsugi, Japan still meet at a yearly reunion some where around the United States. In October 2008, it will be in Memphis, TN. Several still are ham radio operators.
If anyone wants to look up any KA call in Japan from the 1958-era, check out www.motobayashi.net/callbook/ka.html
Most of the people I mentioned in this story are probably no longer living but, if there is anyone out there reading this story now that knows or knew any of them, I am sure that you will agree that ham radio provides great memories! - W8HVG
Story and info courtesy of W8HVG, W5KNE
QSL courtesy of W8HVG
---
This site is copyright © by K8CX of Paradox Design Group (PDG).
All Rights Reserved. All art, photos, and html is property of PDG.