Tribute to Charles "Doc" Mathias W8KGD
October 20, 1915 - November 5, 2008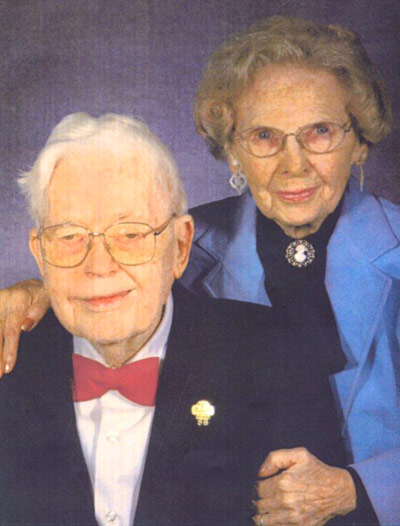 Dr Mathias was born in Youngstown, Ohio on October 20, 1915. He attended school in Niles, Ohio and graduated from Case Western Reserve University in Cleveland, Ohio. After graduating, he served in the military during World War II as a Major, U.S. Army Medical Officer in Anchorage, Alaska from 1944 to 1946. It was there that he met Iona Ketelsen and they married in 1946.
Dr. Mathias practiced medicine in Niles, Howland, and Warren, Ohio areas from 1946 to 1990. Upon retirement, he received an award from Ohio State Medical Association for fifty years of service.
One of the highlights of his retirement was a globe-circling adventure that he and Iona enjoyed via a private charter on board the Supersonic Concorde.
Dr. Mathias joined the ARRL in 1942 and later became a Life Member. In October 2010, the ARRL received word that that it was a beneficiary of the Charles and Iona Mathias Joint Trust for 1 million dollars. He made additional past contributions to various ARRL programs, beginning with his support of the W1AW renovation campaign in 1988. He also made numerous gifts to the Spectrum Defense Fund, W1AW Endowment Fund and the Education & Technology Fund. He became part of the ARRL Diamond Club in 2003.
Tribute thanks to W8SU
---
This site is copyright © by K8CX of Paradox Design Group (PDG).
All Rights Reserved. All art, photos, and html is property of PDG.