Tribute to Alvin R. Adair W8MNJ
1908 - February 22, 1983
Kenneth D. Adair Beverly Hills FL 34465 - His ham radio call sign was cancelled in 2014, It could mean Ken is deceased. His wife's name is Anna. Ken was Alvin's son. Ken, if still alive would be in his 80's.
Al was a gentleman on the air and was very educated in electronics. Al was one of the managers that founded the classic Astatic D104 microphone.
W8MNJ was a real first class Elmer to hundreds locally and those that heard him on AM. He is gone now but worked his way up thru the Astatic Company when it was in Youngstown, Ohio and a major staff member when they moved to Conneaut, OH.
Please read his tribute by W8SU!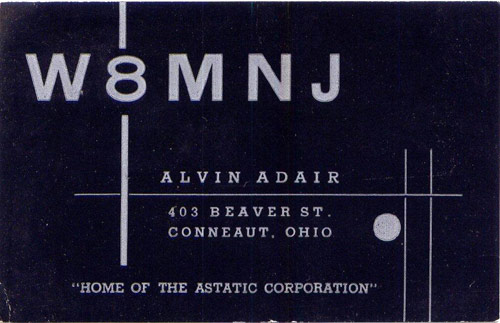 Tribute courtesy of W8SU
QSL K8CX Collection
---
This site is copyright © by K8CX of Paradox Design Group (PDG).
All Rights Reserved. All art, photos, and html is property of PDG.