This page is dedicated in memory of: Joseph F. Boza, Sr., W8MPY, WA8PYN, who became a silent key on September 7th, 1972.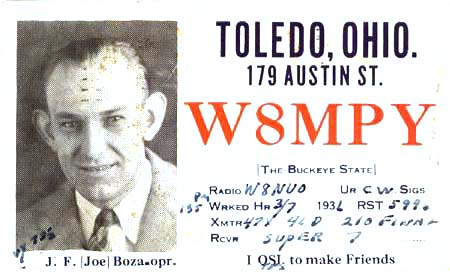 Henry (Hank) Sobb, W8PCT, was W8MPY's amateur radio best friend. The two of them made numerous QSOs together using their 160 meter AM homebrew transmitters. W8PCT is now a silent key. Besides 160 meter AM, W8MPY was also activity chasing DX on 40 meter CW. Contacts as far away as Hawaii and Germany are found in this logbooks. In those days all CW was done using a straight key, no electronic keyers or computers to assist. W8MPY used a solid brass key, model R-63, manufactured by "Signal Electric Mfg Co." of Memoninee, Michigan.
When World War Two started, for security reasons in those troubled times, the US government canceled all amateur radio licenses. W8MPY was no exception. After the war ended, Joseph started a family with his wife Clara. Together they raised three children, Joseph Jr., Maryanne, and Thomas (who is NE7X). In 1968, with the children now nearly fully grown, Joseph went to the Detroit Michigan Federal Communications Commission office and passed his General class amateur radio license exam. A new callsign was issued to Joseph, WA8PYN.
Visit the tribute page by Joseph's son Tom NE7X