AL GROSS W8PAL 1918 - 2000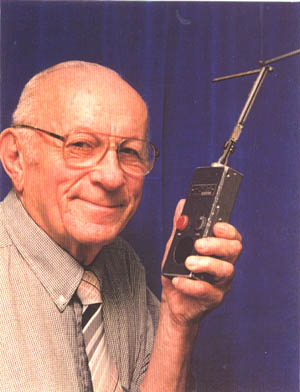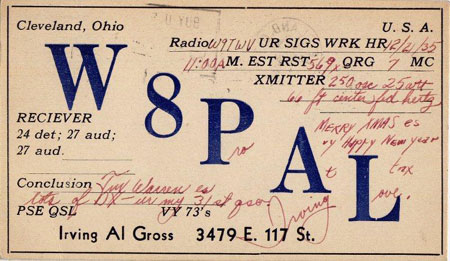 Gross was born in Toronto in 1918, but grew up in Cleveland, Ohio. He discovered his lifelong enthusiasm for radio on a steamboat trip on Lake Erie at age 9, after the ship's radio operator let him listen to the wireless. By age 12, Gross had turned his basement into a radio headquarters, with equipment patched together from junkyards. At age 16, he obtained his amateur radio license W8PAL.
The Communications Group of the US Office of Strategic Services (OSS) was eager to develop a portable, two-way, air-to-ground communications system. The OSS recruited Gross, who worked for them throughout World War II. By 1941, Gross designed both a ground unit, "Joan," and an airborne unit, "Eleanor," which communicated with each other via Hertzian radio waves in a manner virtually impossible to monitor, even behind enemy lines.
After the War, the FCC, which had become aware of Gross' work, allocated the first frequencies for personal radio service, the Citizens Radio Service Frequency Band (1946). Gross formed a company, Citizens Radio Corporation, to produce two-way radios for personal use; in 1948, his companyıs equipment was the first to receive FCC approval for use in the new "Citizens Band."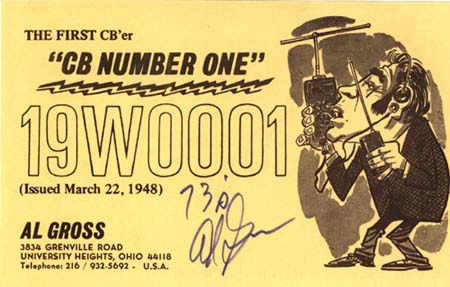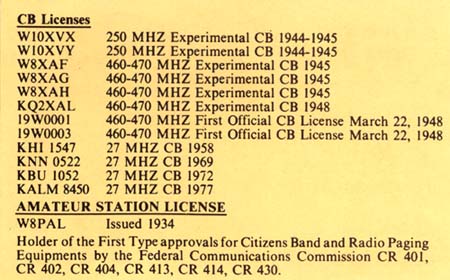 Gross' interest and ability had increased by the time he entered the BSEE program at Cleveland's Case School of Applied Sciences (now part of Case Western Reserve University) in 1936. Determined to exploit the unexplored frequencies above 100 MHz, Gross set about inventing a mobile, lightweight, hand-held two-way radio. In two years, Gross had invented and patented the "walkie-talkie" (1938).
In 1949, Gross made another breakthrough: he adapted his two-way radios for cordless remote telephonic signaling. That is, he invented and patented the telephone pager, by building discriminating circuitry into a pocket-sized wireless receiver that responded selectively to specific signals.
Al was honored by the FCC for his achievements. Here is a copy of the certificate he was sent:
From the QCWA Newsletter
Cleveland Chapter #1
From the Watt's Cooking Newsletter
The Ladies' Radio Assn. of Orange County Newsletter
Tribute on this page by Mrs. Al Gross
Additional tribute by W8SU