Tribute to Miss Irene D. Gedney W8TUQ.
(1912-1994)
NO QSL CARDS FOR THIS YOUNG LADY!
Before being licensed as W8TUQ, circa 1940, Miss Gedney operated with her fiance, Elmer J. Grabb, W8DOD, at his parent's home in Rochester, New York, where she rented a room. The two were employed by radio station WHAM in Rochester, she as a pianist and he as a control operator.
Instead of asking for verification (QSL) cards, she sent each contacted Ham a piece of diamond-shaped cloth and asked each Ham to to write his or her name, address and call letters. So, out went the diamond-shaped cloths, colored yellow, orange and brown. Miss Gedney planned to embroider over the markings and fit the composite results into a bedspread nine feet square. She figured that 96 returns would be required to complete the job.
Night after night Miss Gedney and Grabb contacted the farflung radio outposts of the world from Grabb's W8DOD station.
Then the results began to pour in, to the amazement of both. They came from 50 countries all over the globe. The Australians, the Germans, the Mexicans, the Irish, the Swedes, the Dutch, the Africans, and every race under the sun, except the Russians, sent their contributions for Irene's quilt [Source: Times-Union (Rochester, NY), March 4, 1938, edited].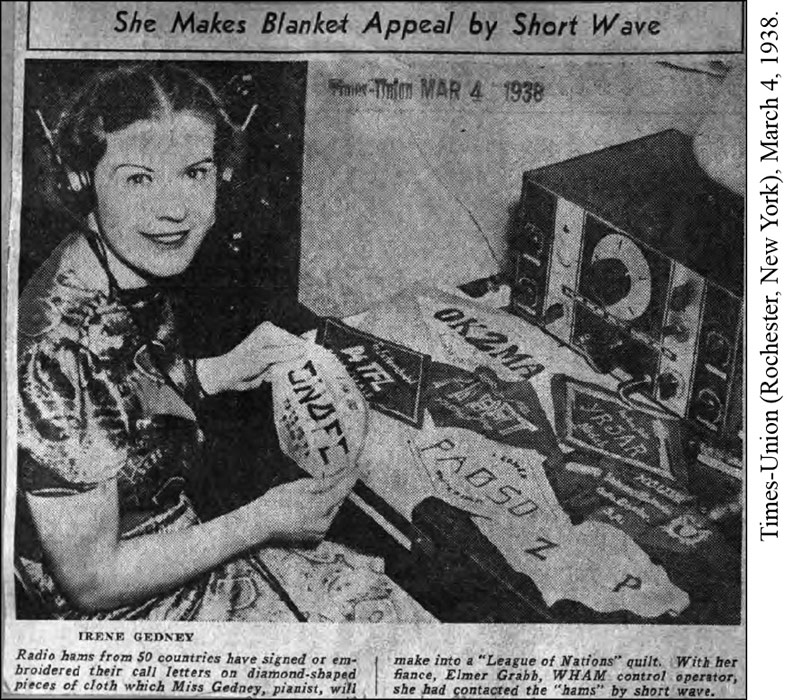 Miss Gedney and Elmer Grabb were married September 16, 1940. Their marriage ended before 1945. She was licensed as W8TUQ about 1940 and only had a short time to operate before the start of World War II. There is no record of her being licensed after World War II. She married three more times.
She was born April 12, 1912 in Ravena, Albany County, New York, the daughter of Grover C. Gedney and Wilhelmina Uthe. She was a graduate of the Eastman School of Music, Rochester, New York. She passed away in December 1994 in Buffalo, New York.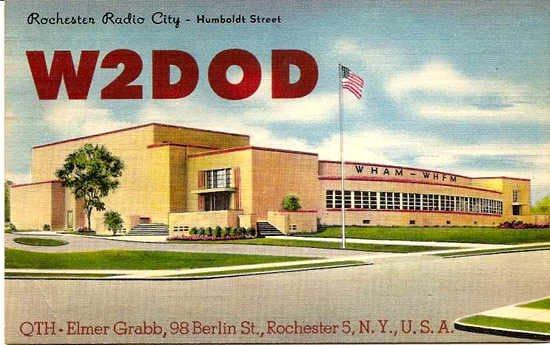 Elmer John Grabb, W8DOD, later W2DOD, Silent Key (1910-1980).
Tribute courtesy of W5KNE
Some information & Photo from Times-Union Newspaper March 4, 1938
QSL card courtesy of W2VRK
---
This site is copyright © by K8CX of Paradox Design Group (PDG).
All Rights Reserved. All art, photos, and html is property of PDG.