JOURNEY TO THE 8Z4 and 8Z5 NEUTRAL ZONES
HOW A GOOD GUY DID IT RIGHT!
The Story of Vic Crawford - W1TYQ/HZ3TYQ
A collaboration by Ned Raub W1RAN, Tom Crawford ex WB2COE and Don Karvonen K8MFO
Vic Crawford was born in 1920, in White Pigeon, Michigan, a small town in the southwestern portion of the state. He was fascinated with electronics at any early age, a discipline which served him well throughout his lifetime. An experienced ham took Vic under his wing, and at age 15 in 1935, he received his first amateur call, W8NUV. In spite of being in the midst of the Great Depression, Vic was able to put together a working station and to develop his operating skills to a high degree. Later on, Vic utilized his radio skill in "ground-to-air operations" with American Airlines. When WWII broke out, American and other major airlines transferred most of their pilots to the war effort, under the command of the Air Transport Command. On international flights air-to-ground radio crews were also needed. Vic volunteered for this duty and he was swept into the Air Transport Command about 1942. These missions involved flying war materiel and ferrying planes from Newark, New Jersey, across the north Atlantic, then south to northwest Africa, then returning down the western coast to Dakar, Senegal, across to Bahia, Brazil, and back to Newark. Vic flew the first part of the war as a radio operator, but since a number of his friends were pilots, he got the "bug" for flying. His friends taught him how to fly private planes, and once he had accumulated enough hours, he received his own pilot's license in 1942.
Vic flew 29 European/North Africa missions from May 1944 to July of 1945. There is also speculation Vic flew some missions to Southeast Asia. He related to his long time friend (Ned Raub W1RAN) that he flew as co-pilot with Ernie Gann, who later wrote 9 books on flying... e.g., Fate Is The Hunter, Island In the Sky, Fiddler's Green. Gann's area of operations was Asia. Five of his books were made into movies. Ned W1RAN holds a letter from Gann, reminiscing of Vic's camaraderie.
After WWII there was high unemployment as demobilized veterans returned to the civilian economy. In some places engineers were driving taxi cabs. Others were looking for jobs (scarce). Vic was back working for American Airlines. When you are hired by an airline, you receive a number. Highest number is first to be laid off and last to be rehired. Vic found himself laid off in 1947 and figured he had 8 months to wait for a job. Vic was sharing an apartment in Brooklyn Heights with several other chaps. Late one afternoon a bunk mate came in to report that ARAMCO (Arabian American Oil Company) was hiring pilots for a USA to Saudi Arabia route. This was a responsible company with a record of complete and quality maintenance, which appealed to Vic.
Vic was hired and made periodic ARAMCO flights from New York to Saudi Arabia from 1948 to 1960. This routine involved about 20 trips per year. Vic would be home for about two weeks and then away for five or six days.
In 1952 Vic and his family moved to a hilltop near Danbury, Connecticut. He soon sported a brand new call, W1TYQ. Vic's contesting and DX exploits were well known by then, as well as his traffic handling. He became the Section Communications Manager for CT, and also got to know the ARRL staff, especially Bob White W1WPO (later W1CW, Mr. DXCC) and his wife Ellen W1YYM, now W1YL. These relationships became important as our title story unfolds. Vic also developed a friendship with Ned Raub W1RAN, which would endure for the rest of his lifetime. Ned became Vic's QSL manager, public relations man and agent when something was needed in Saudi Arabia.
Here is Vic operating a CD party from his home in CT in 1956.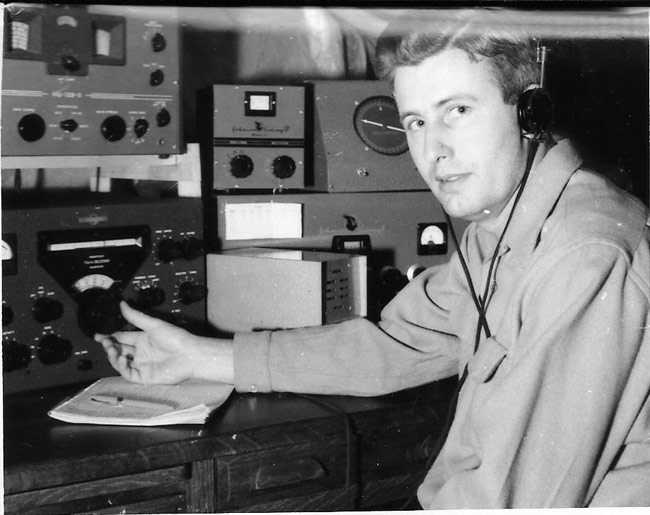 In 1959 Aramco canceled their USA to Saudi Arabia flights, deciding to use commercial flights instead. Vic was given the choice of moving to Saudi Arabia or being laid off. Vic and his wife decided that they would move to Saudi Arabia for a few years, save a lot of money, and then move back to the USA. The family arrived in Dharan, Saudi Arabia on Christmas Eve 1960. The planned "few years" of residence there ended up stretching into 17!
In the late forties, the Saudi government granted a permit to the USAF for HZ1AB, not clearly defined as amateur radio. On his overnight visits to Saudi Arabia, Vic operated this station. The station operators had erected a large rhombic antenna aimed at New York, and rebuilt a castoff high power USAF transmitter. HZ1AB generated a power-house signal into the USA that was often louder than high power German club stations. Vic was known as the masterful CW operator who provided a new country to scores of other amateurs. That includes co-author K8MFO, who worked him in 1961 with a "hay wire" setup from Upper Michigan on 20 meters CW. Don also recalls listening as "Hot Ziggity One American Boy" called CQ on 15 meters AM and had literally the whole band answering!
The DXCC List has long been a "document in progress". Enterprising expeditioners have studied the country criteria for decades, hoping to discover a new one for the DX crowd. In the early 1960's it was determined that two "neutral zones" existed, with Saudi Arabia being part of each. One was shared with Kuwait, and the other with Iraq. These zones were formed because tribes of the different countries were always fighting over the borders. The zones encompassed the borders and several miles into each country. Wikipedia provides in-depth information on the details of various treaties concerning these zones. The bottom line is that each zone qualified as a "new one" on the DXCC Countries List. Most likely, Bob White W1WPO (Mr. DXCC) was contacted at ARRL, provided with basic information, and gave the "go ahead".
An enterprising Swiss amateur, Jacob (Jack) Laub HB9TL, was able to secure a license, 9K3TL, for the Saudi-Kuwait zone. He assembled a quality cast of operators, among them Vic Crawford. Again, high quality CW operating by the "boy from White Pigeon" graced the airwaves and the operation was acclaimed a roaring success.
Here is Vic at the key from 9K3TL/NZ, the Saudi-Kuwait Neutral Zone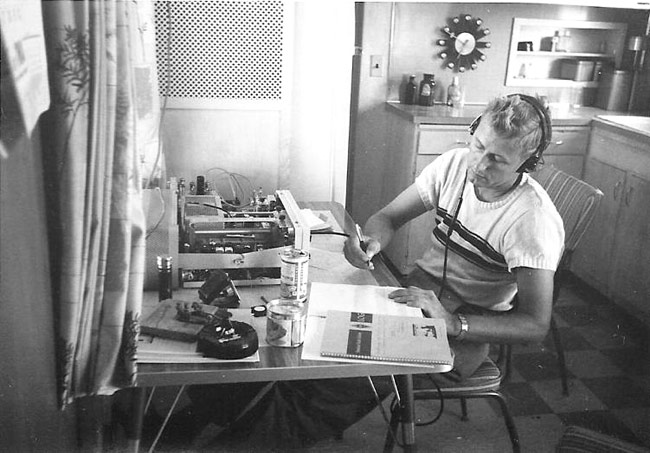 During this period, Vic also showcased his operating skills with a short CW operating stint from HV1CN Vatican City. DXpeditioning was now embedded in his soul! The quest to continue operations from the Neutral Zones became a major goal.
The licensing authority in Saudi Arabia was Swiss-educated Ahmed Zaidan HZ1HZ, a skilled CW operator and DX contest participant. First, Vic needed permission from ARAMCO to approach a Saudi official. Then there was the requirement that everything be on paper in two languages, with copies to ARAMCO and Zaidan. As filing of documents had yet to be recognized as a government necessity, referral to an earlier document always came to naught. To communicate with Zaidan required an audience -- a large room with chairs lining its walls with petitioners called upon to explain their needs. The process was ponderous.
Vic helped Zaidan with his technical problems and, incidentally, a TA-33 Yagi and rotator. Their relationship grew into friendship. Zaidan said he would approach the ruling committee, but it would take time. There was no procedure for amateur licensing.
Vic drew up a petition which Zaidan introduced to the committee. At first presentation, the Saudi ruling committee had no idea of amateur radio. All they could imagine were "radio spies" operating within their borders. They had trouble with cross-border infiltration from Yemen for years, a problem which persists to present day.
In his second petition, Vic suggested that, if "radio spies" existed, they would be quickly detected by local licensed amateurs who search the bands at all hours, every night of the week. Vic proposed to establish The Dhahran Amateur Radio Association, to be composed of fifteen already foreign-licensed hams. These hams - professionals by day - would provide a no-cost shortwave monitoring service at night, something the Saudis totally lacked.
The committee agreed that, if Vic would organize such a group, he would receive his permit. Using caution, Zaidan then issued club members the new 7Z call signs but he issued Vic an HZ call. If something were to go awry, Zaidan could then shut down the 7Z stations, leaving HZ3TYQ and HZ1HZ above any controversy. After 42 months of patient petitioning, Vic, with Zaidan's full approval, received his permit.
It should be noted that during this time period another foreign national (hereafter referred to as BOVINE) was somehow able to procure a Saudi experimental amateur license. Sadly, BOVINE was not a team player. In fact, he had a stated goal of trying to discredit any and all American efforts concerning amateur radio. He wanted HZ1AB closed and he vowed to prevent any American from securing a permanent license. In his own words, "I want to be the only non-Saudi amateur in Arabia!" This individual truly put in a lot of effort to accomplish just that. He appointed himself as a "monitor" of amateur activities, and reported a number of alleged transgressions on the part of HZ1AB and its operators. However, it turned out he was a bit loose with the facts, and solid documentation disproved the allegations. More importantly, Zaidan did not believe the allegations. Ironically, this individual himself violated some provisions of his own license, by communicating with amateurs in areas not approved by Saudi Arabia, and most likely exceeded the allowed power limit. To say that these activities made things more difficult for Vic Crawford is an understatement.
What do you do with a recalcitrant in your midst? Ever the gentleman, Vic attempted to have a civil conversation with BOVINE but it went nowhere. BOVINE was upset that he was denied an amateur license when on vacation in the USA. Interestingly, he was also denied a license in his European country of birth! Things worked out in the end, as BOVINE lost his initial contract job with the Saudi government, and apparently the same thing happened in a subsequent position. Vic continued to work through Zaidan, with hopes of securing a Saudi license. Saudi officials involved in the application process were eventually won over, and Vic was granted the HZ3TYQ license. Several other USA citizens were also licensed. This goes to show that "good guys" can win, surely when acting in a totally professional manner as Vic had.
Here is Vic at the controls of his personal call, HZ3TYQ at Dharan, Saudi Arabia.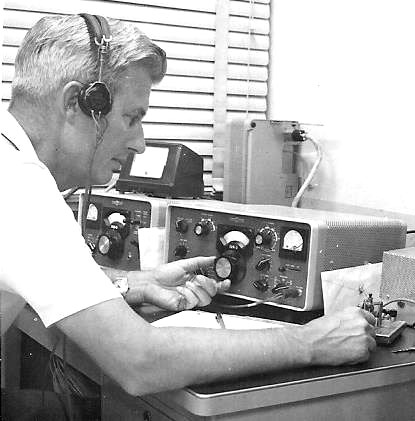 Now it was time to work on permission for the Neutral Zones. This did not take nearly as long, but various governmental agencies had to grant approval. Vic invited Zaidan to go with him on one of the trips, but sadly his official duties did not permit such an adventure. An American stationed in Lebanon expressed an interest in accompanying Vic to the Saudi Arabia-Iraq Neutral Zone but he did not have a Saudi license to allow him to go. During the application process, Vic was readying his equipment and supplies. Remember, there were no Collins service centers in HZ land so all repairs and modifications to equipment were completed by Vic himself. Finally the written licenses were granted, and all information was shared with "Mr. DXCC" Bob White W1WPO at ARRL. Mr. White also informed Vic that his nemesis BOVINE claimed to have operated from the Neutral Zones, but had not submitted either licensing documentation or proof that he was indeed in the zones. Nobody who was contacted could recall seeing BOVINE in either zone. Finally a photo was submitted, which established that BOVINE was in a location with a lot of sand, but no other identifying features. He could have been in one of hundreds of places! Because the rules for approval of a country were far from clear, and "a man's word" was often the deciding factor, the operations were not disallowed. The number of claimed contacts made by BOVINE was minimal anyway, and a quality operation was needed to both zones. A few years later, a major revision was made in the DXCC rules, and clear cut rules of documentation were required for DXpeditions to "rare" countries. These rules remain in effect to this day.
In the end, Vic made two trips to the Saudi-Iraq Neutral Zone as HZ3TYQ/8Z4, and one trip to the Saudi-Kuwait Neutral Zone as HZ3TYQ/8Z5. Remember, Vic had previously been part of the 9K3TL/NZ operation to the Neutral Zone shared with Kuwait. Thanks to Ned Raub W1RAN, here are some statistics on these operations.
Group DXpedition
Location: Saudi-Kuwaiti Neutral Zone
Date: June 10-16, 1961
Station: 9K3TL/NZ
Operators: HB9TL, OD5CT, W1TYQ, G3OFI
QSOs: 2,000+
Individual DXpeditions
Location: Saudi-Iraqi Neutral Zone
Date: January 10-14, 1965
Station: HZ3TYQ/8Z4
Operator: HZ3TYQ
QSOs: 1,318 (76 Countries)
Notes: Reached via Land Rover, via ARAMCO camp. Site located approximately 20 miles from the Neutral Zone border.
Location: Saudi-Kuwaiti Neutral Zone
Date: May 12-16, 1965
Station: HZ3TYQ/8Z5
Operator: HZ3TYQ
QSOs: 1,081 (55 Countries)
Notes: Camp located at AOC Observatory, Japanese Oil Exploratory Camp Khafji.
Location: Saudi-Iraqi Neutral Zone
Date: Jan 25-28, 1966
Station: HZ3TYQ/8Z4
Operator: HZ3TYQ
QSOs: 1,197 (61 Countries)
Notes: Camp located at temporary seismological exploratory camp, 29-06N / 46-23E. Reached via ARAMCO company flight.
These individual trips required all needed equipment, food, and other supplies be carried along. Vic did himself proud on each of these trips. They often required lengthy "road trips" where roads were not clearly defined and a good deal of danger was involved. Luckily various work contacts were able to provide assistance when possible. On his trip to 8Z5, Vic was able to operate from a trailer with air conditioning, an almost unknown luxury at the time. One of his 8Z4 trips took place from a tent in the "middle of nowhere". He had been assigned a Saudi guard, who proudly displayed a WWI era rifle for protection. Antennas were erected by Vic at all locations with a little bit of help from whomever was available!
A photo from one of Vic's trips to 8Z4, operating from a tent.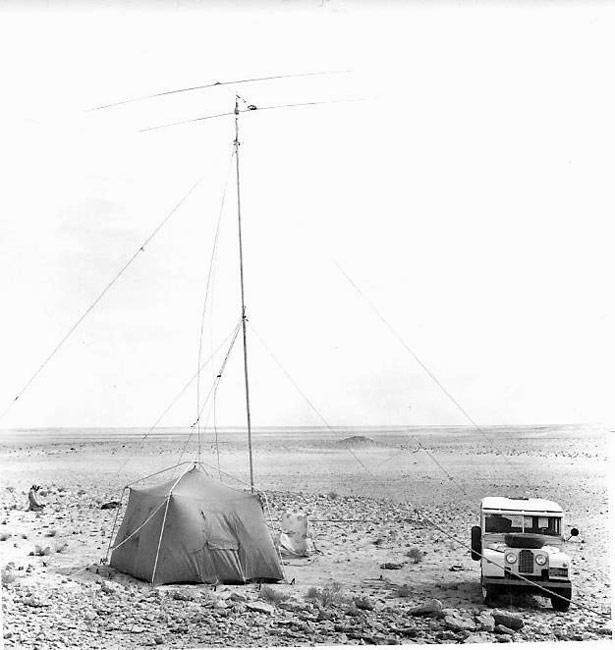 A photo of his one man operation from 8Z5 in an air conditioned trailer. What luxury!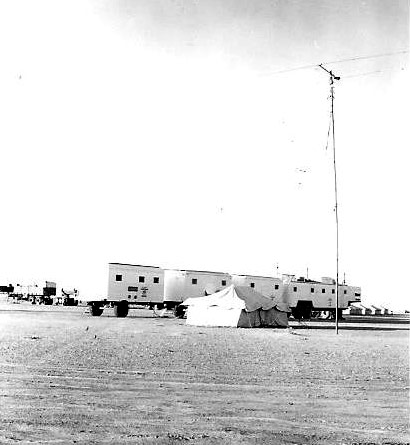 Once a DXpediton is over and QSL's are in the hands of "The Deserving", many details are forgotten. Hopefully this story will document in part that there are often difficult hurdles to overcome. This was certainly the case with the 8Z4 and 8Z5 neutral zones. Many in our age group still have "HEROES" and appreciate extraordinary people who perform extraordinary tasks. In our minds, Vic Crawford W1TYQ (aka W8NUV, HZ3TYQ) is one of those individuals. He did things "the right way". Perhaps more importantly, he did not have to be told what that was. He was indeed part of America's "Greatest Generation."
Vic became a silent key at age 94, still active on the air as W1TYQ/8 in the Traverse City, Michigan area until the end. His tower and antennas are now in the hands of appreciative hams in that area. We know that would make Vic happy!
Thanks to Ned Raub W1RAN, Tom Crawford ex WB2COE, and Don Karvonen K8MFO for all their work on this story!
---
This site is copyright © by K8CX of Paradox Design Group (PDG).
All Rights Reserved. All art, photos, and html is property of PDG.