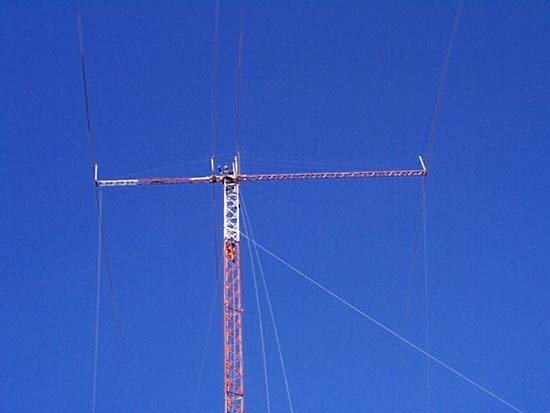 VE6JY's Full Size 4 Element 80 Meter Beam
visit the VE6JY Website for more pics!
Antenna Info
The "4 elephant 80m yagi" has a boom length of 23.13M (75.9 ft)
It is constructed from aluminum tower sections, approx 38 cm (15") per
face.
Total estimated mass of around 545 Kg (1200 lbs).
The longest element, the reflector, is nearly 42.6 M (140 ft).
and is made from aluminum pipe and tubing
starting at 8.8 cm (3.5") and tapering to 0.9 cm (0.375").
The mass of one element is 73 Kg (160 lbs)
and has a wind area of 2 sq. M (22 sq. ft.)
Even before trussing, the element has a computer designed wind
survivability of 160 Km/H (100 mph).
The 80m yagi is shown in various stages of construction. ( see ftp site )
It has been installed on top of 48.7 M (160 ft) of 1.02 M (40") face
guyed tower.
The yagi will be fully rotatable
It uses a 0.76 M (30") sprocket and worm drive gear reduction system
with a 1/2 hp AC motor for drive.
thanks to Barry Bergstrom VE6MK for permission to use the pics!