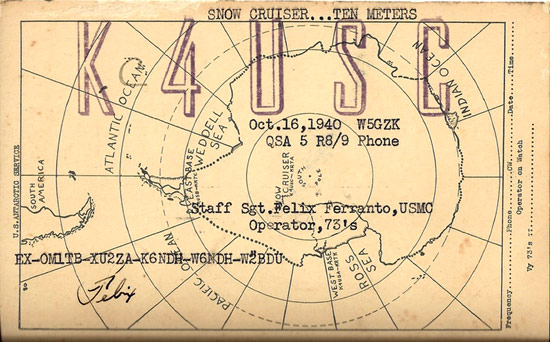 KC4USC 1940 Antarctica
The call signs K4USC and KC4USC were both mentioned in several magazines, but it is difficult to determine if he actually used both calls.
Felix lists EX callsigns: OM1TB, XU2ZA, K6NDH, W6NDH, W2BDU.
Lt. Col. Felix Louis Ferranto, USMC (retired) was born on December 5, 1911 and became became a Silent Key on October 20, 2002.
He was a veteran of World War II and Korea. First Lieutenant Ferranto was held as a Prisoner of War after he was captured during the Korean War on November 28, 1950 and was held until his release on September 6, 1953.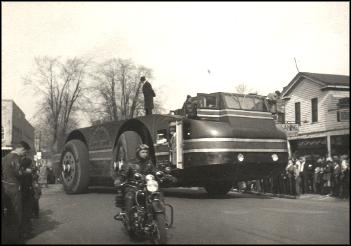 Snow Cruiser during its driving trip to the east coast and the ship bound for Antarctica.
Note the size of the Cruiser relative to the people in the crowd. The Cruiser was 55 feet in length.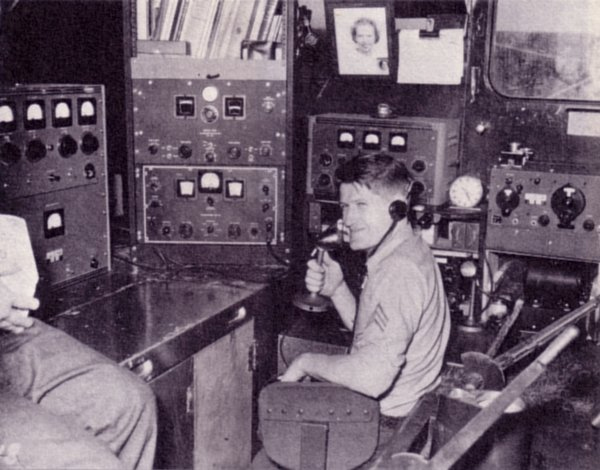 Snow Cruiser radio shack with operator Felix Ferranto.
The levers shown in the lower portion of the photo were part of Cruiser's steering mechanism.
QSL Patrick Rigg Collection
Info courtesy of W5KNE
Photos courtesy of Mrs. Ferranto, Joel Dirnberger and W5KNE