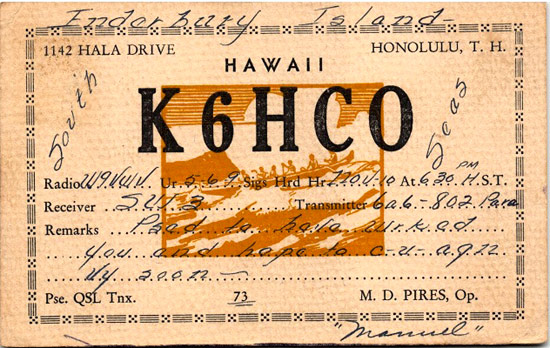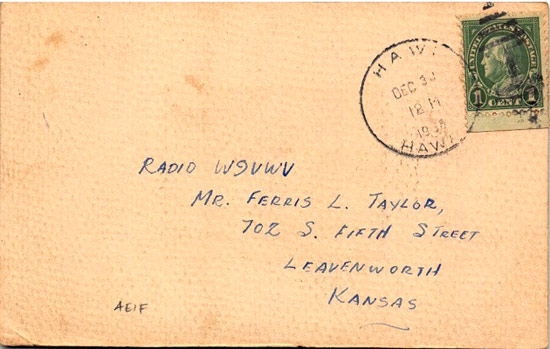 K6HCO 1938 Enderbury Island
QSO on Nov 10, 1938 from Enderbury Island (the QSL card was mailed at Hawi, Hawaii, on December 30, 1938).
Manuel D. Pires (16 Oct 1914 - 13 June 2002), of Portuguese origin, joined the Equatorial (Line) Islands Colonization Project initiated in 1935 by the U.S. Department of Commerce and later continued under the U.S. Department of Interior as a radio operator. Primarily young native Hawaiian men from schools in Hawaii, in particular the Kamehameha School for Boys, were recruited to spend 3 to 4 months as colonists (called "Hui Panala'au") in a small team of 4 on the islands of Howland, Baker, Canton, Enderbury, and Jarvis.
From March until July 1938 Manuel Pires was joining the first team on Canton Island. As of July 26, 1938 he became part of the team on Enderbury Island. From there he was taken to Jarvis Island with the next scheduled cruise of the supply ship, the U.S. Coast Guard Cutter "Roger B. Taney", where he arrived on December 11, 1938 to stay for a third term. On Jarvis he was soon stricken with appendicitis. After a radio call to Hawaii the "Taney" again headed for Jarvis Island to pick him up there on Januar 10, 1939, so that he made it to the hospital in due time. His replacement was Alexander Wong, K6NVJ, who stayed there until March 30, 1939. After WW II K6HCO became KH6AY. The QSL card for W9VWV was probably filled in on Enderbury Island by Manuel himself, but handed over to Herbert Cheng (K6DSF) from Hawi for mailing, who after a 1 year assignment on the islands of Baker and Howland returned to Honolulu with the "Taney" via Jarvis Island on December 18, 1938.
QSL & Info Norbert Maibaum Collection