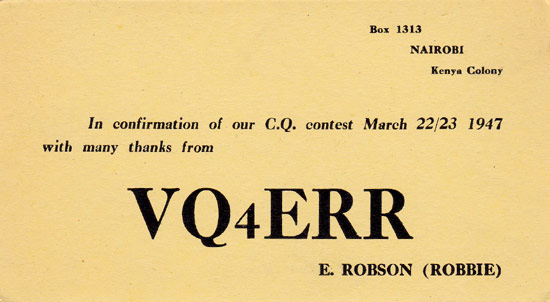 VQ4ERR 1948 Kenya Colony
QSL Card of E.R. Robson "Robby"
Also: VQ1ERR, VQ9ERR
C.Q. contest March 22/23, 1947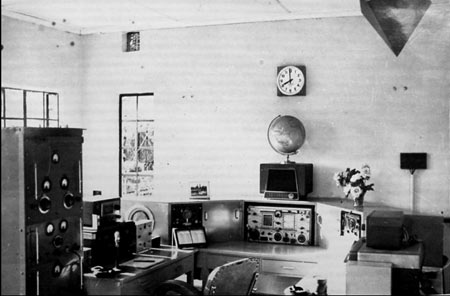 VQ4ERR Hamshack 1957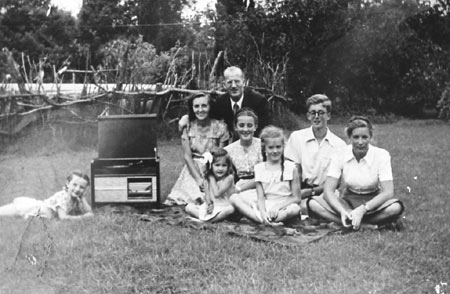 The man at the back (highest) is Robbie. Directly in from of him is Elizabeth, who would be about 75 - 76 today. The boy in glasses is Frank, who passed away in February 2003. Robbie had six daughters, and I recall that one died in infancy, and Frank's son wrote in 2005 on the 'Old Canbrian's website' that 5 are still alive, 1 in Australia, 1 in South Africa, and 3 in the UK. The oldest daughter Louise, close to 80 if still around, and I think other sisters were Rosalind and Priscilla. Sorry, but after almost 60 years my memory is somewhat selective!! Derek Woolfall
I just purchased a VQ4EER QSL on Ebay. Robbie was a family friend - his son was a good friend of mine at High School, and my dad eventually bought an acre of land from Robbie and built a house next door to him. My parents left in 1963 when Kenya became Independent and things changed! VQ4ERR was the first Ham in Kenya, and my dad, VQ4REW was the second. Is it possible that you have a QSL card of his? Needless to say, as a teenager I did not keep any, although I did help in sending them out. Thanks ......... Derek Woolfall
Hi Derek, Great on purchasing the Robbie card from ebay. I have several of his cards, several yellow ones with Africa in the center, 4 of the sepeatone cards with photos of the wild animals. I have a large stack of VQ4 cards but none of VQ4REW, sorry. Im also sending this email to Tony in England who also has a large collection and may have one of your fathers (didn't have it). I have the one photo of Robbie and his family. Do you have any other photos of Robbie? If you like, send me a photo of your father and Ill put it up with his call. We can ask if any one has the card to please send us a scan. Tnx for the email. Tom K8CX
Thanks for response! I am not surprised that you do not have my dad's QSL cards. Robbie and my dad were two different types of hams. Robbie had a fancy shack, with a big beam antenna, and fancy radios. I am attaching a photo of me atop his antenna in 1953. His passion was talking, getting lots of countries, and at one point was second in the DXCC with over 300 countries, when Kenya was limited to 150 watts transmitter. Number one was a Brazilian (if I recall correctly) with like 1KW power! My dad's hobby was to obtain surplus (usually military) radio equipment and scavenge parts to design and build a transmitter or receiver, go on the air for a few days or weeks, then tear them apart and build a better one! His 'shack' (aka workshop) was the garage in the back yard (in Nairobi) with a concrete floor and no earth wiring! I used to have bare feet running around, and soon learned to stand on a piece of cardboard before touching a receiver to listen to ham chatter on 10m and 20m bands. Pick up a tool on the workbench was a gamble - it might be live, connected via screwdrivers and wrenches to an electric drill! 240 volts packs a good size wallop. Another ham we knew was Frank Featherstone (VQ4RF) who used to periodically set up in Zanzibar (VQ1) and, being the only ham in the country would get lots of business!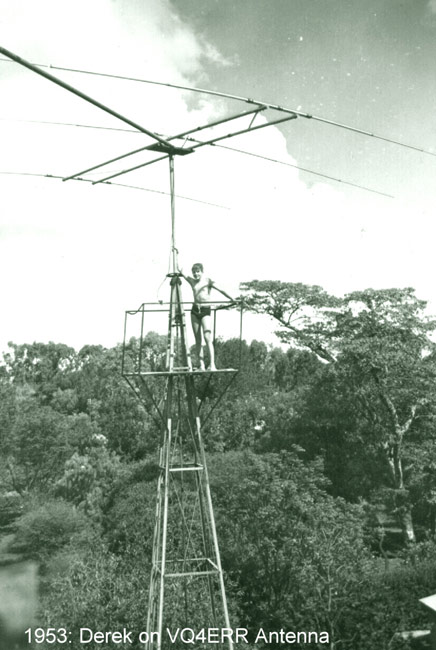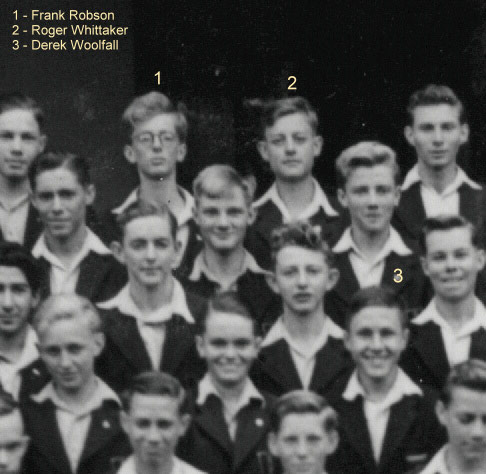 Thanks for the link to the photo of the Robson's family. I have also attached a photo from a High School group picture - you will recognize Frank Robson from the photo on your web page (above), and depending on your age an musical taste, you may know Roger Whittaker, with who I shared a dormitory room for a couple of years. In common with usual practice, my dad was usually the photographer, so few photos of him exist! As the last of my generation, I am slowly putting together a dissertation on or life, with photos such as these embedded. May be a waste of time, but perhaps our grand children may enjoy reading 100 year old history of the family!! Writing brings back memories too, so it is fun.
Thanks again ........... Derek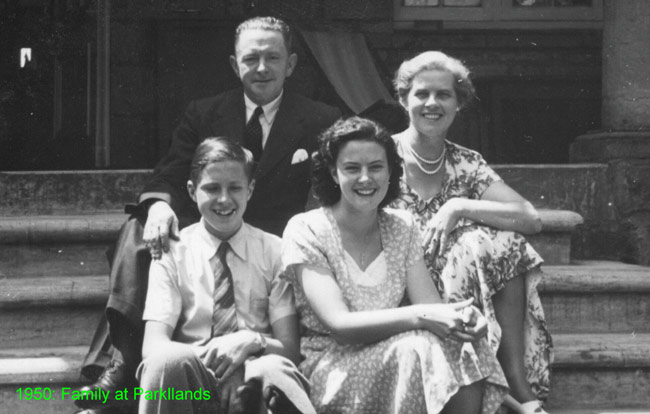 Hi Tom, thank you for sending picture memories. I went up Robbie's towers also. In the days before commercial SWR meters I built one and Robbie was very interested in me setting up his antennas. I remember him having three towers about 30 foot high. I climbed them and set up his gamma matches for 10, 15, and 20. Boy that made a big difference to his prowess on the air. He also had other interests such as a splendid rose garden full of all different varieties. He was also an acomplished violinist. Concology was another hobby which I took a bit of interest in after going to Dar es Salaam. Robbie was an elected offivial with the Nairobi local government and of course he was a chemist with a big shop in the town centre. You dont have exactly "chemist shops" in USA. At 83 I am busy on air on 24.95 Mhz and work lots of states and EU with 4-1000A home brew amp and 4 element monoband yagi. Thanks again Tom 73 John VK4TL.
1st two photos & Info courtesy of VK4TL
Info and last 3 photos courtesy of Derek Woolfall
QSL from the estate of W5BGP / W5IO
Courtesy of W5KNE