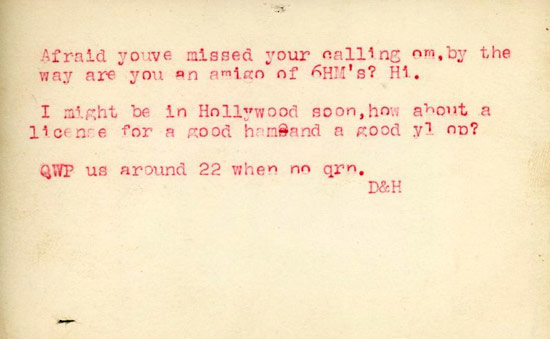 sj-5BX 1927 Mexico
Operators: Haskell W5NT & Donna W5ETX Watson
Haskell & Donna claimed to have been transmitting from the bottom of an extinct volcano on Pablo Island at 90 degrees West and 6 Degrees South. The husband & wife were from El Paso, Texas and were really transmitting from the Santa Cruz Mine in Zapotes, Otaez, Durango, Mexico. They were there mining gold in 1926 & 1927 and worked many 6's in the states and beyond. Donna Hale was an actress before marrying Haskell. She starred in 2 Country Western Movies "Fightin' Thru" and "Let Him Buck". Both were released in 1924.
Actually very few of the amateurs who worked sj5BX ever learned he was in Mexico. Over the air and on his QSL card he gave his location as "Pablo Island--ninety degrees west, six degrees south." At first this puzzled a good many in the fraternity, since there is no Pablo Island in that part of the world--in fact, no island of any kind. A glance at the map will show that ninety degrees west and six degrees south lies in open ocean about five hundred miles west of the coast of Peru. Before long it was rumored that sj5BX was really in Peru, that the prefix "sj" signified Peru, or rather its old Spanish name of Juinan. The official identification prefix for Peruvian stations was "sp" but someone recalled that a few of the old aristocracy of the country preferred the ancient name and persisted in its use.
Read more of this story here!
N2BTD Collection