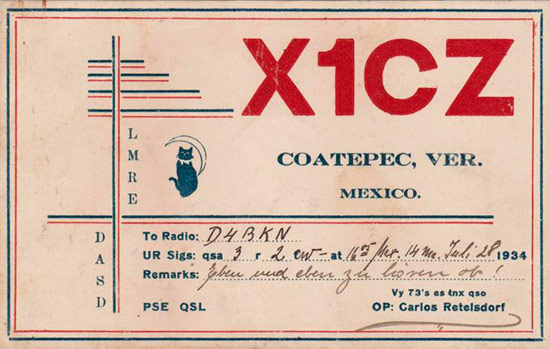 X1CZ 1934 Mexico
This is a nice card from Coatepec, Veracruz, Mexico. Carlos Reteisdorf was a member of LMRE the Mexican society, and DASD, the German one. Carlos was born in Veracruz of German parents, He was the owner of a coffee plantation known as 'La Bola de Oro' located a mile and a half from Coatepec, where he operated an amateur radio station.
During World War II he became a spy for Nazi Germany, maintaining communications with Berlin and with submarines in the Atlantic. There were others in his group - not radio amateurs - and some of them were arrested and deported to the U.S.A.
What happened to Carlos? I have no idea. He is in the call-book with his later call XE1CZ in the early 1940's. There is quite a lot on Google about the Germany - Mexico relationship during World War II. Mostly in Spanish or German which Google Translate can cope with.
QSL + Info G4UZN Collection