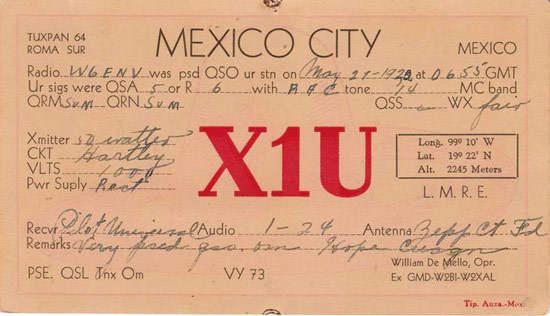 X1U 1932 Mexico
Operator: William "Bill" DeMello, GMD, XE1DDM, X1U, W2BI, W2XAL, 2BI, Silent Key (1900-1972)
William DeMello, son of August DeMello and Margarida T. Defrias, was born September 12, 1900 in New Bedford, Massachusetts. His parents were born in the Azores. According to the United States Social Security Death Index he became a Silent Key in July, 1972 in Mexico.
DeMello made his first two-way contact in 1914, probably from a station at his New Bedford, Massachusetts high School. His first known call was 2BI in 1927 from his home in Coylesville, New Jersey.
In 1925 he and James Maresa were operators at W2XAL/WRNY. The station calls were licensed to Hugo Gernsback's Experimenter Publishing Co. The station began broadcasting as a radio station in 1925. Maresca later became an engineer at WRNY.
DeMello later became a ship operator for RCA, serving aboard the New Haven and the Mohegan.
In 1927 he was selected to be chief operator with the second GMD (11 month) expedition to Brazil, with the call sign GMD. He was chosen as chief operator because of his ten years experience as a ship operator and his proficiency in Portuguese. The second operator was William Gerard Martin, Jr. The expedition was led by Commander George Miller Dyott into the Brazilian jungle. They were searching for the missing British explorer Col. Percy H. Fawsett, who had disappeared in 1925 while searching for a lost city. Dyott's expedition was unsuccessful in finding Fawsett and at times were in danger in the wild jungle.
He was member number 574 of the Old Old Timers Club (OOTC). According to his OOTC bio and other sources he was employed in South America by several companies: Weterex (motion pictures), Western Electric and Western Electric (Caribbean, Headquarters in Bogata, Columbia). During World War II he was president of Electro Minerals, S.A. and president of Empresarasilera De Cristales, the Western Electric Brazialian Subsudiary for procurement, quartz crystal mining, purchasing and cutting for export Western Electric Co. from Brazil.
QSL G4UZN Collection
Info courtesy of W5KNE