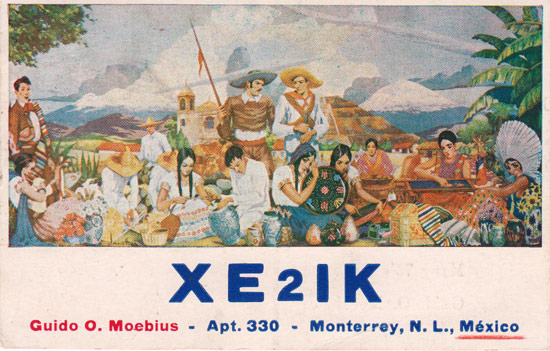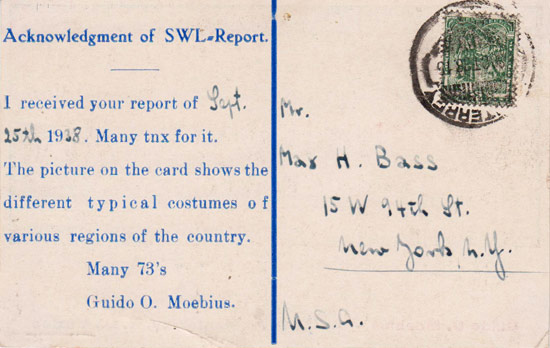 XE2IK 1938 Mexico
Operator: Guido Otto Moebius - XE2IK, XE2CK
Licensed in the 1930's, apparently as XE2CK, but changed to XE2IK;
He was arrested for espionage in 1941, (amateur radio in Mexico was banned from 1st December 1941).
He was an influential business man; the top dog in espionage, not small fry.
He enjoyed some hospitality in a penitentiary, but political strings were pulled; he appears in the 1946 American Callbook.
"Several entrepreneurs in the Mexican city of Monterrey actively supported the activities of Nazi espionage against the United States during the Second World War as a fifth column, according to the book "Operation Pastorius" by journalist and writer Juan Alberto Cedillo.
"Entrepreneurs of German origin and Mexican companies who collaborated with officers of the Army of the Third Reich, who were sent to Mexico to open an operations center for the entire American continent specialized in espionage," Cedillo told Efe.
He said that the chief of Nazi espionage in Monterrey, was the businessman Otto Guido Moebius, a powerful businessman from northern Mexico who managed an industrial emporium in that city and who maintained links and alliances with some of the big companies in the city.
The father of Moebius had collaborated in the founding of companies that today is known as Vitro and Banorte, two of the most important industrial and financial corporations in Mexico.
In the book titled "Operation Pastorius, the history of Nazi espionage from Monterrey" (editions of the Autonomous University of Nuevo Leon, 2010) counts as the intelligence service of the Nazi army, sent a team of spies to Monterrey to know the war capacity of the United States, due to the proximity to that country.
Moebius put his companies at the disposal of Abwehr officers to carry out industrial espionage on the United States and also collaborated in the smuggling of strategic raw materials, such as mercury, to send them to Germany.
He also tried to collaborate in the Abwehr's plan known as "Operation Pastorius," which consisted of the sabotage of the US war industry, for which they sent explosives specialists who arrived in the United States in submarines and pretended that they also arrived across the border with Mexico.
In addition, they chose Mexico as the center of operations because, from the first months of 1938, they received large amounts of oil refined in Hamburg for the Lutwaffe fleet, a weapon that Adolf Hitler considered strategic for their projects.
Moebius and the main agents of the Abwehr were captured in the Mexican Republic thanks to pressure from the United States, but because he operated with the support of high Mexican officials and military officers, he was detained for a short time.
The activity of the Nazi agents and of numerous Mexican businessmen and politicians is explained because they counted on the protection of important Mexican politicians, among them the same Minister of the Interior Miguel Aleman, who had relations with Hilde Krüger, an agent of the German minister of propaganda, Joseph Goebbels."
QSL Patrick Rigg Collection
Info courtesy of G4UZN