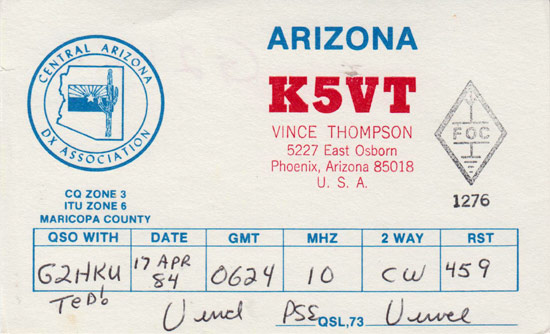 K5VT 1984 Phoenix, Arizona
Operator: Dr. Vinson Cleo Thompson, MD
Vince was born on July 7, 1943 and passed away on April 26, 2010 from acute myeloid leukemia, only diagnosed four weeks before his death. He was 67. An ARRL Life Member and former Chairman of the ARRL DX Advisory Committee (DXAC), Thompson was famous in DX and contesting circles and held radio licenses from more than 60 countries. One of the founding members of the VooDoo Contest Group, he traveled extensively throughout Africa, as well as the rest of the world, and has operated from many African nations while practicing in-country as a surgeon with the World Health Organization WHO.
Vince was a collector of rare QSL cards and telegraph keys!
See a photo of Vince K5VT at the 2009 Dayton Hamvention!
This was the last Hamvention he would attend!
QSL from G4UZN Collection
Info used with permission of ARRL
Other Info by K8CX, W5KNE