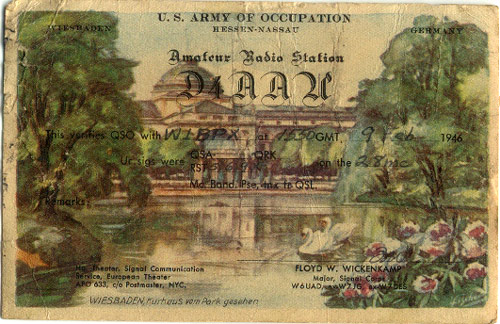 D4AAU 1946 Deutschland
It looks like the op was not Kirt Illing, origional owner of D4AAU, but instead an American.
Top of the card says "US Army of Occupation". The op was Floyd W. Wickenkamp, Major, Signal Corps, W6UAD, ex W7JG, ex W7DES.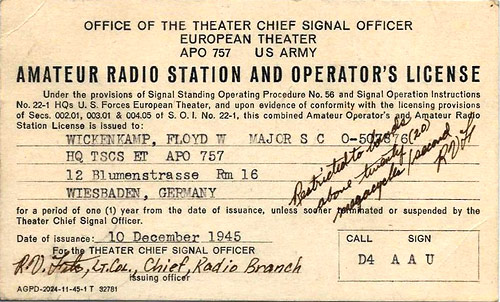 The license of D4AAU
"HQ TSCS" - Headquarters Theater Signal Communications Service
The TSCS was originally organized on July 17, 1945 and established as a technical command on Nov. 4, 1945. As of June 1946, the OCSigO [The Office of the Chief Signal Officer] began absorbing the functions of TSCS, a task that was completed with the inactivation of TSCS in Nov 1946. The staff and functions of the agency were assigned to OCSigO, the equipment was transferred to the 3118th Sig Svc Gp.
HQ TSCS moved from Wiesbaden to the Commando Bldg, USFET Compound on July 27-29, 1946 where it was collocated with the OCSigO, also recently moved.
"ET" probably means European Theater.
73, Bob, W5KNE
Info & QSL KB4SAD Collection
License courtesy of W2VRK
Other info courtesy of W5KNE, Norbert Maibaum