Tribute to Carl D. Cook AI6V / P40V / P49V
December 17, 1939 - December 15, 2014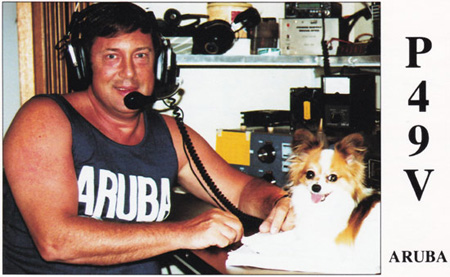 1994 QSL card
Well-known Contester, DXer, and DXpeditioner Carl Cook, AI6V / P49V (ex-WA6JUD), of Las Vegas, Nevada, died December 15. An ARRL Life Member, he was 74. Despite getting a rather late start, Carl went on to enjoy considerable success in Amateur Radio, and even casual DX contesters had P49V in their logs.
"Carl passed away at 3:30 this morning, in his sleep, per his wishes, just two days shy of his 75th birthday," his wife Sue, AI6YL / P40YL, said in a posting to the QRZ now website. "We sure had an amazing run during our seventeen years together."
In posting word of Carl's passing to the CQ-Contest reflector, his friend John Bayne, KK9A / P40A, said, "He was a great down-to-earth guy who will be sorely missed."
On his QRZ.com web page, Carl recounted how he got into Amateur Radio in the 1970's, when he was 38, after installing an HF radio on his boat. He began listening on VHF, discovered VHF-UHF contesting, and got his Technician license, diving in as Mount Diablo Amateur Radio Club Field Day chairman, serving one term as its president, and completing Worked All States on 6 meters. After upgrading to General in 1975, he enjoyed ARRL November Sweepstakes with the Northern California Contest Club, for which he also served a term as president.
His search for "DX locations where you could run a high rate" led him to Aruba, where he bought a "fixer-upper," put together a station, and contested for 16 years. He sold the house in 2002 due to a heart problem, he explained on his QRZ.com web page.
Carl attended the first World Radiosport Team Championship event in Seattle in 1990, and, in 1996, he helped organize the WRTC in San Francisco. He raised funds for WRTC-2000, WRTC-2006, and WRTC-2014. His contest exploits earned him several Top 10 finishes and a world record or two.
The highlight of his years in Amateur Radio was being named to the CQ Contest Hall of Fame in 1997, he said. Carl made DXCC Honor Roll and held 5-Band DXCC.
Initially a phone contester, Carl eventually "got serious" about CW and began entering those contests. He and Sue, AI6YL / P40YL — a RTTY contesting enthusiast — bought another house on Aruba. He became P49V, and assembled a new station, where they would spend 3 months each year and enjoy contesting together. Over the years Carl had operated from locations around the globe, including Brunei, Maldives, and Clipperton.
Thanks to John Bayne, KK9A / P40A, and QRZ.com for the above information.
From Tom Roscoe K8CX / P40CX:
I was at Carl & Sue's home in Aruba the week of December 9 - 16, 2014. Lisandro P43L was visiting me on Monday morning, December 15. Our visit was over and Lisandro got in his vehicle to leave. I then hear his horn blowing outside the gate. I went outside and Lisandro told me he just received the news that Carl had become a SK. We were both very sad and upset as Carl has been a friend to both of us for many years.
Carl & Sue have provided a great place in Aruba for fellow hams to operate. There were 2 complete ham stations, 3 towers, dipoles, and a vertical.
See photos of the Cook home in Aruba!
While operating at the P49V, P40YL hamshack, you had plenty of memorabilia to look at. Carl & Sue had a "Photo Wall" of several of their friends.
See the "Photo Wall"!
The hamshack walls were full of other very interesting items to look at.
See hamshack walls!
In the year 2000, Carl and Sue attended WRTC in Slovenia. Several local hams from Aruba also attended this grand event. Jacky P43P sent me quite a few photos on his return.
Here are some of the photos that Carl appeared in.
Carl and Sue were regulars at the Dayton Hamvention. Here are some photos from the various years they attended.
See Dayton Photos here!
A button was passed out at the 2015 Dayton Hamvention in remembrance of Carl.
See button here!
Robert Wood W5AJ helped Carl in late 2014 get on the ARRL DXCC Honor Roll!
See photos of AI6V & W5AJ
We will all miss you very much Carl.
May you rest in peace!
---
This site is copyright © by K8CX of Paradox Design Group (PDG).
All Rights Reserved. All art, photos, and html is property of PDG.