Erwin Lange W8MWV, W3MWV
July 7, 1913 - February 5, 2013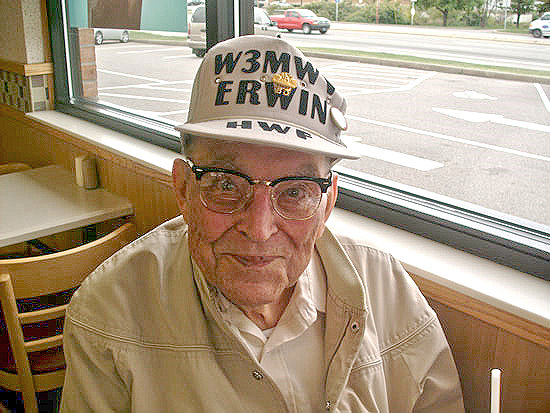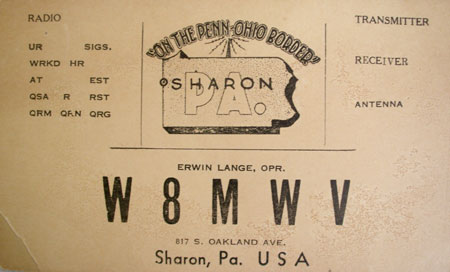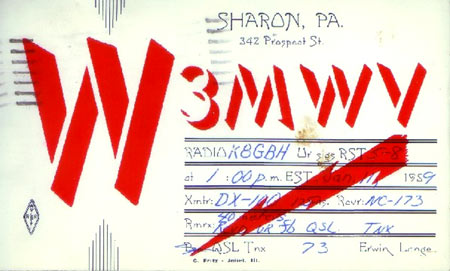 Erwin was licensed in 1934. He hitch hiked to Cleveland in 1934 to take his amateur exam. He was active in Navy MARS (Military Affiliate Radio System) with callsign NNN0HWF. He was a very talented MARS CW operator.
I met with Erwin in October 2007 (see above photo) at Wendy's Restaurant in Hermitage, PA. We had a very interesting talk. I was starting to work on my page "Hams of the Shenango Valley" and Erwin gave me lots of information on several early hams of the area. Erwin was a very friendly, enjoyable, and easy person to talk to. When he became SK on February 5, 2013 at age 99, he was the oldest ham in the Shenango Valley. He will be missed by all his ham friends, Navy MARS friends, close friends and family. K8CX
The following Obituary from the Sharon Herald Newspaper:
Erwin Lange of Sharon passed away at 8:15 p.m. Tuesday, Feb. 5, 2013, in the hospital of Sharon Regional Health System after a very brief illness. He was 99.
Mr. Lange was born July 7, 1913, in Swissvale, Pa., a son of Reinhard Frederick Lange and Elisabeth "Elsie" Dobler Lange.
He moved to the area in the late 1920s and was a 1932 graduate of Hickory High School, where he was class valedictorian.
Mr. Lange then served with the Civilian Conservation Corps in central Pennsylvania and joined the Navy Reserves in February 1935. He was on active duty with the Navy prior to and during World War II, 1940-45, in the Caribbean, North Atlantic and Mediterranean. He achieved a rank of chief warrant officer W4 and continued to serve with the Navy Reserves until age 60.
Erwin was a master wood patternmaker and co-owned the former Shenango Pattern Works, Sharon, until his retirement in 1978.
He was an amateur radio operator with a call sign of W3MWV for more than 70 years, having received his first amateur radio license in 1934. He was the senior amateur radio operator living in the Shenango Valley and a member of the Navy Military Auxiliary Radio System, the American Radio Relay League and the Quarter Century Wireless Association. He also belonged to American Legion Post 299 and Veterans of Foreign Wars Post 1338, both Sharon.
Mr. Lange was the last surviving member of the singing quartet, the Old Hickory Songsters, from high school days, who performed locally for many years in their retirement.
He was an avid daily walker in Buhl Park, typically arriving between 6 and 6:30 a.m. He also walked in his 90s in the Shenango Valley Mall and Hickory Plaza, both Hermitage.
His wife of 42 years, the former Florence Brunner, whom he married Dec. 31, 1942, passed away Nov. 2, 1985.
Surviving are: a daughter, Virginia Lange, Sharon; a niece, Theda Heinzkill and her husband Richard Heinzkill, Eugene, Ore.; a nephew, Frank Erwin Lange, Honolulu, Hawaii; a niece, Caroline Lewin, Columbus, Ohio; several great-nephews and a great-niece; a brother-in-law, Francis Brunner, Pittsburgh; and 13 nieces and nephews in the Pittsburgh area.
Besides his wife, Erwin was preceded in death by his parents; five children; a brother, Frederick Reinhard Lange; and a sister, Amanda Caroline Lange Throckmorton.
Comments and photo courtesy of K8CX
QSL cards courtesy of W3MWV in 2007
Obituary courtesy of Sharon Herald
---
This site is copyright © by K8CX of Paradox Design Group (PDG).
All Rights Reserved. All art, photos, and html is property of PDG.