A Tribute to Don Chesser W8KVX, W4KVX
January 7, 1917 - June 16, 1985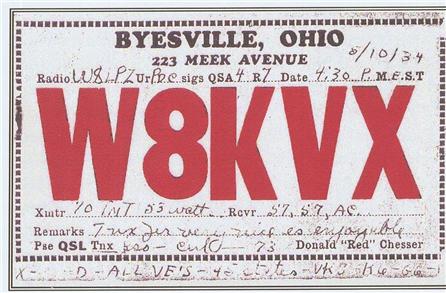 Donald "Red" Chesser 1934 Byesville, Ohio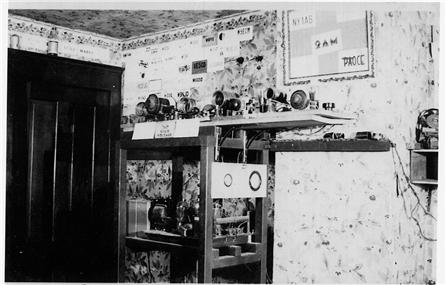 W8KVX shack of Don Chesser, Byesville Ohio circa 1932. He was a teenager and loved CW and DX. All of Don's gear was home rolled when he started out. He loved CW and was very active on 40 and 20 Meters.
Read what Don had to say about the bands in the early 1930's and propagation!
He had some personal tragedy as a youth. He lost two brothers. One was just a child and wandered off from the house (in Byesville, OH) and drowned in a nearby creek. Read info on Don's brother here!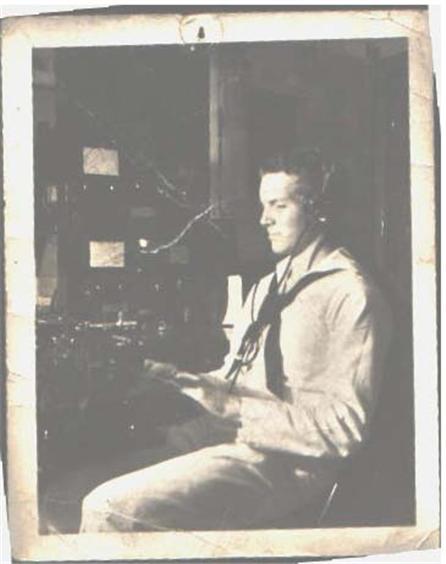 In 1935, Don graduated from high school and joined the U.S. Coast Guard. The above picture is Don taking Coast Guard training at New London, CT. He had the luck of the Irish. His first assignment was Cutter Tahoma, right out of Cleveland, Ohio.
The photo above was given to me (W8SU) by Don's boyhood chum W8KNZ Brook Eakin. Brooks told me he spend many hours learning cw and electronics from his Elmer Don Chesser. The picture I supplied of the Chesser bedroom station is exactly as Brooks remembered it. Brooks said "Don's dad was a burly guy and gruffy, he scared me to death!"
His nephew (Wesley) said he worked for Don when he was in the TV sales and repair business in KY. Wesley decided to work for GE in Virginia and was given the approval by his Uncle Don. Wesley had a long career with General Electric and said he owed Don an awful lot for his early experience.
Don Chesser W4KVX 1960 Burlington, Kentucky
Don started out as a teen with the callsign of W8KVX, born in Byesville, Ohio. He was a Coast Guardsman in the mid to late 30s. Upon expiration of enlistment, he joined the Air Lines out west as a hot trouble shooter. He repairing Air Lines equipment all over the nation. After the war and his service with the Air Lines, he settled in the Cincinnati, Ohio area. He eventually moved to Burlington, KY, which is across the Ohio River from Cincinnati. He was a long time Cincinnati Police Department technician and dispatcher. He and Chief Jake Schott W8FGX were close friends and DXpeditioners together. Don became W4KVX in the 50s.
Don Chesser W4KVX was the editor of the famous weekly "DX Bulletin" which ran from June 4, 1957 (1st issue was just a postcard) to issue #213 on February 29, 1964 (no goodbyes). His perspectives on DX have never been matched. Not only was he a marvelous editor, he was a super CW operator who could really rattle a Vibroplex. He was also a member of the Ohio Valley DX Club.
W4KVX posted national high (#1) scores in the 1954 and 1956 CW Sweepstakes contests. In 1954 W4KVX was #1 USA in CQWW DX CW as Multi / Single (Multi operator / Single transmitter). He must have felt hot in 1956, as he was also #1 USA in CQWW DX CW, SOAB (Single Operator All Band). There was some heavy competition in those days also, with W4KFC, W3GRF, W2IOP/W9IOP, and others putting in major efforts. I doubt that Don had the same degree of firepower as did some of his competition.
Don was once married and divorced. He had a son who he never visited after the child was an infant. His wife would not allow visitation. Apparently Don was married in Cleveland when he was in the Coast Guard, the wife was studying art.
Don experienced a fire at his business in Burlington, Kentucky. He never regained the ambition to keep going in ham radio even though his friends helped him rebuild. He mentioned in his DX magazine he lost thousands of QSL cards, a very expensive collection of electronic parts, tubes, and precision tools. He also lost three communications wagons, the barn, his printing and TV repair business. He said he had tons of electronic surplus that was all melted from the heat. He was personal friends with Mr. Halligan from Hallicrafters. Hallicrafters sent him a new HT32 for a station transmitter. The DX Magazine continued for a short time and fell apart. Nephew Wes said that after the fire, Don made the office into a fireproof block construction and had parties weekly and enjoyed each others company and festivities with the DX crew.
N8DE said:
After the fire, Don got Harry Habig, K8-something, to design a building of POURED CONCRETE. It had 8' high walls and was about 12" thick! Only had a couple window openings and two door openings .. one was double-wide on the East side of the building , the other a single-wide door on the South end of the building. I was working with him, in that building, when I got my finger caught in the press through my stupidity. That building is now a house ... I stopped and talked with the owner ... he had no idea why the walls were so thick!
For a few years prior to his death, Don lost all interest in radio. He then enjoyed an extensive vinyl record collection. Don had collected vinyl records and tapes, all types of genre, but mainly Classical. He had a super sound system. Each LP and tape had a serial number, all cataloged and set up like a professional music system.
Don expired of the dreaded male prostate cancer. He was cremated by his nephew Wesley.
---
Don was an operator at the Cayman Islands DXpedition VP5BH
March 20 - March 27, 1957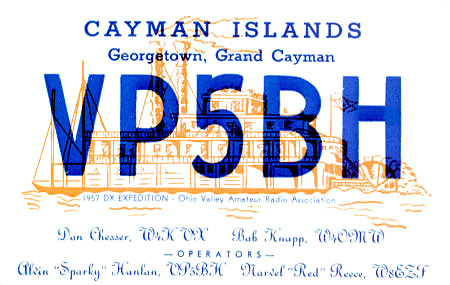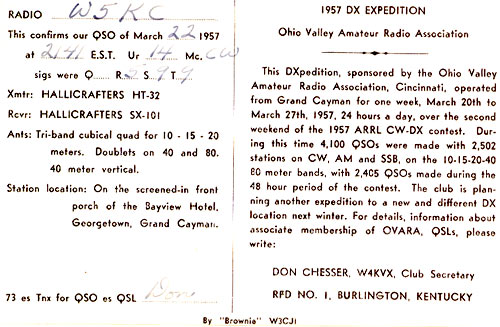 Operators at VP5BH: Don Chesser W4KVX, Bob Knapp W4OMW, Alvin "Sparky" Hanlan VP5BH, Narvel "Red" Reece W8EZF
---
Don and crew were planning to go to XE4 (XF4) Socorro Island. Here is a letter about Don chartering a boat for the XE4 trip. This DXpedition fell through as their license didn't arrive in time.They then quickly switched gears and proceeded to Navassa.
Don was an operator at the Navassa Island DXpedition KC4AF
March 26 to March 31, 1958.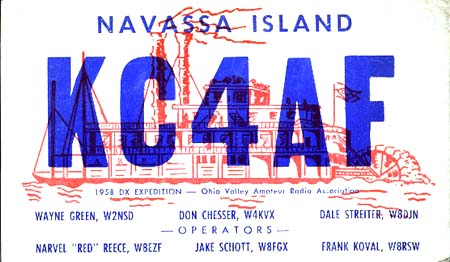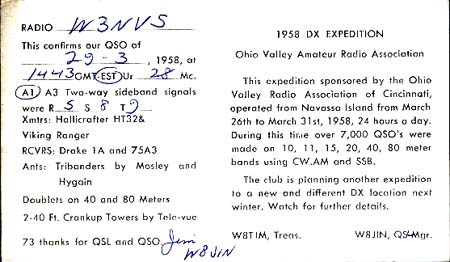 Operators at KC4AF: Don Chesser W4KVX, Wayne Green W2NSD, Dale Streiter W8DJN (now W4QM / VQ9QM), Narvel "Red" Reece W8EZF, Jake Schott W8FGX, Frank Koval W8RSW.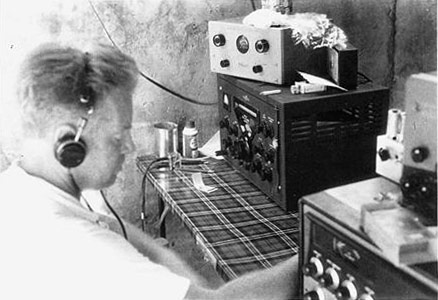 Navassa Island 1958; Don at the controls. You can't beat an HT32 for a nice CW note! He had a Ranger in the position for a backup. If you look closely at his 75A3 receiver, you can see the panel was open to do some quick repairs! The HT32 would be lost in his QTH fire later on.
---
Don was an operator at the Serrana Bank DXpedition KS4BB
March 20 to March 25, 1959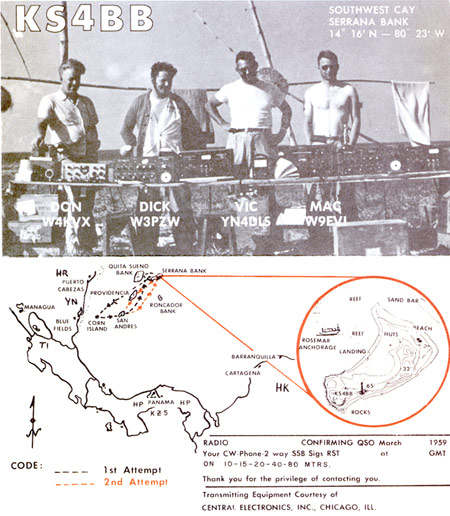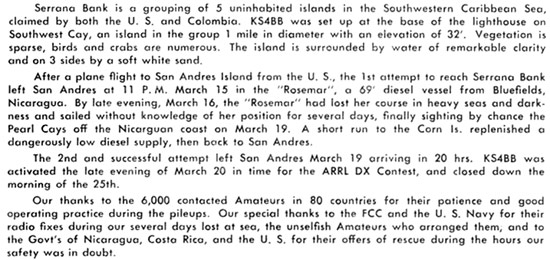 Operators at KS4BB: Don Chesser W4KVX, Dick Young W3PZW, Vic YN4DLS, William Reynolds "Mac" W9EVI
---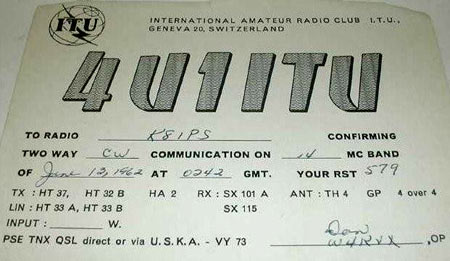 Don also operated at 4U1ITU in June 1962. Don had to use a straight key for his first couple of sessions, as his Vibroplex had been broken in transit. Later on one of the Swiss hams found him an old bug, most likely a Lionel J-36, and Don could speed things up.
Don almost got permission to operate from the Vatican. Hallicrafters sent all of the gear over and the station was all set. Don was turned down at the last moment.
---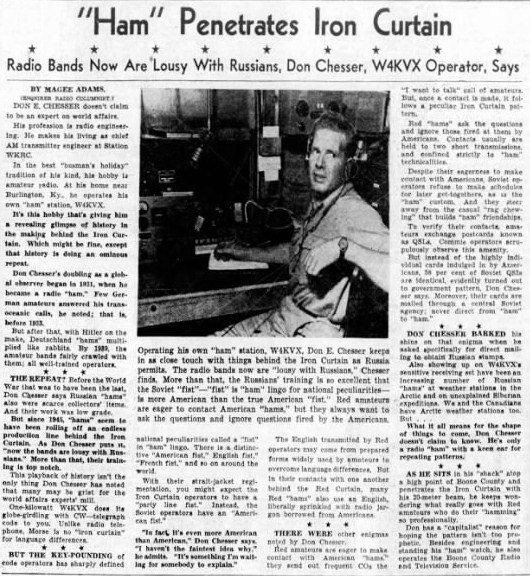 From the Cincy Enquirer 30 July 1950, we learn a bit more about Don Chesser W4KVX; An AM Transmitter engineer for WKRC Cincy; also operated Boone County Radio & TV Service. Chesser in the future would work for Cincy PD in the communications field. His amateur radio shack location was on a high point in Boone County, KY. He enjoyed the Key-pounding operation of ham radio. The article here is a bit difficult to read but the highlights are picked out without too much of a problem.
In 2012, at the Dayton Hamvention, with research and help from K8MFO, W8SU, K8CX, W4QM, N8DE, KB8NW, K8ME, Don Chesser W4KVX was inducted in the prestigious CQ DX Hall of Fame!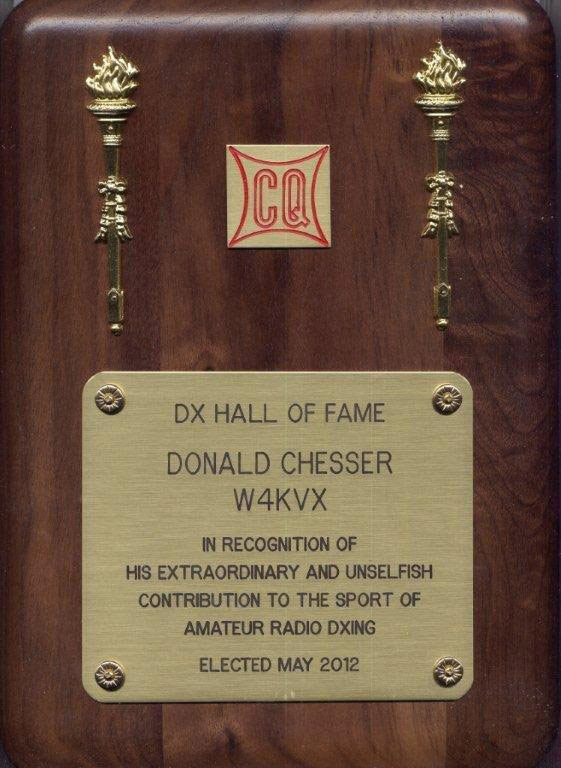 ---
W4KVX QSL and most of the information courtesy of Bob Ballantine W8SU
W8KVX QSL courtesy of nephew Wesley and Bob Ballantine
VP5BH QSL Courtesy of W5KNE
KV4AF QSL courtesy of K3GW
KS4BB QSL from the estate of W9ABB / W9HK
Additional info courtesy of K8MFO
Plaque scan courtesy of W8SU