Harmon "Dale" Strieter – W4QM
One of MY Ham Radio "Heroes"
BY: Don Karvonen – K8MFO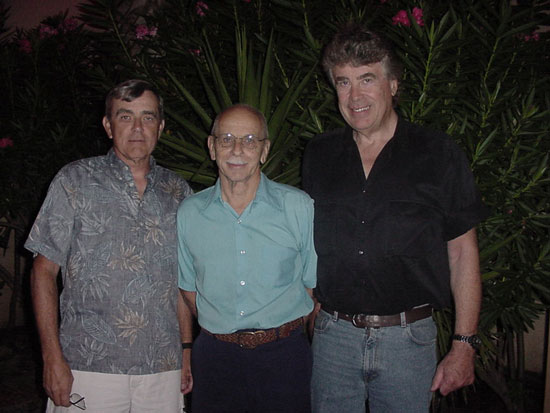 K6NA, W4QM, N6TJ
October 2003
I truly believe that stories should be written about named "subjects", and as little as possible about the "author". However, in this case, I am going to share some of my own thoughts and perspectives, which will actually blend into the subject of this article.
No matter how you "slice it', ham radio is a lot different today than it was 60, 50, or even 30 years ago. Many of us feel very fortunate to have experienced our wonderful hobby in the "50s" and "60s" in particular. WONDER and EXCITEMENT are apt descriptions of those days, and someone who got "hooked" on radio in those decades is quite likely still active and enthused about radio today. In my case, I grew up in a rural area in the second least populated county in Michigan's Upper Peninsula. My dad, who was a WWII combat CW operator, worked in a copper mine as an electrician. Two of his working partners were hams, W8FYZ – Ensio and W8DCD – Arne. Not only were they hams, they were DXers. Much of their activity was on 10 meter AM PHONE, but they both knew how to use CW keys quite effectively. Both Ensio and Arne specialized in talking to Finland, the country of their ancestors. When they found out that Dad knew the code, they had him licensed as K8HHZ in no time at all. Since I was 11 years old, I became the next "candidate" to get a license. I learned the code from an ARRL publication while others were day dreaming during boring 6th grade classes, and in the summer of 1958 I was licensed as KN8MFO. In the meantime I could hardly put down the CQ magazines that W8FYZ gave to me. The excitement of the Danny Weil- VP2VB DXpeditions was contagious, and I could hardly wait until the next episode. Did Danny make it to the next rare country or did he wreck another boat? I decided right then and there to be a DX man! There were plenty of HEROES around, and I tried to learn as much as I could from listening to them on the air. Who didn't work Dick Spenceley – KV4AA in those days? He was my country #3. I even managed to work Danny – VP2VB from several places, as well as Gus Browning – W4BPD, as he traveled through the Indian Ocean and African continent. YES, all of these folks were HEROES to me, as I gradually built up my country count to almost 200, using radios and antennas that could be termed as "laughable". But boy was the SATISFACTION LEVEL high! Then it was time to go off to college at Michigan State, a long way from my rig in Upper Michigan.
My arrival at Michigan State in the fall of 1963 coincided exactly with the installation of new antennas and a Collins S Line, with a brand new ham shack for W8SH in the Engineering Building. I had the honor of making the last contact from the old "shack", which had a Collins 32V3 transmitter, National NC-183 receiver, and a snaggle toothed Hy Gain TH-4 tribander. Likewise, I made the first contact from the NEW W8SH station, using the 32S3, 75S3, and 30S1 combination, into a HyGain 20/40 meter beam, high on a tower atop the Engineering Building. Was this "ham radio heaven" or what? Actually it was, and there was a lively group of young DX types who spent a lot of time in that shack! More than a few classes were skipped by this group. You can always make up a class, but a 20 meter long path opening is quite important.
Some of the MSU staff members and particularly the Lansing area "town hams" were very encouraging to the young hams at W8SH. Our club advisor Tom Drake – W4IWH (W8PWZ) went more than the extra mile to defend "his club", even when some of us were found sleeping in the faculty lounge during contests! Bob Rose, a technician for the electrical engineering department, while not licensed, took care of the station and also the operators. Chuck Hutchinson – K8CH (K8UDJ) worked for MSU, and became a close friend. These friendships with Drake, Rose, and Hutchinson continue to this day. Of particular note in the Lansing area were Ben Hassell – W8VPC and Bill Chapman – W8TJQ. They could never do too much for the W8SH gang. They encouraged us, and eventually spoke highly of their mutual friend, "Harmon" – W4DQS. Did I know him, they asked? Well, anyone who was not aware of W4DQS was probably not licensed. "Dale", as he was known on the air, was a potent force in the ARRL Sweepstakes and the DX contests. The staff at MSU remembered Dale as a super CW operator during his tenure at W8SH from 1948 to 1954, and as the guy who used to "climb the smoke stack" to put up long wires! Everyone in town called him "Harmon", though, and the remaining old timers still do! Dale had been licensed in 1947 as W8DJN in Michigan's "thumb", but spent those several years in the Lansing area, while securing a Masters Degree in Electrical Engineering. Dale also did some contest operating from the station of a business associate, Gordy Main – W8OCK.
Even more impressive than the W4DQS contesting and DX exploits, Dale was an established "top drawer" DXpeditioner. In 1958 he was one of the operators of the KC4AF – Navassa DXpedition, along with a number of Cincinnati area hams (W8FGX, W8EZF, W8RSW, W4KVX), and CQ Magazine editor W2NSD. W4KVX was the well known editor of The DX Magazine, arguably the finest all time publication of its kind. W8FGX later became the Cincinnati Chief of Police. Dale will have to tell you in private about the important role that FGX played during this operation!
Dale was also an integral part of the FIRST HK0TU operation from Malpelo in 1961, and a key player in the "double DXPedition" in 1961 to HK0AB – Bajo Nuevo and KS4BF – Serrana Bank. It was well documented that Dale was not a guy who just showed up on a DX trip and occupied a chair. In connection with the KC4AF trip, he drove a station wagon from Michigan to Florida, perhaps making repairs along the way, and did much of the tough work in putting up antennas on Navassa. During the HK0TU operation, he climbed along slippery guano laden rocks, and secured long wire antennas. For the HK0AB/KS4BF trip he installed and checked out every generator, radio, antenna and other associated gear right in his Cocoa Beach backyard. Much of the success for all of these trips can be attributed to Dale.
These guys in Lansing knew Dale? WOW! That's pretty impressive stuff for a 17 year old ham to hear. In April of 1964, our W8SH club member, John Hultgren – WA8GPX (later K7EX, now SK) said we could stay at his home in Cincinnati and then attend the Dayton Hamvention! How could you say no to an offer like that? By this time Dale – W4DQS was the ARRL Director of the Southeastern Division, and he was wandering around the Dayton arena with his very impressive credentials badge. We stopped him and told him we were "new W8SH guys". That's all he had to hear, and we had a very pleasant, although short, meeting with Dale. It doesn't take long to know Dale, and that meeting alone was certainly worth the trip.
In 1965 Dale, along with some of his Cincinnati area and other buddies, organized the first DXpedtion to San Felix Island as CE0XA. Our W8SH antenna system was in disrepair, but I had a Johnson Ranger and NC-300 in my dormitory room for "clandestine" operation! Tell me – how do you really hide radios of this size? We were not the only "radio active" hams in the building. One floor above us, a then unlicensed guy had a homebrew 80 meter CW transmitter in his room, with one crystal, for 3500 Kc. This was a convenient crystal calibrator for us! Of course, outside antennas were prohibited, but "magically" a 75 foot sloping wire appeared between our 3rd story dormitory window and a short light post by the cafeteria! For some reason, that antenna worked like a bandit into San Felix on 15 meters, and virtually every ham on the MSU campus scored with a CE0XA QSO! Many had to walk a few miles, or take a bus, with some classes skipped, but priorities are important for college hams! That wire even worked well enough for an 80 meter QSO!
While I was with the U S Army in Vietnam in 1969, Dale returned to Malpelo for another HK0TU operation. Later in 1969, Dale was part of a large group that again activated Navassa as K4IA/KC4. I'm certain that the success of each of those operations was largely due to the organizational, technical, and operating skills of Dale. There can be no argument with that! Incidentally, Dale had to wait longer than most for his own Navassa QSO, but that too is a story best told by Dale, sitting around a campfire, while sharing a beer with friends!
A couple of years after returning from Vietnam, I wound up in Saginaw, Michigan, and began to have very pleasant ragchews with Dale, who in 1972 received the vanity call of W4QM. When I told Dale that my job required travel around the area, he told me that I was not far from his hometown, and he told me where his family farm was. Dale also told me to look up one of his buddies, who had the only pharmacy in town. I drove by the family property, and then went into the store and found his buddy. I said, "Dale Strieter says hello!" The pharmacist said, "Dale? We know him around here by his nickname!" I shall not mention the nickname. You're very welcome, Dale!
When General Electric reorganized their operations in and around Cape Canaveral, Dale was offered the opportunity to transfer to another GE plant location or to accept early retirement. He chose the latter, and became a Radio Officer on a ship generally anchored at VQ9 – Chagos. Easy access was provided to the island of Diego Garcia, and a potent club station was installed. Thus began another chapter in the DX career of Dale Strieter as VQ9QM. Between 1986 and 2001 Dale piled up over 200, 000 QSOs from Diego Garcia, not including contest contacts! I can remember Dale telling me how much he enjoyed this assignment – 6 months on the ship, and 6 months off, and not nearly as much as stress as with GE. It should also be noted that Dale was responsible for a lot of the antenna and equipment repairs at the island ham shack, a natural role for him. That station is still active under various call signs, and I'm sure Dale's long term efforts are appreciated by those operators.
Dale has also made "contest expeditions" to various spots. In 1969 he shared 40 meter duties with K4BAI at PJ9FC – Curacao in a multi/multi effort. In 1972 he operated from the QTH of DXpedition partner HK1QQ in Colombia, and beat his good pals W4CKB, W4QVJ, and W4BJ, who operated as HK0ZU on San Andres. There were also trips in 1978 (HH2CQ) and 1979 (HH2MC) to Haiti for contest efforts with Florida friend and Vic – N4XR, who was living and operating as HH2VP at the time. There are inevitable equipment or antenna malfunctions during such operations, and it's a safe bet that Dale was right in there solving the problems.
OK, so Dale has operated from a lot of DX locations. So have many others, but it is doubtful that anyone has been more valuable or responsible for the success of the top notch operations in which he participated. If you know Dale, you also know that he is one of the most approachable people on this planet. He makes "beautiful music" on the CW bands daily, and can still "rattle the rate meter" during contests. His many friends in Florida are also aware of the kindnesses that he continues to show them, whether its equipment repair, antenna installation, advice, friendship, or whatever is needed. Dale is a member of the CQ DX Hall of Fame, but his every day activities overshadow that honor.
A long time ago Dale told me that 2 of his "Ham Radio Heroes" were Bob Baird – W9NN and Hal Brooks – W9VW. They're personal heroes of mine too, but so are YOU, Dale. Thank you for your many years of friendship, for the new countries and bands, and for the sterling example that you set for everyone. By doing "what you do", you make things more pleasant for the rest of us.
Those of us who know you all very proud of you! When I grow up, I want to be just like you!
Don – K8MFO
1958 DXpedition story and photos of Navassa Island KC4AF
1962 DXpedition to Serrana Bank KS4BF
1962 DXpedition to Bajo Nuevo HK0AB
1965 1st DXpedition to San Felix Is. CE0XA
1969 DXpedition story and photos of Malpelo Island HK0TU
1969 DXpedition to Navassa Island K4IA/KC4
1991 Operation from Chagos Archipelago VQ9QM
Story courtesy of K8MFO
Photo courtesy of K6NA