Tribute to Eda F. Willaims W7EPZ
1930 - August 27, 2010
Eda was a very active lady in Cheyenne, Cody, Billings, Montana area. She made a 6 meter contact with a local ham, W8CMS, that gave him the 1st 6 meter WAS (Worked All States) for the W8 call area.
Please read her tribute by W8SU!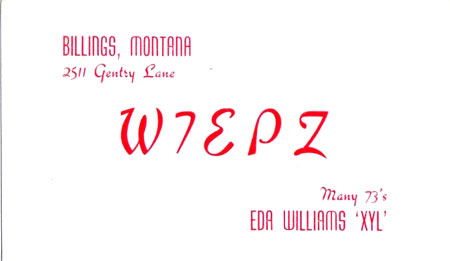 Tribute courtesy of W8SU
QSL from the estate of W7YUB
---
This site is copyright © by K8CX of Paradox Design Group (PDG).
All Rights Reserved. All art, photos, and html is property of PDG.