A story about Radio WQA / WQB
Firestone HF Radio Network
Read the story by W8SU about this huge corporation and its radio operations.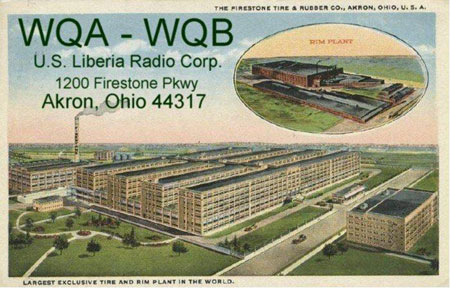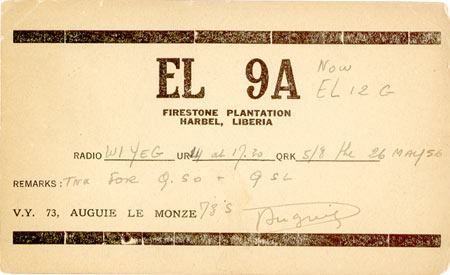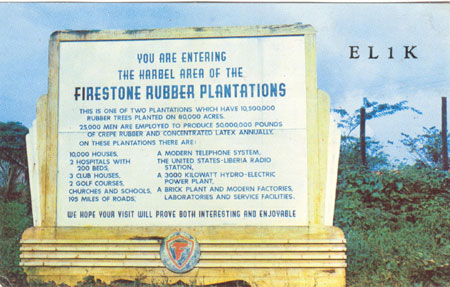 Email received on 11/09:
I ran across the layout about USLR on your web site and found it interesting. I ran that service from around 1972 up until the place was overrun by a bunch of people with AK-47s and destroyed.
I hammed for a lot of years from Liberia – first as EL4A and then as EL2FE (that call is still licensed).
I noticed you also had a QSL card from EL9A Augie Lemounz on the site, Augie was the head of the electrical department at the Plantation for many years – I also knew him.
USLR also had a QSL card and we did send out quite a few. One of the most interesting had to have been a QSL to a ham in UK reporting that he had copied an ARQ transmission from us on HF a few months after we have commissioned an ARQ system that Harris Radio had assured us was totally secure from eves-dropping! We found out later that he was, in fact, one the team of Brit hams that actually developed that system in the first place. It is strange to think that the system we use on the internet (packets) was originally that same ARQ system – just running really slow (by today's standards) and sending / confirming 3 characters at a time.
Re: the USLR facilities in Akron, OH, did you know that they had a split location operation there for many years? The TX rhombic with in an open field south the road that runs along the south boundary of the Firestone Plant-1 site (Firestone Parkway is the east side of that site). The receiver site was on the old Firestone Country Club golf course and they ran that site by Remote control. In later years when we put in that ARQ system they mounted a Log antenna on top of Plant – 1. I had lots of real estate in Harbel so we had three rhombics – two were for receiving, separated by about a ¼ mile, and the center one was the transmitting antenna.
73, Gale Ruff
EL9A QSL from the estate of W1YEG
EL1K QSL courtesy of G4UZN
Tribute & WQA QSL courtesy of W8SU
---
This site is copyright © by K8CX of Paradox Design Group (PDG).
All Rights Reserved. All art, photos, and html is property of PDG.